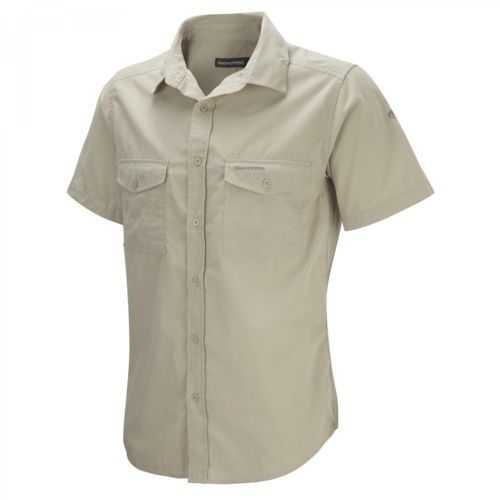 Men's khaki's have a long history dating back to the seventeenth century, with their origins in the British military. During the Egyptian campaign in 1882, the khaki trousers were first worn by British soldiers in India. Mulberry juice was used to dye twilled linen or cotton, giving them a drab yellowish colour, known as khaki. Today, khaki has graduated from a purely military use to high end fashion. The term khaki is now used in a much broader sense to mean a popular type of trousers, fabric, or to describe a colour. In the United Kingdom, Men's khaki's are also referred to as Chinos.
Men's khaki's are very versatile in that they can be worn in a wide variety of settings such as casual, business casual, and dressy. Khaki's are a must have in any man's wardrobe because of their sheer versatility. As casual wear, men's khaki's seem to be giving the traditional denim jeans some stiff competition. This guide discusses the types of fabrics used for men's khaki's, how to find your proper size, how to wear khaki's, and where you can purchase them.
Types of Fabrics used for Men's Khaki's
There are a number of different types of fabrics that can be used to make khaki's with many varying combinations of textiles; however, twill and cotton are two of the most frequently used fabrics. The choice of fabric is important, depending on the setting and the occasion. Heavy weight khaki's are more suited for the military and trade jobs. Softer lightweight fabrics are more suited for the office, hanging-out, golfing, and general business casual. The different fabrics and their uses are described below.
Chino Cloth
Chino cloth is usually made from twill. Twill is a fabric that has been woven diagonally. The material is rightly known for its durability due to the way the fabric is woven. Chino cloth drapes very well, making it ideal for trousers. Men's khaki's made from chino cloth can be worn in casual settings and business settings. It can be dressed up with shirts and jackets with dress shoes & it can be dressed down with a polo t-shirt and loafers. It is easy to see that the wearer receives utility, versatility and value.
Cotton Twill
Cotton twill is lightweight and durable. The diagonal weave of the twill contributes to its durability and texture while the lighter- weight cotton provides ventilation and a softer, lighter finish. A type of cotton twill combination is known as teton twill, a proprietary blend of 294.83 grammes of cotton twill from mountain khaki's.
Corduroy
Corduroy is a heavy corded material with a velvet finish. The cords are woven parallel to each other and it has a similar look as twill. Because of the way in which it is woven it is very durable and is used for making many types of clothing such as jackets, trousers and shirts.
Popular Men's Khaki's Brands
Men's khaki's are the perfect pants for virtually any setting. If you are looking for work pants, casual everyday pants, or even a dress up pair of pants, there are many types of khaki's to suit your needs. Below you will learn more about the more popular brands of khaki's out there today.
Jack and Jones
Jack and Jones cater to a wide variety of men throughout various stages in their lives. The premium line captures the attention of men who are concerned about their image. Jack and Jones focus on high quality both in textile selection and garment construction, with every style of khaki's available. Classic styles and urban sophistication are associated with the premium line. Finally the original line is for the 'bold and daring' and defines this line for young men who like the urban styles. Jack and Jones men's khaki's can be found on eBay.
Paul and Shark
Paul and Shark khaki's are rich with history in the nautical theme of clothing. They have expanded with a wide variety of pieces that center around practical splendor. You will see many different styles from water repellent wools to their more technical cotton types.
Voi Jeans
Voi Jeans has it roots in Preston Lancashire and commenced operations in 1988. The focus is on contemporary fashion for the modern man. Voi Jeans khaki's are known for their durability and design. They are a versatile item that looks great for both day and night.
Ralph Lauren
The majorities of people recognise the Ralph Lauren name and associate it with high quality. Their Purple Label known to be the 'ultimate luxury line', that uses stretch twill with cotton blends. The Black Label is another luxury line featuring one of the newest stretch twill materials out there.
Popular Men's Khaki Styles
Not all men's khaki's have the same look and feel to them, that is why it is important to research first what style of khaki's is a better fit for your personality and sense of style. There are three main styles of men's khaki's which include cargo, carpenter, and dress khaki's. Take a look below for additional information about each style of khaki's to find out which is best suited for you.
Cargo
The cargo pants are definitely the casual easy-going type style. It is easily identifiable by more than the usual number of pockets on the outside of the pants, embellishments such as many buttons, metal snaps, velcro strips, and strings. The fabric is normally coarse with a rugged finish. There is a masculine feel to it.
Carpenter
The Carpenter style is of a similar style to the Cargo. However there are fewer pockets to this design and style. They are identifiable by a deliberate crumpled workwear look. This look provides a rugged outdoor appearance. The fabric is of a heavier, thicker material than that of the cargo khaki's and dress men's khaki's. The carpenter Style men's khaki's can be found on eBay.
Dress Khaki's
These are dress pants with clean lines, a tailored and custom-fit finish. These men's khaki's are made with mainly softer fabrics such as cotton and twill blends, fine linens, cotton and linen combinations, cotton blends and generally lightweight fabrics. Dress khaki's can be used in casual and business casual settings. They can be dressed up with shirts, blazers and dress shoes for a more formal look or dressed down with polo jerseys and loafer for a more relaxed casual image.
How to Find the Correct Size
We don't always know our appropriate size when it comes to clothing, especially pants. However it is a rather simple process to find out the correct size so that you will have an easier time in selecting the khaki's you are interested in. By following along with the following techniques, you can utilise this information gathered with the help of a sizing chart to find the best fit for you.
Measuring the Inseam
To take this measurement, find a pair of trousers that fit well i.e. the waist is comfortable and the length is fine when wearing your shoes. Place the trousers on a flat surface then lift one pants leg and move it out of the way. Measure from the crotch to the end of the hem of the other pant leg and record the measurement. Turn the pants over and lay them on the flat surface and measure the other pant leg in the same manner. Compare the measurements with the sizing chart below.
Taking the Waist Measurement
Stand upright and feel for the crease above your navel. Wrap the tape measurer from your navel and bring it all around back to where the tape measurer meets. Record the measurement and compare with the sizing chart below.
Taking the Hip Measurement
Locate the widest point on your hip. Wrap the tape measure around the hips from the widest point and measure. The hip measurement tends to be one of the more tricky ones to figure out as the tape measurer can sometimes slip. Take your time and apply the measurements that you received to the sizing chart below.
| | | | | | |
| --- | --- | --- | --- | --- | --- |
| | UK | EURO | WAIST (CM) | HIP (CM) | INSEAM (CM) |
| XS | 30 | 40 | 74-79 | 96-100 | 86 |
| S | 32 | 42 | 79-84 | 100-104 | 87 |
| M | 34 | 44 | 84-89 | 104-108 | 88 |
| L | 36 | 46 | 89-94 | 108-112 | 89 |
| XL | 38 | 48 | 94-99 | 112-116 | 90 |
| XXL | 40 | 50 | 99-104 | 116-120 | 91 |
| XXXL | 42 | 52 | 104-109 | 120-124 | 92 |
When it comes to knowing the correct size of khaki's you should purchase, it can be a rather difficult decision. The sizing chart above will help to explain in more detail how to use the measurements you have taken to ensure you find the best fit possible.
Different Fits of Men's Khaki's
The classic fit khaki's cut are identifiable by a number of features such as a nice below the waist fit, loose from the hip to the thighs, with narrow legs. This type of fit goes well with blazers and shirts along with men's dress shoes for the standard casual look. The straight fit khaki's cut sit low on the waist, and are straight from the hip through to the bottom of the legs. It is appropriate to wear the straight fit with blazers, fitted shirts and dress shoes for a sleek contemporary look. This look is appropriate for office wear, but if you want to switch to a more dressed-down look, you can substitute the dress shoes for loafers or moccasins. The slim fit khaki's cut are low on the waist and have a snug fit all the way from the hip through to the thighs. This is a fashionable trendy look for the dressy casual fashion statement. They can be worn with t-shirts of any kind, light sporty jackets, and sweaters to present a casual or dressy look.
How to Find Men's Khaki's on eBay
A wide selection of brands, sizes, and styles can be found on eBay. You can start your by the type of men's khaki's you may be looking for. There are many searchable options such as men's khaki trouser's that make it easy to find a near perfect solution to your khaki needs. To start your search go to the sites home page and enter in the term 'men's khaki's' into the search bar. This will provide you with generic search results for the various types of men's khaki's. If you are looking for a specific colour of men's khaki's you are in luck as well. While there are many different styles to choose from, there are just as many colours to pick from also. In addition you can narrow your search results down by selecting the type of fit, or brand that you are looking for. It's not unusual to have difficulty choosing between the different styles and brands. By being able to select if you are looking for slim fit dress khaki's , or the straight fit cargo khaki ' s makes the decisions much easier. Alternatively it may be worth searching for a brand, or fashion line that is known for producing Khaki, such as Yeezy by Kanye West.
Conclusion
Men's khaki's are much more than just a simple pair of pants. They offer a wide variety of looks that today's man can take advantage of, from a casual night out on the town, to a day in the office. No matter the look you are going for, men's khaki's can help you to achieve it. Because the style and design taste of khaki's vary from individual to individual, it's important to find out which type of khaki's help to achieve the look and fit you are going for.
This guide has helped to explain the different style of men's khaki's available as well as their materials, fits, and even brands. It has even presented you with a sizing chart to help ensure you find the best possible fit. Lastly, this guide has given you information on how to search on eBay to find the perfect style and size of khaki's for the look you wish to achieve. Using this guide can help you to find the proper style of khaki's to ensure you have the perfect attire for any occasion.