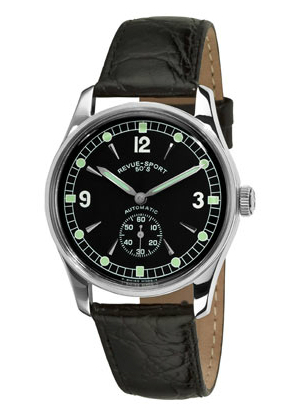 A watch is more than just a timepiece. A watch conveys a certain sense of style that is both classical and professional. The right men's watch is able to help distinguish an individual from the everyday wardrobe most men wear. Leather wristwatches are a more affordable solution for those who want a stylish accessory without the exorbitant price. With a range of leather wristwatches available on the market, knowledge of the subject of men's leather wristwatches is a necessity.
Although some traditional stores offer a reasonable selection of watches, most fall behind when it comes to leather watch options. Online marketplaces like eBay, however, offer hundreds of leather watches sold by many unique sellers. With analogue and digital options, analogue and digital hybrids, and a range of power options, consumers are easily overwhelmed by the choices available. A little bit of education on the subject of men's leather wristwatches, however, can go a long way towards helping consumers make an educated purchasing decision.
The Leather Option for Men
Leather watches that are designed for men, offer a dependable solution that is capable of being accessorised with almost any wardrobe. Leather bands are a more classic, traditional approach as compared to metal and precious metal options. Men who frequently dress up in formal wear, will find that leather is one of the more attractive and dynamic men's watch options. Leather watches for men are also quite convenient when it comes to sizing.
Ease of Sizing
Individuals who are debating on whether or not a leather option is right for them, should consider the convenience of such an option. Men's watches made with metal are designed with a bracelet construction that requires quite a bit of expertise to be properly refitted. Leather watches, on the other hand, are constructed with a strap made of leather that is easily sized. Much like a belt, most leather watches require a simple tightening of the straps with a metal fastener for ease of use.
Band Sizing
Leather watches are convenient to wear, but purchasing one without understanding sizing of a band is not a good idea. Bands come in a range of sizes, but the most popular lengths include 180 mm, 190 mm, 200 mm, and 210 mm. Since most leather watches can be tightened quite easily, individuals should consider purchasing watches with bands that are at least 200 mm in length. Those with incredibly slim wrists, however, might be better served with a 180 mm option.
Width
The width of a band is not nearly as important as the length in concern to sizing, but it is of the utmost importance when considering style. The width of a men's leather watch strap can range anywhere from 12 mm to 24 mm and wider. Men who desire a more modern look, should consider a strap that is somewhat wider with a width of around 20 mm. Consumers who are looking for a more classic and traditional look, however, should select a leather watch with a strap of about 12 mm or 14 mm.
Leather Strap Colour
Once the length and the width of watch has been determined, shoppers should consider the colour of the leather. Some of the most quintessential and timeless watches on the market are designed with black leather straps. Black leather watches tend to match more outfits than any other option, but brown leather is also a classic choice. Other colours, like blue, orange, white, and red, tend to be designed more for women than men. The true test of leather strap colour, however, is whether or not the person wearing the watch loves it. Find a colour that fits the wearer and one can really do no wrong.
Types of Leather Watch Faces
Once an individual has decided upon the type of watch band that is desired, selecting the right watch face is another important factor. The actual display is one factor that cannot be ignored. Options for watch faces include analogue, digital, and combination displays. Consumers must also consider the size and shape of a watch face when purchasing a men's watch.
Analogue
Since leather tends to be a more traditional style of wristwatch, analogue faces usually fit best with a leather strap. Analogue watches offer hour and minute hands that point towards Roman numerals, markers, or numbers. Men's watches with analogue hands normally read a 12 hour day and are quite dependable. For a classic style, men should choose a leather watch with an analogue face.
Digital
Digital faces for a leather watch do exist, but they are not the primary choice for most individuals. Digital watch faces are designed with LED displays or LCD displays, and tend to show time in a numeric form. Those who desire a more casual option should consider a digital face on their watch. Since leather tends to be a somewhat dressy watch choice, consumers should debate carefully whether or not a digital option is the right choice.
Digital/Analogue
For a compromise between the two face types, consumers should consider combination digital/analogue displays. This option is perhaps the most dependable choice in concern to watch face selection. Men who plan to wear their watch to several formal events should try to avoid this option. A digital/analogue watch face can be found in a number of categories that can provide a casual, but dependable watch face option.
Size and Shape
The size and shape of a watch face is also an essential element to selecting an attractive watch. Normally, a watch with a thicker band is likely to need a larger face for aesthetic purposes. Although square watch faces do exist, such faces tend to be hit and miss. Consumers should look for a watch face that is attractive to the size of the wearers wrist, the width of the band, and the colour of the band.
Men's Leather Watch Power Options
Although not important when it comes to the style of a watch, the way a watch is powered is a selling point for many individuals. The three main power options for watches include battery, quartz, and mechanical options. There does exist, however, several other high end power options for those interested. Once style, shape, and leather type have been selected, men of all ages should narrow down the field by selecting a preferential type of watch power.
Battery
Perhaps the most inexpensive and common type of watch power option is battery power. Most digital watches run off of a small watch battery. These tiny watch batteries can be easily replaced. Since this option is cheaper and somewhat simple to repair, battery watches are more adequate for individuals on a budget.
Mechanical
Hand-wound mechanical powered watches are perhaps the most classic option available on the market. This watch type requires the user to wind a knob that tightens springs within the watch. Once the knob is tightened, the gears slowly unwind to power the watch. Although this type of watch can last for decades, such power methods do not keep as accurate time.
Quartz
Individuals who desire a watch that keeps time as accurately as possible, should consider a quartz powered watch. These watches are powered by a small, electrified crystal that vibrates and hums quietly. Watches powered by quartz typically lose almost no time throughout a year of operation. This type of watch power option, however, tends to be quite expensive.
Other Options
Although not as common as the three previous methods, there are several other options for watch power. One rather expensive but creative option is the kinetic powered watch. These watches are actually powered by the movement of the wearer. Another popular alternative method of powering a watch is solar power. These watch options, however, tend to be quite expensive. Consumers searching for watches that are somewhat unique should consider both kinetic and solar powered watch options.
How to Buy a Men's Leather Wristwatch on eBay
Buying a men's leather wristwatch is a task many avoid due to lack of information. Understanding the options when it comes to bands and faces is needed to make an informed purchasing decision. Once you know what type of watch you want, consider using eBay to purchase it. To start a product search on eBay, visit the eBay home page and type in a keyword such as 'men's leather wristwatch'. Such a search is likely to turn up hundreds of results for you to browse through.
Advanced Searching
Since a single search for a men's wristwatch can turn up so many different results, searching through all available listings might be overwhelming. Those who want to narrow down their search results even further should consider using eBay's advanced search feature. Advanced search allows consumers to specify certain criteria in order to narrow down search results from the start. With enough filters to narrow down search results into a fairly limited groups, consumers are able to find the product they want quickly and easily.
Conclusion
Choosing to purchase a men's leather wristwatch is a classy option for daily and formal wear. Men's leather watches come in a variety of band widths and lengths, allowing men of all shapes and sizes to find a watch that fits. With colour options that range from brown to black and more, consumers are able to find a watch that is aesthetically pleasing. Even watch faces allow for extreme customisation for those in the market for a unique watch.
People who are looking for a dependable watch should also factor in how a watch is powered into their purchasing decision. Whether it is a more affordable, battery powered watch of a dependable quartz powered watch, consumers can find an option that best fits their needs. With online marketplaces such as eBay, consumers can buy these watches from the comfort of their own home. A watch is not just a timepiece. Find a quality watch, always have the time, and walk with style.