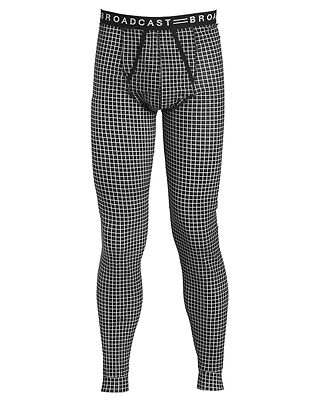 Long johns, also called long underwear or even thermal underwear, are undergarments that provide exceptional warmth and insulation. Long johns are available in either one or two-piece sets that are usually worn for their warmth and comfort. Unlike boxers, or some other types of undergarments, long johns are meant to be skin-tight, minimising the loss of heat from the skin, and are worn from the waist down to just above the ankle and are usually meant to be tucked into a sock or boot. Because of these various factors, long johns are popular worldwide, and have become more complex, and more varied. The term "long john" has even come to identify a wide variety of similar, but distinct, garments. In some cases, "long john" can refer to a simple pair of skin-tight cotton trousers. At other times, it refers to a set of cotton and polyester trousers that include a long-sleeved vest.
Because of the wide variety of patterns, fabrics, and even sizing, purchasing long johns can be daunting, especially outside of brick-and-mortar stores, but eBay makes it easier. With the aid of this guide, savvy buyers are able to distinguish between the variety of options commonly found in long johns, and make informed decisions when choosing their undergarments. Important elements to consider include the cut or patterns commonly found in long johns, the fabrics that buyers can expect to find in long johns, and typical sizings.
Common Cuts or Patterns of Long Johns
Because the cut or pattern of the long john can dramatically affect the comfort of the wearer, the cut of the garment is one of the first elements that a buyer should consider. Many long johns are made trouser-style, where the two sections of the leggings are simply sewn together. While this is acceptable for most applications, wearers who find themselves regularly crouching, or in awkward positions, may also find the simpler cut constraining.
To remedy this, there are more complex cuts, designed to replicate the feel and support of more conventional underwear, such as briefs. These more complex cuts can come in a variety of patterns; some as simple as creating a cup for comfort, or as intricate as taking briefs and adding a pair of trouser legs to them. While these more complex cuts can provide more comfort, they also require more seams, more stitching, and more care. It should also be noted that the additional seams can create additional points where the garment can tear.
Finally, long johns are sold either just as pants, or as a combination of both trousers and a shirt. Close attention should always be paid to the description of any shirt included; some are simple vests, usually in the T-shirt style, but most commonly they are long-sleeved garments. When the long-sleeved vest is combined with the trousers, it creates a warm base layer for almost any cold environment.
Typical Long John Fabrics
Long johns are available in a variety of modern fabrics, each boasting unique attributes which affect the wearer's comfort, and the garment's longevity. There are three commonly encountered fabrics: cotton and polyester, wool, and flannel; however, savvy buyers encounter an even wider variety of materials present in long johns, and any fabric should be researched thoroughly for fabric care and qualities.
Cotton and Polyester Blend
It is important to note that most long johns today are produced from a cotton blend and polyester blend. The cotton and polyester blend features the two fabrics in varied proportions, and yields several advantages. It is typically more durable, and longer lasting, than pure blends. The cotton and polyester blends are usually very easily washed, and require very little maintenance, but tend to react poorly with ironing and very high temperatures.
Wool
While the synthetic and cotton blend tends to be the most common, wool is also a very popular fabric. Wool long johns have the advantage of being significantly warmer. In very cold climates, or during especially harsh snows, wool long johns shine for their insulation and comfort. Wool garments, however, require a great deal more care than modern blends. Hot water, dryers, chlorine bleach, and even overly rigorous washing machines can create undue wear and tear on the fabric. Wool also retains water more readily and longer than a cotton and polyester blend. This can lead to chafing, or extra wear on the long johns.
Flannel
Finally, there is also flannel. Flannel is decreasing in popularity, largely due to the prominence and ubiquity of cotton and polyester blends. Flannel is typically produced from a variety of individual fabrics, and is designed to replicate the feel, warmth, and other elements of other fabrics. Flannel, despite its warmth, does require special care, and typically needs to be either hand washed, or washed in a machine's most gentle setting, and dried on the lowest setting as well.
Other Fabrics
There are manufacturers who produce non-standard long johns out of disparate fabrics: silk, spandex, or even sheer, or gossamer, cottons. Archaic fabrics, like linen, still exist as well. These are not typically worn for their warmth or function, and may be considered for their individual aesthetic merit.
Sizing
Most modern manufacturers of long johns size their long johns in standard categories: small, medium, large, and into the plus sizes, X-large, XX-large, etc. Because of the broad category of sizings, the buyer should be cautious not to inadvertently choose a size too small or too large for their build. It is important to remember that there are several variations, and no two manufacturer's sizes are necessarily the same. However, in general, the sizings for the trousers portion of long johns can be broken down by waist size into approximate categories.
| | | | |
| --- | --- | --- | --- |
| Size | Small | Medium | Large |
| Waist (inches) | 29-31 | 32-35 | 36-39 |
While the waist measurements of long john trousers can be difficult to ascertain, the vest portion can be equally confusing. However, as a general rule, if the trousers are sized to fit, the vest is sized to fit appropriately as well. Again, because of the varied nature of manufacturers, and the differences in cuts and patterns, not all of the sizes are the same, a savvy buyer double-checks the sizes listed by the seller.
| | | | |
| --- | --- | --- | --- |
| Size | Small | Medium | Large |
| Chest (inches) | 34-36 | 37-39 | 40-42 |
One of the most important elements of buying a pair of long johns is the sizing. Most manufacturers include either a size chart on the back of the package, or on a tag attached to the item. In either case, you should double-check the sizes listed to ensure you purchase the appropriate size.
Finding Long Johns on eBay
The popularity, convenience, and utility of long johns has found the garment not only in brick-and-mortar stores, but also in the online shopping community. To find long johns, begin by visiting eBay. With a quick search and a few filters, you can find thousands of results for long johns, from a variety of manufacturers. If you have a preference for fabric, include that as a keyword in the search. It saves you time sifting through the less-desirable fabrics. For instance, type "cotton long johns" into the search bar to see only the listings that include items matching those search terms.
While the vest and trouser portion of the long johns are usually the same, it can be in your best interest to double check the fabric of the vest, before committing to a purchase. For instance, you can add phrases such as "vest" to ensure you search primarily the two-piece long johns. In these cases, you can help yourself a great deal by using the filter options extensively.
As with any eBay purchase, you should make sure that the seller of the long johns in which you are interested meets your needs. The feedback rating the seller has received, both positive and negative, as well as the shipping and post requirements should be among your primary concerns.
Conclusion
Long johns can provide the wearer with comfort, with warmth, and with a simple solution to start a cold day. The durability and coverage provided by long johns has made them almost ubiquitous, available in every corner of the world, and in virtually any vendor that sells undergarments. With a bit of consideration for the purchase, a pair of long johns can serve their wearer efficiently and for a long period time. By first determining the type of long john a man is looking for, then selecting a fabric, and finally an appropriate size, a man can have an easy time selecting from the wide variety of available long johns. While long johns may not be glamourous, they generally serve their purpose by keeping a man warm in cold climates. With care, a pair of long johns can serve a man effectively for a long time. Long johns can also be easily purchased online, through the leading auction website, eBay. Customers can find all types, colours, and sizes of men's long johns from a variety of sellers and often at discounted prices.