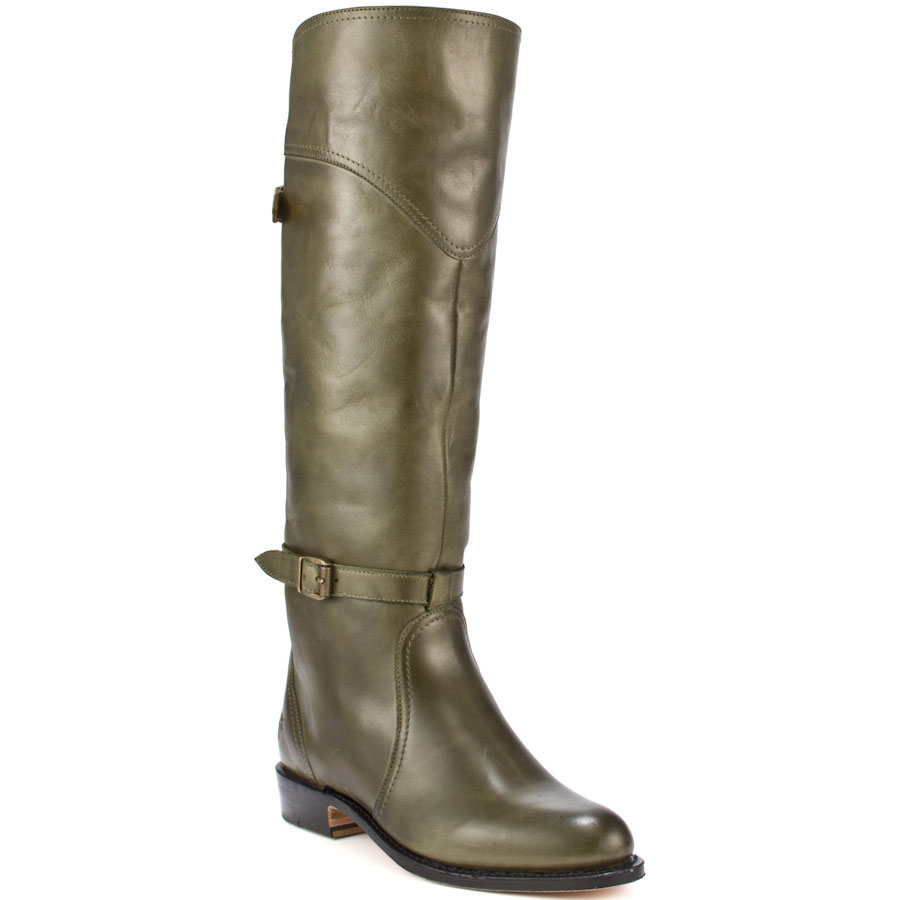 Horse riding is a popular pastime that is not only enjoyable but physiologically beneficial to the rider. Riding a horse requires skill, stamina, balance, and control. It also requires the appropriate gear. The right pair of riding boots not only looks more distinguished but also makes equestrian activities safer and easier to perform. Moreover, most horse shows have dress codes that require specific riding gear. Proper dress shows one's seriousness and dedication to the sport. Even when practising in the paddock, boots are necessary to protect the rider's legs and keep his or her feet securely in the stirrups.
Men's riding boots are not much different from women's riding boots, except in their sizing. Most of the traditional styles are classics that have existed for hundreds of years, with only a few changes to heel height and other minor details. Selecting riding boots is a fairly simple matter of knowing which type to get and making sure they fit well.
Types of Riding Boots
There are several styles of boots that can be classified as English riding boots: dress boots, field boots, hunt or top boots, and paddock or jodhpur boots, all of which are defined in this section.
Dress Boots
Dress boots, the quintessential riding boots, are tall pull-on boots with fairly inflexible shafts. These riding boots are sleek, smooth, and simple in design. They are available in black and brown. Dress boots cover most of the lower leg and reach up to the knee; the tops may be cut straight across or contoured higher on the outside to protect the knee.
Field Boots
Field boots are tall like dress boots, but have lacing at the vamps. This gives the boots more flexibility in the ankle area, which is beneficial for jumping and anytime the stirrups are shortened. These types of boots also feature a toe cap, which is an extra layer of leather for reinforcement. Field boots come in black and, less commonly, brown leather.
Hunt or Top Boots
Most hunt boots are black with a tan cuff and are otherwise similar to dress boots, being tall and lacking laces. They are called hunt boots because they are de rigueur for fox hunting events.
Paddock or Jodhpur Boots
Shorter paddock boots are ideal for children. Evidently, they need less leather to make and, therefore, are generally less expensive. Certain styles of horse showing also mandate paddock boots. These boots come in lace-up, zip-up, and elasticised Chelsea styles, and are also known as jodhpur boots. As with most riding boots, they are generally offered in black and brown. A toe cap may also be present on paddock boots.
Special Features of Riding Boots
While each type of riding boot has a specific look, there are certain elements that all such boots have in common. The colour (almost always black or brown) is one of those elements. The others are the materials used and the general design of the sole, heel, and toe.
Riding Boot Materials
Most riding boots are made of smooth leather: either cowhide or pigskin. Synthetic boots are available for budget shoppers and those who find animal skin distasteful. Riders occasionally wear patent leather boots in formal evening competitions.
Riding Boot Soles, Heels, and Toes
The soles and heels of riding boots are specially designed for performance and safety. Most riding boots have relatively slick soles; this allows the foot to slide out of the stirrup easily in case of a throw or fall. A foot caught in a stirrup can lead to a fracture or worse. Heels are about an inch high; this allows them to hook onto the stirrup without sliding through too far. The toes are generally rounded with a slight taper, which allows the foot to be placed into the stirrup with ease.
Getting the Right Size
One of the most important factors in selecting any type of footwear is getting the right size. Shoes that slip or squeeze are never comfortable, but when it comes to performance footwear such as riding boots, proper fit is crucial. The chart below shows men's foot measurements and their corresponding shoe sizes.
| Men's Foot Measurement | UK Shoe/ Boot Size | European Shoe/ Boot Size | US Shoe/ Boot Size |
| --- | --- | --- | --- |
| 23.5 cm | 5 | 38 | 5.5 |
| 24 cm | 5.5 | 39 | 6 |
| 24.5 cm | 6 | 39.5 | 6.5 |
| 25 cm | 6.5 | 40 | 7 |
| 25.5 cm | 7 | 41 | 7.5 |
| 26 cm | 7.5 | 41.5 | 8 |
| 26.5 cm | 8 | 42 | 8.5 |
| 27 cm | 8.5 | 42.5 | 9 |
| 27.5 cm | 9 | 43 | 9.5 |
| 28 cm | 9.5 | 44 | 10 |
| 28.5 cm | 10 | 45 | 10.5 |
| 29 cm | 10.5 | 46 | 11 |
| 29.5 cm | 11 | 46.5 | 11.5 |
| 30 cm | 11.5 | 47 | 12 |
| 30.5 cm | 12 | 47.5 | 12.5 |
Unfortunately, because there is no true standard when it comes to shoe sizes, one manufacturer's boots may run larger or smaller than another's. However, the above chart can be used as a general guideline or starting point when trying boots on. If a rider is purchasing his boots online, it is wise for him to check the specific size chart displayed on the company's website. If no such chart is available, he can submit his actual foot measurements to the seller for size verification or consult a customer service representative for assistance. Remember that width is also a factor, and again, this varies according to the manufacturer and is proportionate to size, so include the distance across the ball of the foot when recording measurements.
Measuring the Feet at Home
Most stores that sell footwear have foot-measuring devices on hand. However, it is unlikely that someone shopping from home has access to one. Using one's current shoe size may result in the best fit, but not always. It may be a better idea to measure the feet and supply these measurements to the boot company to let them choose the best size.
Measuring the feet is fairly simple. First, get a large, clean sheet of paper or two smaller sheets of paper (or one that is clean front and back). Remove shoes and stand in socks on the paper or papers. Have an assistant hold a pencil perpendicular to the foot and trace the outline. Be sure to trace both feet, as one usually differs in size from the other. Measure the length of each foot drawing from heel to the big toe and the width across the widest part of the ball of the foot. Finally, subtract 5 mm from each of the four measurements to account for the space between the foot and the pencil point.
Where to Find Men's Riding Boots
Men's genuine riding boots are available at a limited number of retailers. Equestrian boots are different from fashion boots, so it is important that the buyer not try to ride in street footwear that can be purchased from department stores and other regular shoe sellers. For one, street boots have more of a tread on the sole for walking as opposed to the more slippery sole of a riding boot. The heels on fashion boots may also not be adequate for hooking on stirrups. The differences can actually pose dangers to the wearer when riding.
Equestrian shops and sporting goods specialists are some examples of good resources for true riding boots. Many Internet retailers offer riding boots as well. Users can check consignment shops for used riding boots, although the chances of finding one's exact size are slim, so this method takes time and dedication. A better option for finding previously owned boots are online auctions, which are able to pool a high volume of sellers, thereby offering a better selection.
How to Buy Men's Riding Boots on eBay
You can find a terrific selection of riding boots on eBay. To find men's boots, go to all categories via the link on the home page and continue to click on further categories until you arrive at riding boots. Finally, use the category filter for gender to specify men's riding boots. You can use other category filters on the page to indicate your desired size, colour, brand, and so forth.
Another way to find men's riding boots on eBay is to enter a keyword or keyphrase in the Search field on the home page. You might type in simply "men's riding boots", or you might get more specific and try something like "Ariat men size 10". Note that the words do not need to be a grammatically correct phrase, just a set of descriptive words. eBay matches these words to all active listings that are tagged the same way.
Because of the size inconsistencies that exist in the shoe industry, look for sellers who offer return policies. Most sellers are reasonable and understand that buyers cannot commit to a final purchase before trying on footwear. A return policy allows you to be sure that your new riding boots are comfortable before you decide to keep them.
Conclusion
Riding boots offer somewhat limited options with regard to looks, but this is good news because it means that riding boots are fairly simple to purchase. Colours are almost always black and brown, and most boots are made of smooth leather or a synthetic substitute. The main concerns with all riding boots, including those for men, are the size and the style. Size depends on the individual's foot measurement. One's current shoe size is a good place to start, although measuring the foot from scratch may give more objective and, therefore, better results. Riders must choose the style according to the type of riding they wish to do.
There are four primary types of riding boots: dress boots, field boots, hunt boots, and paddock boots. Dress boots hit just below the knee and pull on, whereas field boots are the same height but feature ties at the vamps. Hunt boots are also tall but almost always have a cuff of a contrasting colour, usually brown on a primarily black boot. Paddock boots just cover the ankle and are often worn for practice rides and by children.
Riding boots are usually costly, and the sport of riding itself is an investment of time and money, so a boot purchase should not be taken lightly. Buyers should take their time when choosing a new pair of riding boots. By taking all of this information into account, any equestrian can get the proper boots and get the most out of their riding activities.