Silver chains are a wardrobe basic for men as well as women. They add style to collared shirts, make an urban fashion statement with chunky pendants, or display messages on pendants from loved ones. A silver bracelet is nearly as common today as cufflinks were in the 1950s. With just a little effort, any man can find the perfect men's sterling silver chain for daily wear.
Men's Silver Necklace Chains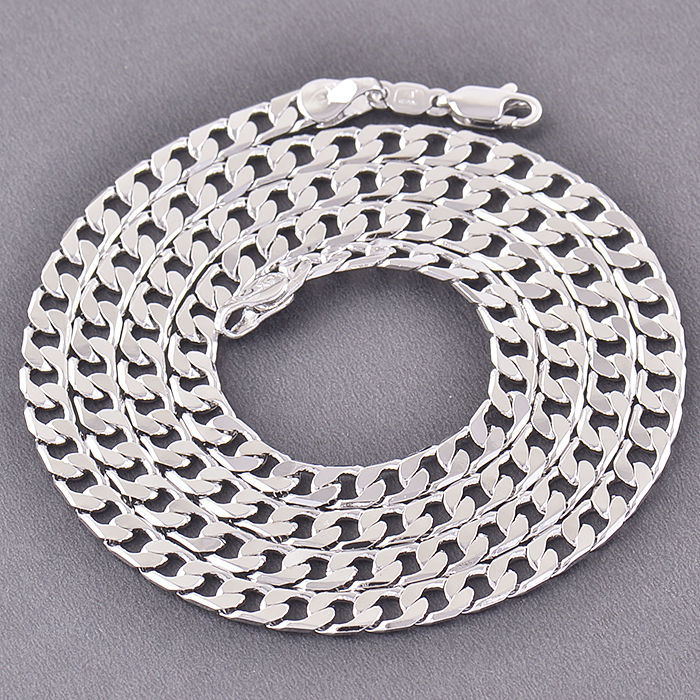 The types of men's sterling silver chains offer a selection to please everyone. Lightweight chains as narrow as 2.3 mm are perfect for hanging St. Christopher medals for daily wear. A chunky Cuban chain is a real standout at 15 mm wide. Silver dog tags often look good on bead chains while chunky hip-hop bling may call for similarly chunky men's silver chains. Several popular silver chain styles for men's silver necklaces are available.
Family

Chain Styles

Characteristics

Curb

Curb

Cuban or diamond cut curb

Braided curb

Links slightly twisted to lie flat

Belcher

Belcher

Oval belcher

Box belcher

Box chain

Links at right angles

Figaro

Figaro

Alternates three small links with one long one

Snake

Snake

Cobra

Tight round mesh

Mariner

Mariner

Anchor

Similar to old-fashioned anchor chain
A chain shorter than 22 inches may show at the collars of many shirts, while a 24-inch chain hides under shirt collars, if preferred. If a buyer wants to put a men's sterling silver pendant on the chain, it is important to select the pendant first to be sure it fits on the chain.
Men's Silver Bracelet Chains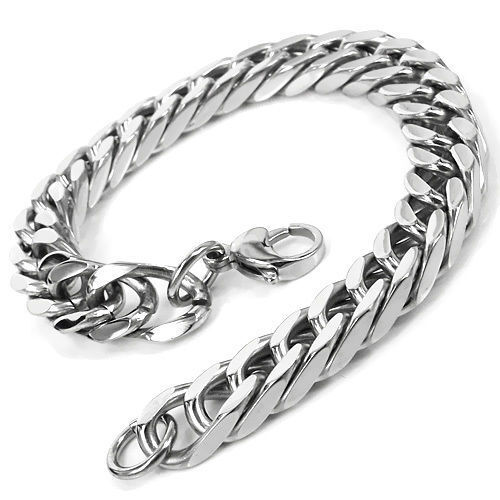 Men's sterling silver bracelet chains are usually wider and heavier than necklace chains. They also tend to lie relatively flat for the wearer's comfort. Bracelets come in curb chains, anchor or mariner chains, and figaro chains as well as a few bike chains, snake chains, and Byzantines. Lengths for men's silver bracelets range from 6.25 inches to 10 inches.
Sterling Silver and 925 Silver
Sterling silver and 925 silver are the same thing. The '925' mark indicates the percentage of silver, and it appears on newer American and Italian jewellery. Sterling made in the UK should have two marks, one indicating where the silver was alloyed and one indicating where the jewellery was made.
Taking Care of a Sterling Chain
Frequent cleaning is the best way to prevent tarnish from forming on a men's solid silver chain. Quickly dipping the chain in a commercial silver cleaner, rinsing, and drying is usually all that is necessary. Alternatively, owners can prepare tarnish removal baths by lining containers with aluminium foil, filling with hot water, and dissolving as much salt as the water can absorb. After placing the chain in the bath, any tarnish should disappear, and the men's silver chain is ready to wear again.