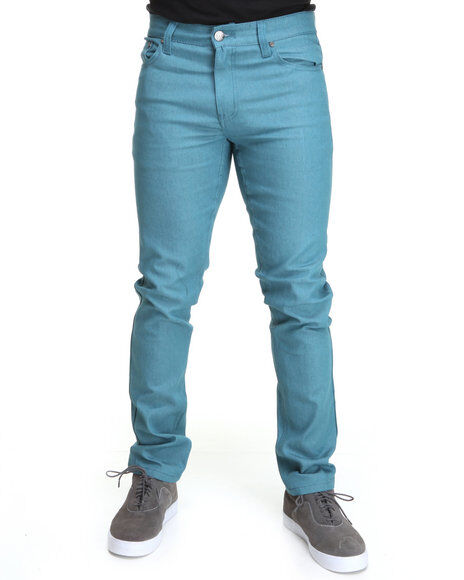 Skinny jeans first made their appearance during the 1950s and were a huge hit. As fashion tends to go in circles, since then they've came back in style twice. One time was during the 1980s and in recent years starting from 2007. They have a unique style that highlights the more attractive features of the lower body while still offering a great deal of comfort.
There were times when buying jeans posed no problem due to the lack of choice. Today, the market is so flooded with different types, brands, and colours of jeans that it's easy to miss the days when there was only one choice and the only decision one had to make was to take it or leave it.
Choice isn't all that bad though and it can be of great benefit if approached with the right attitude. This guide offers advice how to comb through the wide selections and choose the most fitting pair for any buyer. It doesn't matter if the shopping takes place in a local store, a mall or over the Internet, most of this advice will prove to be of great help.
Selecting The Right Size
Skinny jeans are the type of clothes that require the person wearing them to be in great shape in order to suit them well. Some might find them uncomfortable to wear even when they're in top shape. The model is generally meant for skinny built people and it gives a nice outline of the leg, putting emphasis to a person's height. It's of great importance for people who haven't worn this type of jeans before, to try a pair before making a purchase. All the stores that sell them online, provide a sizing chart which gives reliable information that can be use in the decision making process. The measurements in a sizing chart for skinny jeans are the same as the ones from a pair of regular jeans, but keep in mind that they might differ between vendors. Here is a sizing chart that can help determine the correct size.
| Size | Waist (cm) | Lower Waist (cm) | Hip (cm) |
| --- | --- | --- | --- |
| 28 | 72 | 76 | 88 |
| 29 | 74 | 79 | 90 |
| 30 | 77 | 81 | 93 |
| 31 | 79 | 84 | 95 |
| 32 | 82 | 86 | 98 |
| 33 | 84 | 89 | 102 |
| 34 | 87 | 91 | 105 |
| 36 | 92 | 96 | 110 |
| 38 | 97 | 101 | 115 |
The tight fit that these type of jeans provide, make it pointless to buy a bigger size. Make sure to get the measurement right, because a belt won't work as an easy quick fix. A smaller size can cause great discomfort or not fit at all.
There's more than one style of skinny jeans . Amongst the most popular are cigarette, pencil and straight. Get well acquainted with all three styles of skinny jeans. One style might not fit as flattering to a person's body features as another, so it's important to check them all out before making a final purchase.
Features of Denim
The clothing material has always influenced the quality of the product as a whole. It's true that all jeans are made out of denim, but huge differences can be found in this field. Most of the differences can be attributed to the overall quality of the denim used, but one should keep in mind that the colouring and treatment also have a great influence on the end product.
The Denim Itself
It's not that hard to estimate the quality of the denim used on a piece of clothing. No matter which season they're intended for, the jeans should have a certain thickness in the material. Also, thinner and equal lines on the denim itself are a sure sign of superior quality. Denim can be a bit rough as a material, so it's very beneficial for this sort of tight fitting jeans to have a small percentage of spandex to offer more flexibility. The small amount of two to four percent of this synthetic material can be found in the contents tag under the name elastane, spandex, or Lycra.
Colouring
When it comes to colouring there has always been great uncertainty. Cheaper pairs of coloured jeans can often bleed their colour into the wash. That's why it is always a good idea to wash them separately the first couple of times. If they're bleeding colour during the wash, it will be easily noticeable by the rapid deterioration of the quality of the colouring. After a wash or two, jeans that have a flaw of this sort will be considerably faded especially round the stitching. To avoid this problem, it's a good idea to seek information on whether the jeans have been prewashed.
Faded, Ripped or Fried
None of the above options are generally a good idea. In recent years, it has become pretty popular to buy jeans that look aged, rather than brand new. Even though all of these treatments are done in a factory, they still have a negative effect on the fabric used. It might not be that big a deal for those that are not planning on using the pair for long time, but if the aim is to buy a pair which can be used for many years to come, these are some of the traits that should be avoided.
Stitching in Men's Jeans
Stitching is a trait that is often easily overlooked but it's of great importance when it comes to skinny jeans . The tight fit around the waist and the legs adds stress on the stitching near the hips and between the legs. Granted, an thоroughal examination can't be done online, but many sites like eBay offer a zoom in function to their images so that shoppers can get a closer look. If done right, the stitching should be in two straight lines, with another two going criss-cross in between. When purchasing online, look for customer reviews to make sure that there's no problem of this sort. Bat stitching can give out even faster than the worst kinds of denim.
Brand Name Men's Jeans
This has always been a great dilemma to many people. On one hand, with brand jeans there is more certainty that the material and the whole product has no flaws, but on the other hand there's always that feeling that the price paid is way higher than it needs to be. Unbranded jeans can prove to be of decent quality as well, and some of them are so cheap that it's even affordable to make a mistake.
Still, mostly everyone get what they pay for, so don't go around expecting too much from a pair that costs less too little. Prices do vary a lot but it's still possible to find a decent pair of designer skinny jeans in an acceptable price range for the quality and durability that they offer. The same amount of money might be sufficient to purchase three pairs of unbranded jeans of decent quality, so in the end the math mostly adds up in quality vs.quantity.
How to Find Men's Skinny Jeans on eBay
There are a lot of choices when searching for men's skinny jeans on eBay. The online store offers a wide range of styles in all price ranges. The easiest way to locate them on eBay is through the search function by entering in men ' s skinny jeans. This search will return a great amount of results, so if the search results are supposed to reflect a certain style of skinny jeans, the information should be entered in the search bar as well. This might be the fastest way, but it prevents the customer from using the filters that can help manage the search results well.
The best way to find the desired style is by trying to locate it through the Categories menu, by reviewing the 'Men's clothing' area. While using this method the selection can't be filtered by subcategories. Shoppers will need to to refine their search using the search bar, but other than that everything else is pretty straight forward.
Conclusion
Anyone who wishes to buy a pair of skinny jeans has to find the balance between style and quality that works for them. Make sure that the desired pair has a good base by selecting the right type of denim. It's very beneficial to have a small portion of spandex in the material because it improves flexibility.
Jeans of inferior quality can easily rip if they have weak stitching or bleed their colour during a typical washing. Faded, ripped or frayed jeans should be avoided if longevity is of great importance as those techniques have a negative effect on the quality of the material. Name brand jeans do offer higher quality sometimes at a higher price, but sometimes some of the prices are pretty decent and acceptable for all. In the end between brand and unbranded it's a struggle between quality and quantity where both sides have their merits. There's a wide selection of this type of clothes online, and when choosing to purchase them over the Internet, It's very helpful to confirm the size with the measurements in the sizing chart.