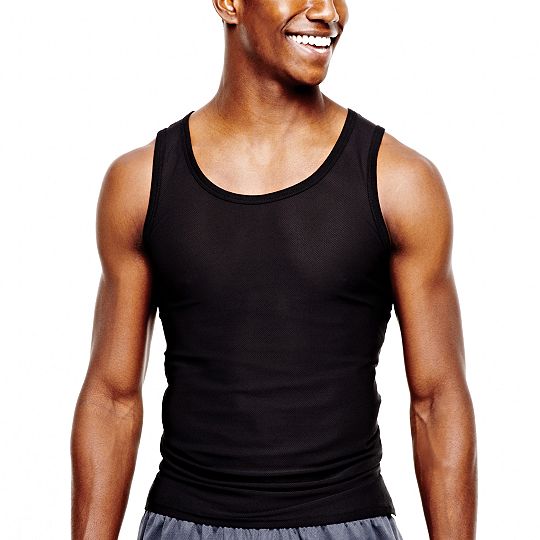 Men's tank tops are a type of knitted sleeveless sweater, sometimes also called a sweater vest. And as with more traditional sweaters, they come in a wide arrangement of styles, colours, and patterns. Tank top buyers should always take a moment to determine which type of tank top will best accommodate their needs and fashion before beginning the hunt for their perfect item. For example, the very fibres in the fabric of a tank top will determine how warm and insulating it is for the wearers, a detail which also commonly affects the item's price and level of required care.
Whatever the variety of men's tank top shoppers are looking for, prospective buyers should weigh the benefits of online shopping versus traditional retail shopping. While traditional retail shopping allows individuals to touch and try on an item, tank top selections are fairly limited. And online shopping at websites such as eBay tempts buyers with impressive markdowns vs. the cost of traditional retail prices.
Men's Tank Top Varieties
Individuals looking to purchase a tank top should become at least passingly familiar with the different styles and varieties available. The options listed below are among the most common.
Shawl Collar Tank Tops
Shawl collar tank tops have an extra thick, rolled-over collar, typically drawn low into a relatively deep v-neck. A shawl collar is particularly cosy in colder months or on windy days, and serves to add another element of visual interest to an outfit. However the plushness of most collars obscures much of a shirt underneath as well as any tie worn, and this is something potential buyers should take into account before making a purchase.
Cardigan Style Tank Tops
Cardigan style tank tops are also simply known as sleeveless cardigans, and they feature a button-front closure rather than the standard pull-on fashion. If the tank top is the outermost layer, the line of buttons and generally lower neck create additional visual interest. Shoppers should take care not to pair these with too many other button-front closure items.
Fair Isle Tank Tops
Fair isle tank tops are tank tops knitted with at least one yarn in an off colour stitch to make designs into the fabric of the tank top. The look of these tank tops is classic and iconic, making them an enduring fashion staple. Looking for a fair isle tank top is the best way to find a two-colour tank top while avoiding stripes, which often makes a figure look wide. A band of fair isle knitting over the chest, however, or over the chest and shoulders, can draw eyes up toward the face while preserving that slimming look.
Cabled Tank Tops
Cabling is the process by which individual loops of yarn are twisted over each other during the knitting process, which gives the appearance of a raised pattern. Cabling is a way to add visual interest to a tank top without using a different colour. Buyers should be cautious of thick cabling in more than two lines, however, as too much makes a tank top look lumpy. Thin lines of cabling are far more slimming, and some manufacturers knit cabling in just a few thick strips. So called "ribbing" on tank tops is really just another form of cabling.
Men's Tank Top Fibres
Relatively few shoppers stop to consider the fibre content of their tank top, which is an unfortunate mistake for some. Tank tops are found in a boggling number of fibres and fibre mixes, but for most purposes, savvy shoppers will hone in on just a few. Cotton and acrylic are both soft, cheap, and easy to care for, but come up lacking when it comes to insulating wearers against cold. Cotton tank tops also tend to lose their shape over time, unless blended with other fibres.
Wool, angora, alpaca, and cashmere all do far more to insulate their wearers, but in contrast are quite expensive. To mitigate cost while still finding a warm tank top, potential buyers need to look for those which offer any of these options in a blend with other fibres. In many cases, having blended fibres help the tank top retain its shape over time and through multiple washings.
Matching a Tank Top to Your Wardrobe
When purchasing a tank top of any variety, it is important to match it to a wardrobe and the situations which it will be worn. As a rule of thumb, those intending to wear a tank top to work or other formal settings should stick with relatively muted colours.
For a Formal Look
Those who intend to wear a tank top to the workplace or with a suit should absolutely stay away from loud colours on a sweater vest, as these are better displayed in smaller areas, such as a tie (when tucked behind the sweater), socks, or a pocket square. If individuals tend to wear dark trousers, pair them with a dark or similarly coloured tank top. Likewise, if men wear paler trousers in grey or khaki, they should match the tank top with the trousers. This creates a very slimming look and allows wearers to contrast with an opposing colour shirt. Smaller, vertically lined cabled tank tops increase this slimming look, or the wearers can use fair isle patterns to pick up on their accessory accent colours.
For a Casual Look
For a casual look, shoppers should shy away from more muted tones and feel free to go a little more bold. Rich russets, reds, and oranges nicely complement khakis and chinos, while cooler colours pair well with jeans and darker slacks. Bold, off colour fair isle patterns help pick up accent colours on shoes, scarves, hats, or watches, while chunky cabling tends to look cosy, comfortable, and homey.
Men's Tank Top Fitting Guide
The perfect tank top should be contoured to the wearers' bodies and not be baggy or sagging. Any sag in a tank top makes the users look heavier than they are, especially around the middle. To ensure that a tank top fits properly, however, the clothes beneath should also be well fitted, especially around the shoulders, chest, and waist. In this respect, tank top fitting guidelines are very similar to fitting a vest.
Finding the Right Tank Top Size
To find the proper size of tank top, buyers need a measuring tape and perhaps an assistant. Placing one end of the tape at the centre of the chest, they need to measure the circumference of the chest at the widest point, while keeping the tape snug under the arms and flat against the back. The number of centimetres which the tape reads when it reaches the end held at the centre of the chest is used to correlate to the correct size listed in the chart below.
| | | | | | |
| --- | --- | --- | --- | --- | --- |
| Fitting Guide | XS | S | M | L | XL |
| Centimetres | 86-91 | 91-96 | 96-101 | 101-106 | 106-111 |
If shoppers run to the larger limit of their size, it may be appropriate to purchase the next size larger to accommodate the clothes which will be worn beneath. It is also prudent because some tank tops are likely to shrink in the wash.
How to Buy a Men's Tank Top on eBay
To buy a men's tank top on eBay, go to either the eBay homepage or any other of the eBay pages. Each will feature the eBay search bar. After locating the search bar, simply click it, and type in the general words or terms which describe your ideal tank top. Some examples of such a search might be "cardigan style tank top" or "medium fair isle tank top". In general, it is a good idea to make your beginning search terms fairly broad.
Once the available listings appear which match your search, you can narrow down your options by using any of eBay's available refining functions. These functions let you display the items of only a particular size or colour or organise the listings based on their total price. You may also choose to have the listings organised based on how soon the listing ends or even by its originating location.
Conclusion
If a traditional sweater may be a little too warm for everyday wear or does not fit well beneath jackets or blazers, a tank top may be in order. Sometimes also called sweater vests or sleeveless sweaters, they are a knitted, waistcoat-like layer often worn over button-up shirts. In most all respects, tank tops follow the general fashion rules of waistcoats and sweaters. Buyers desiring another layer or dimension to their wardrobe without any additional insulation should look for a tank top made of cotton or acrylic, which is soft but will not do much to keep wearers warm. Those wanting that additional insulation should look for wool, wool-blend, or cashmere options. And those shopping for a tank top of any kind should always consider dodging the time sink of traditional retail shopping and opt instead to shop online. A website such as eBay allows its customers to efficiently browse large tank top selections in a snap and all from the comfort of home.