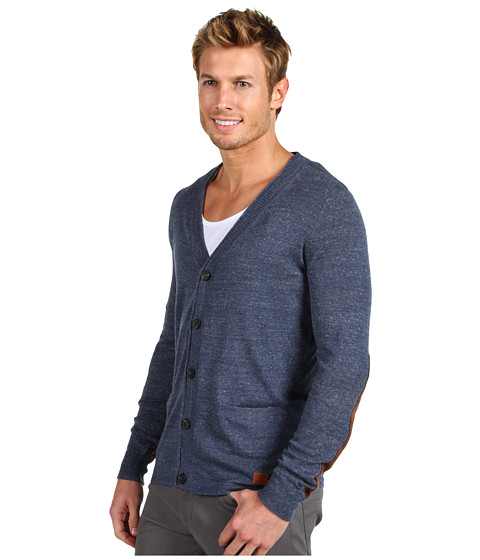 Cardigans are an alternative to traditional pull-over sweaters and sweatshirts, and they are a staple of fall and winter wardrobes. Unlike pull-over sweaters, cardigans usually feature a button or toggle front closure. Like sweaters, they are always knitted and are generally made with fibres commonly used in winter garments, such as wool, cashmere, or alpaca. Some men's vintage cardigans are made of fibres with less insulating capability, such as cotton or acrylic, and as a general rule, those cardigan options are likely to be cheaper. But no matter what variety of men's vintage cardigan buyers are looking for, shoppers should consider perusing the offerings of websites such as eBay. Auction listing sites like eBay combine the ease and convenience of traditional online retail shopping with the bargain-finding opportunities of auction listings. Shoppers interested in purchasing a men's vintage cardigan need to determine the different styles that are available to them before making a final purchasing decision.
What Makes a Vintage Cardigan
It is not just the date of the manufacture which makes a vintage cardigan, but also the unique style and appearance of decades past. Since cardigans have been a common wardrobe staple for a century or more, it is important to identify the era of the vintage cardigan that buyers are looking for. In the 20s and 30s, for example, cardigans were fitted to the chest and shoulders, but slightly loose around the waist, with a very low front closure. They were found in plain, typically darker colours, sometimes with cabling. Colour, shawl collar, and double-breasted style became common later, with contrast knitting and stripes becoming popular in the 40s and 50s. The fair isle patterns made intermittent resurgences in popularity from the 50s to the 70s, which is also when popular fashion celebrated a return to the darker colours of the opening of the century, with the notable addition of tweeds and marled yarns.
Vintage Cardigan Styles
Cardigans are such a fundamental part of fall and winter wardrobes, and evidence of their popularity can be found in old shopping catalogues and photographs. Below readers will find detailed but brief summaries of the different styles commonly found in men's vintage cardigans, as well as fashion tips and buyer cautions.
Common Vintage Cardigan Types
As with every other garment, cardigans are found in a variety of types, each of which is distinguished from the other because of a unique appearance and with different benefits to comfort. Buyers should consider which style would be most appropriate when matched with their existing wardrobe before settling on a particular vintage cardigan type.
Traditional Vintage Cardigan
The traditional vintage cardigan has a low neck with a button front closure. It is fitted to the shoulders and waist, and it has slightly over long sleeves. The traditional vintage cardigan is the iconic cardigan, and easily matches traditional t-shirts, long-sleeved shirts, and button-ups.
Shawl Collar Vintage Cardigans
Shawl collar vintage cardigans feature an extra-long collar which is rolled back at the neck. They also go over the shoulders and over the chest, so that they form a lapel-like look. Shawl collar cardigans are generally worn as the outermost garment in an outfit.
Double-Breasted Vintage Cardigans
Made to mimic the timeless look of double-breasted coats but coupled with the cosy comfort of a sweater, double-breasted cardigans feature a dual row of front buttons. Double-breasted vintage cardigans are best paired with plain shirts and with button ups, but when they are worn with button coats, they may prove to be something of a button overload. Buyers should consider getting a double-breasted vintage cardigan if it is meant to be the outermost garment, and there are few other sources of buttons in the wearer's ensemble.
Chunky Knit Vintage Cardigans
As the name implies, chunky knit vintage cardigans are knit with super-thick yarns, which can be very warm in more severe winters or for people who tends to get cold easily. Before buyers count on a chunky knit vintage cardigan to keep warm, however, they should make sure to check the fibre content. Natural fibres like wool, angora, mohair, alpaca, or cashmere provide cardigan wearers the absolute most insulation. Unfortunately, this can also make chunky knit sweaters made of these fibres quite expensive.
Sleeveless Vintage Cardigans
Sleeveless vintage cardigans are simply cardigans manufactured without sleeves. Worn very much like vests, these are ideal options for those who love the look of a cardigan but may become over warm in the extra layer. They are also ideal for men who commonly wear sport coats or blazers as an everyday part of their wardrobe. It is important to note that because cardigans are knitted, sleeves cannot simply be cut from vintage cardigans; this would cause the whole cardigan to unravel.
Common Vintage Cardigan Patterns
Sure, anyone can purchase a plain, solid-colour vintage cardigan, and it's likely to look fabulous, but for those men who are wanting to add a little extra wow to their wardrobe, a patterned vintage cardigan is a must. When cleverly matched to the rest of an outfit, these patterns are used to highlight accessories and accent colours.
Fair Isle Vintage Cardigans
Fair isle knitting patterns use a different colour yarn from the cardigan body to knit traditional geometric designs, stylized objects and animals, or nearly anything else imagined. Loud, brightly contrasting fair isle patterns are common to vintage sweaters of the 40s and 50s, while more sedate colours are common to the fashion of later years.
Striped Vintage Cardigans
Many men's vintage cardigans feature differently coloured yarns used in alternating patterns, creating horizontal stripes. Contrary to popular belief, this look is not achieved through dying the different sections of a completed cardigan; instead, when the section of one colour is ended, the tail of yarn is knotted or blended with that of an entirely different and new yarn of the alternating colour.
Cabled Vintage Cardigans
Cabling is the process by which the knitted rows are twisted or shifted over the course of the knitting, giving certain areas a slightly raised appearance from non-cabled rows. This enables manufacturers and hand knitters to knit special designs and figures into a cardigan while keeping the cardigan a uniform colour.
Vintage Cardigan Fibres
When looking for a men's vintage cardigan for keeping warm, buyers should not settle for cheaper varieties of knit with cotton or acrylic. Alternatively, if the cardigan is intended to be worn primarily indoors or in the spring, wearers should look for lighter styles in cotton blends.
Natural Fibres
Natural fibres used in vintage cardigans include cotton, wool, and cashmere. Wool is by far the most common since it is a robust, tough, and well-insulating material. But vintage cardigan buyers should be warned that authentic wool cardigans from earlier periods may be more scratchy than modern varieties, and they will likely trap environmental scents very well. Conditioning scratchy wool garments with special wool conditioners will do a great deal to help soften them. Cotton is another staple of cardigan construction, but it is generally used for lighter cardigans not suited for offering much warmth. While cashmere is another option available to vintage cardigan buyers, it is likely to be far more expensive than either wool or cotton styles, though it will also do better to insulate its wearers.
Synthetic Fibres
Synthetic fibres did not become widely used in cardigans until the 40s and 50s, when industrial improvements and scientific advancements allowed the mass production of these materials. Though cheaper for consumers than natural fibre alternatives, the most common of synthetic fibres, rayon and acrylic, offer their wearers little in the way of insulation. This makes them a poor choice for garments intended to keep the consumers warm, but they are ideal for those just wanting a fashion piece to round out their wardrobe.
Buying a Men's Vintage Cardigan on eBay
Shop smarter, not harder, as the adage goes; and there's no better way to shop smarter for a men's vintage cardigan than to try to find and buy it via eBay. And luckily, this can be done from any eBay page, including the homepage. Simply find and click the general search bar. Once there, type in the terms which describe your ideal men's vintage cardigan. This could be anything from "cashmere shawl neck vintage cardigan" to "brown sleeveless vintage cardigan". The listings which match your query should appear immediately.
If you have more than just a handful of pages to search through, organising the listings may prove to help you on the search. eBay provides its users with the capability to rearrange listings and organise them based on several different qualities. These qualities include the total price of the listed item with shipping, nearness of the listed item to your location, and the termination date of the listing.
Conclusion
Men's vintage cardigans come in several shapes, styles, and patterns, and with good reason. As fashion staples through several seasons and many decades, cardigans have undergone a rich history of changes. From the chunky knit to the shawl collar, and from fair isle and rugby stripes to ornate cabling, cardigans have been just as versatile (if not more so) than sweaters over the years. Vintage cardigan buyers should remember that the thickness of the cardigan is not nearly as good an indication of how warm it might keep them compared to its fibre content. Many fashion retailers offer cardigans, of course, but for those on the hunt for the true vintage look, auction listing and reseller websites such as eBay offer the best bet for a vintage cardigan at a bargain price. Buying a men's vintage cardigan through eBay also mitigates the hassle of going to brick-and-mortar vintage stores and rifling through often disorganised racks, and it saves savvy buyers from the sticker shock of inflated goods.