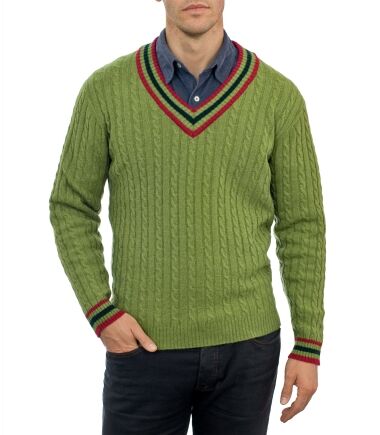 Wearing a men's vintage jumper offers an excellent opportunity to revisit a bygone era, enjoying quality craftsmanship, while sporting a relatively unique style. Although there is no exact definition, clothing is considered vintage if it dates from a previous era. Antiques are generally classified as items that are at least 100 years old, so vintage clothing is generally less than 100 years old. Clothing does not have to be particularly old to be considered vintage.
When buying a men's vintage jumper several factors should be considered to find the perfect item. The jumper should be the right size and as clothing sizing has changed over time it is best to have the wearer's measurements on hand while shopping. Jumpers come in a range of styles, colours, and patterns, and all of these features should be considered to find a jumper that suits the wearer. In addition, men's vintage jumpers are made from different materials, each with its own advantages and disadvantages. Finally, since vintage clothing has usually been worn, the item should be checked for wear and tear. Men's vintage jumpers are available from charity and vintage clothing shops, and from secondary market sources like eBay.
Sizing Men's Vintage Jumpers
Men's builds have changed over the years and a medium jumper today may have been a large forty years ago. As a result it is best to have the wearer's measurements to hand while shopping. In some cases an idea of the approximate contemporary size aids in establishing the equivalent vintage size.
How to Measure for a Men's Vintage Jumper
The most important measurement required for men's vintage jumpers is the chest measurement. This measurement should be taken with a cloth or tailor's tape measure around the broadest part of the chest. The tape measure should be held parallel to the floor and not pulled too tightly while measuring. Sleeve and body lengths are also handy to have. To measure sleeve length ask the wearer to stand in a relaxed position with his hand on his hip. Measure from the shoulder, over the elbow to the wrist to obtain this measurement. For a body length measurement, measure the body from the back collar or base of the neck to the hips.
Men's Vintage Jumper Sizing Chart
A contemporary men's sizing chart can be used as a guide when shopping for men's vintage jumpers. The chart below can be used to convert chest measurements to casual clothing sizes.
| | | | | | |
| --- | --- | --- | --- | --- | --- |
| Size | S | M | L | XL | XXL |
| Chest (inches) | 36-38 | 38-40 | 40-42 | 42-44 | 44-46 |
The chart above is intended only as a guide for establishing approximate contemporary sizes. It is always best to have the wearer try clothes on before buying. However, this is not always possible. If the wearer cannot try the item on, compare his measurements to the dimensions of the vintage jumper. If uncertainty exists about the fit, buy from a seller or shop with a reasonable returns policy.
Types of Men's Vintage Jumper
Men's vintage jumpers are available in a range of designs and include pullovers and button downs, thick and light knits, and a variety of colours and patterns. Consider the wearer's preferences when choosing between a pullover and a front button jumper.
Jumpers are also available with a variety of necklines, including round, crew neck, or V-neck. Some men prefer wearing a jumper over a collared shirt and may feel constricted by a round neck. If this is the case, opt for a jumper with a V-neck. Similarly, a round or crew neck jumper works better than a V-neck when worn over a T-shirt. Consider the wearer's style and the layers worn underneath the jumper.
Colours and Patterns for Men's Vintage Jumpers
Solid colours are generally considered more formal and elegant than bright colours and busy patterns. Popular patterns include argyle and horizontal stripes. Some jumpers feature patterns created by the type of knitting used to create them, for example cable knit. In addition, the weight of the wool and the knit makes the jumper warmer or cooler, and a bulky jumper may be too hot for spring or autumn.
Materials for Men's Vintage Jumpers
As with contemporary jumpers, men's vintage jumpers are available in a variety of materials, from natural fibres to blends and synthetics. Cashmere is the most luxurious fibre used in the creation of jumpers, and the price tag generally confirms this. This type of wool is exceptionally soft and luxurious, breathes well, and drapes beautifully. Sheep or lamb's wool is durable and warm, but tends to be heavier than cashmere. Both these fibres require delicate care to keep them looking their best.
Synthetic fibres generally do not breathe as well as natural fibres, but they are easier to launder. Some vintage men's jumpers are made from a blend of natural and synthetic fibres, making them easier to care for, and wrinkle and stain resistant. Jumpers, vintage or contemporary, should not be dried in a tumble drier. Instead, reshape them after washing before placing them on a flat surface to dry.
Condition of Men's Vintage Jumpers
Men's vintage jumpers are usually pre-owned. This means that the items have been worn. Carefully check the item for obvious signs of wear and tear, but bear in mind that it may not be in pristine condition. Check for stains, pulled threads or runs in the wool, and ensure that the stitching at the seams is intact or can be mended easily. Check for pilling, especially on the body of the jumper and under the arms as these areas tend to rub against the body and other objects. The jumper should not be stretched at the neckline or misshapen. Pure wool tends to attract insects if stored incorrectly, so check for damage from moths and other wool loving insects.
If the item is being bought from an online source ask the seller detailed questions about the item's condition. If photos are available, study these carefully and ask for additional photos if those supplied are unclear. Most sellers are happy to supply additional details.
Buying a Men's Vintage Jumper on eBay
Buying a men's vintage jumper on eBay is easy as long as you know how to search for items. To search, simply type a keyword or phrase, such as "men's vintage Christmas jumper", to see the listings available. Refine your search by choosing the appropriate category and features. For more search options, use the advanced search function. Remember that many eBay sellers have returns policies in place like those of high street retailers. Look for these sellers when buying clothing.
Before You Buy on eBay
Before committing to a purchase be sure to evaluate the item and seller. All the information that you need to do this can be found on the item listing page. Simply click on an individual listing to see the item description and any photos, bidding and buying options, the seller's accepted payment methods, the terms of the seller's returns policy, where applicable, postage and packaging costs, and the seller's feedback details. If you have any questions use the "Ask a question" link to get in touch with the seller.
The seller feedback feature allows you to see what others have to say about a particular seller's products and customer service. Detailed seller ratings provide additional information about aspects such as the reasonableness of postage and packaging costs, the accuracy of the item description, how long it took for the seller to send the item, and the seller's communication.
Conclusion
Wearing a vintage men's jumper allows the wearer to display a high quality, stylish item from a previous era. When shopping for this type of garment it is important to choose one that fits the wearer. As clothing sizing practices tend to change with the way people's bodies change it is best to have the wearer's measurements to hand while browsing. His contemporary clothing size can be used as a guide to find the right size range. Although jumpers are generally sized according to chest measurements, having the arm and torso lengths available ensures that the vintage jumper chosen is neither too short nor too long.
In addition to finding the right size, the wearer's needs and personal preferences should be taken into account when choosing the type of jumper, and the colour and pattern. Some men prefer jumpers that button in front, while others are more comfortable wearing pullovers. Solid, dark colours are more formal and usually suitable for work wear, while bright, busy patterns are considered casual. Take note of patterns and textures created by the knitting style.
Choose a material that matches the wearer's personality and will not be overly cumbersome to launder. Luxury fibres, such as cashmere, look and feel great, but require special care. Synthetic blends are relatively easy to launder. As men's vintage jumpers have usually been worn, check the item's condition before buying it, but have reasonable expectations of the quality of the garment. Men's vintage jumpers are available from a number of eBay sellers.