Full title: Mercantile Marine Medal 1914-18
Also known as: Mercantile Medal, Merchant Navy Medal etc.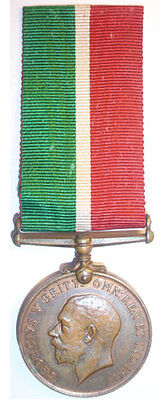 Construction: Cast bronze disc, 36 millimetres in diameter.
Ribbon: 32 mm broad green and red stripes, separated by thin white stripe. The left broad green stripe represents a ships starboard running light, the middle thin white stripe represents a ships masthead light and the right broad red stripe a ships port running light.
Clasps: None issued, however merchant seaman were issued with a badge and subsequent bars if torpedoed.
Naming: Impressed block capitals, 2 known styles (excluding Dominion issues). British Mercantile Marine Medals are impressed with the recipients full first name, middle initial and full surname, apart from late issues which may only be impressed with initials.
Issued: Issued upon claim only, original issue between 1919 and 1927, medals issued after 1927 should be considered late issue.
Awarded to: Issued by the Board of Trade to all nationalities and ranks of men and women who sailed through a danger zone with the Merchant Navy, including those employed on Merchant Navy vessels by the Royal Navy or Merchant Fleet Auxilliary and those employed as pilots, lighthouse vessels, cable ships or fishermen, between 04.08.1914 and 11.11.1918. For a Merchant Navy member to qualify for a further British War Medal required 6 months at sea between the same dates. If a group contains further medals (for example a Victory Medal or a "Star"), this was for service outside of the Merchant Navy. Just over 250,00 Mercantile Marine Medals were produced, yet only 133,345 were issued. This is because seaman had to apply for their medal and many did not. Also, seaman came from all over the world and had no fixed address.
Obverse: Profile head of King George V facing left, surrounded by legend "GEORGIVS V BRITT: OMN: ET IND: IMP:" in block capitals. Designers initials ("BM" Bertram MacKennal) can be seen on the "shoulder" of the king.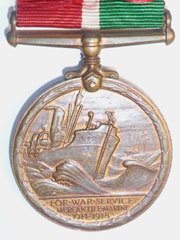 Reverse: An armed Merchant Navy vessel steams through rough seas, to its right a U-Boat is seen sinking bow first, with its stern in out of water. Behind and in the distance an unarmed schooner is under sail, saved by the Merchant Navy vessel. Beneath this scene, is the inscription "FOR*WAR*SERVICE*IN*THE*MERCANTILE*MARINE*1914-1918*" on three lines. The whole is surrounded by a laurel wreath circlet. The designers initials ("HS" Harold Stabler) can be seen in the sea to the right of the Merchant Navy vessel.
Comments: In recent years Mercantile Marine Medals have been harder and harder to acquire. What was at one time considered secondary to armed forces medals is now collected in its own right. This is a trend I wholeheartedly support and agree with, the actions and bravery of Merchant seaman during the First World War were exemplary. Also, In my opinion, the medal is one of the best designs of any medal of the twentieth century, both on the reverse and in the inspiration behind the ribbon. Mercantile Marine Medals in army/air force groups are particularly sought after and command a premium. As do those Mercantile Marine Medals awarded to casualties.