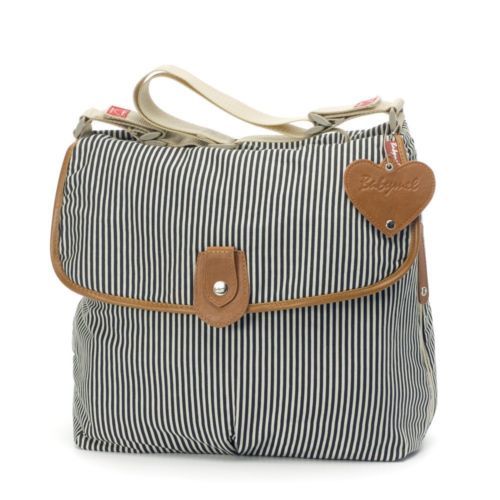 Having a baby can result in a messy house with toys sprawled around the house, used baby clothes temporarily forgotten on the couch, and leftover baby food on the table or kitchen top. But amidst the chaos, in the convenience of one's home, a parent knows where to access the things needed for the baby. Taking the baby away from home requires a more organised approach to storage, however, and a nappy changing bag sure helps a lot.
Nappy changing bags today come in different sizes and styles, but parents who want a more contemporary look in their changing bag opt for a messenger changing bag . There are benefits in choosing a messenger changing bag over other styles. Furthermore, buyers can even find greater convenience and comfort in choosing a messenger changing bag that has the right components or parts. Buyers must know what and how to look for a messenger changing bag to find a suitable one in which to carry the many baby items when taking their child out.
Nappy Changing Bag Overview
A nappy changing bag or diaper bag is a storage bag with multiple pockets. Although created for a particular purpose, a nappy changing bag can be designed in a way to look like a regular bag. Many shoulder and messenger changing bags can be hung around the handles of a pushchair. Others still have built-in wheels so a parent can wheel them around while carrying a baby or doing another task. Newer models of nappy changing bags are smaller than the usual types.
Messenger Changing Bag
There are different types of nappy changing bags based on the way they are constructed. Besides, the messenger bag, there is also a backpack and shoulder bag type. As opposed to a backpack, parents do not need to take the messenger bag off of their body to take something out. They can easily shift the bag to lie against the side of their body to reach in for a baby bottle, a nappy, or a changing mat.
When planning to put more items inside the changing bag, a messenger type of changing bag is more comfortable to wear than a shoulder type of bag. This is because with shoulder bags, the weight is concentrated on just one shoulder, while with the messenger bag, the weight is distributed across the body as the actual bag rests on one side of the body, while the shoulder strap is on the opposite side.
What to Look for in a Messenger Changing Bag
There are certain factors to consider when buying a messenger bag, including an adjustable padded strap, a detachable changing mat, multiple pockets, multiple compartments, insulated bottle pocket, and light, mesh, or see-through interiors.
Adjustable Padded Strap
The strap of a messenger changing bag should be adjustable so it can be hung on the handles of the pushchair when wheeling the baby out and about. Also, the padding lessens the pressure of the bag's weight for the carrier.
Multiple Pockets
A messenger changing bag, in reality, does not only contain nappies and a changing mat. It sometimes doubles as mum's or dad's bag where he or she puts personal belongings, such as keys and a wallet. For this reason, the more pockets a bag has, the more organised the storage is. The most usual items for the baby that mums and dads put in a messenger changing bag include the following:
* Bottles
* Toys
* Pacifier
* Bottled Water
* Hand Sanitizer
* Blankets
* Camera
* Nail Clipper
Numerous Sections or Multiple Compartments
When thinking of the main storage space in a messenger changing bag, it is always better to have numerous sections to separate nappies and the changing mat from the bottles, milk, baby formula refill, toys, or mum's or dad's items.
Insulated Bottle Pocket or Bag
This feature is available in many messenger changing bags. An insulated bottle pocket is useful in keeping milk or food warm or cool without having to buy a separate insulated container. Some messenger changing bags have a separate small insulated bottle pocket that can be hooked into the main bag. The separate bag provides easy access to a milk bottle when the baby cries for it.
Light, Mesh, or See-Through Interior
It is hard to rummage for items inside a bag that has a dark interior, especially when walking while carrying a baby or wheeling a pushchair. Find a messenger changing bag that has a light interior to make finding things easier. It is better if the compartments of the bag are covered in mesh or are see-through so that parents can see the contents without having to zip open the compartment.
Detachable Changing Mat
There are messenger changing bags that have a separate small bag containing the changing mat . The small bag is hooked onto the main bag, and parents find it easier to access the changing mat-which is used most often-if it has a separate bag.
Summary of Messenger Changing Bags Parts and Components
The table below shows the different parts or components of a messenger bag. These are important considerations when shopping around for any nappy changing bag.
| | |
| --- | --- |
| Parts or Components | Benefits |
| Adjustable Padded Strap | Long, adjustable strap to fit a person of any height; padded strap for comfortable wear |
| Multiple Pockets | Different-sized pockets for different-sized items |
| Insulated Bottle Pocket or Bag | To keep milk or food warm/cool |
| Numerous Sections with Light, Mesh, or See-Through Interior | More compartments for organised storage; light/mesh/transparent interior for easy identification of items inside the bag |
| | For easy access to the changing mat |
The above table quickly guides the buyers to the important elements to look for in a messenger changing bag. A great messenger changing bag has all these important components or parts.
Messenger Changing Bag Designs and Brands
Changing bags come in different designs, sizes, and colours. These days, luxury baby bags are in vogue, and many well-known fashion designers such as Gucci, Ralph Lauren, and Coach want to get a share of an emerging market of young parents who would pay top dollar for a fashionable changing bag. High-fashion changing bags promoted by celebrity mothers have typically dark or muted colour.
Designs for Dad
It is typical to find a changing bag designed for mothers, but there are also changing bags that are specifically designed for men. The usual design or colour for messenger changing bag for dads includes all-black and camouflage. There are messenger changing bags for dads made of leather to masculinise the design.
Brands
There are many brands available, and one colourful brand is Yummy Mummy . It has collections with cute designs, often filled with floral or butterfly prints and stitched patches of colourful houses, birds, or cupcakes. Another brand Caboodle is tamer than Yummy Mummy and can be mistaken for regular bags. Caboodle offers bags with designs from monotone to retro and animal patterns. Yet another brand, Mamas and Papas, has more gender-neutral designs so that both "mama" and "papa" can use it. The dominant colour among Mamas and Papas bags are black, grey, brown, and other muted colours, and many of the brand's bags only have simple linings or strip patterns. Other brands for a messenger changing bag brands include:
* Bugaboo
* Graco
* Ju-Ju Be
* Mothercare
* Oioi
* Pink Lining
* Skip Hop
Buying a Messenger Changing Bag on eBay
Messenger changing bags come aplenty on eBay. To find one, simply start a general search for a messenger changing bag using the search bar. You can even filter your search to look for specific components or parts of a messenger changing bag when you browse on the website. eBay lists different brands, sizes, shapes, and designs for the product. If messenger bag type is not what you fancy, you can find other types of changing bag, such as backpack, tote, and twins on eBay.
Moreover; you can buy either a new or used changing bag. eBay has a dedicated page for customers to ask general questions or contact customer support. There are many sellers on eBay; some are companies, while others are individual sellers. To gauge the credibility of a seller, check for his or her feedback score. If the seller has consistent positive feedback from buyers, you have little or nothing to worry about in dealing with such a vendor.
Conclusion
When taking the baby outside the house, aside from a pushchair or a pram, a nappy changing bag is a necessary item to bring. A messenger changing bag is a popular type of nappy changing bag. The most important parts or components to actively look for in a messenger changing bag includes adjustable padded straps, multiple pockets and compartments, insulated bottle pocket or bag, detachable changing bag, and a mesh, light-coloured, or transparent interior.
Normally, buyers cast their minds to lady-oriented designs, such as floral and animal prints when thinking of messenger changing bags, but there are also designs that cater to men. Messenger changing bags for dads can be made of leather or use dark colours with basic lining and conservative colour strips that run across the centre of the bag. Furthermore, there are messenger changing bags with gender-neutral designs so mums and dads can wear it interchangeably. Messenger bags, no matter what design, brand, or size, is a useful item for organised storage of the "baby stuff" when taking him or her outside the house. Carrying a well-stored messenger changing bag means that parents are ready for their baby's needs wherever they go.