Mini Cooper Mk1 997cc
This is one of many illustrated classic car guides I've created for the community. I hope you enjoy it. If you wish to find out more about the classic Mini Cooper art featured in this guide please click here.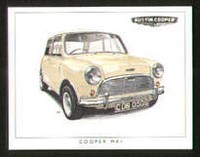 The Mini Cooper was introduced in 1961 and with a 997cc engine and 55bhp it offered a tremendous improvement in performance over the standard car. The two-tone Cooper was otherwise almost indistinguishable from the 850 model, with just the discreet badging and different grille giving the game away. The first of the fast Minis, it was capable of 85mph and 0-60mph in around 17 seconds. In January 1964 the 997cc Cooper was replaced by the 998cc version. Although only fractionally larger in capacity, the engine had been subtly reworked to more balanced proportion and this led to an improvement in torque and tractability.
If you would like to see more guides on classic Mini Cooper cars please click!
Thank you for reading my guide and I hope you found it interesting!