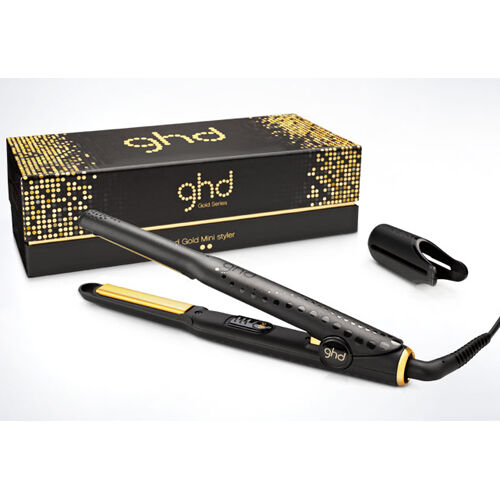 Working with hair while on a holiday does not need to be a chore with unpleasant results. Women can keep their hair looking straight, smooth, and silky with a mini hair straightener. This tool is much smaller than a salon hair straightener. It is easy to tuck into a bag or even the purse for quick fixes. These mini straighteners are a perfect tool to take along when there is limited space. Hair straighteners offer plenty of useful features, but there are lots of differences to keep in mind before purchasing one. Ideally, a mini straightener should do the same job of the larger one without a lot of bells and whistles. Although, the right size, ceramic plate coating, and even temperature controls are all important. Women can find these hair styling tools in health and beauty shops, retail stores, salons, estores that sell hair supplies, and on auction sites, such as eBay.
Features of the Mini Hair Straightener
The mini hair straightener is a small, quick heating tool for straightening hair with a number of beneficial features. For example, some straighteners have crimped ceramic plates for crimping hair. The mini straighteners are not intended to provide the same range of use as a full size, salon hair straightener. It may also be less durable than the standard straightener. However, this type of product has plenty of great qualities that make it truly worthwhile to invest in one.
Small and compact enough to fit into a purse or bag
Heats up within thirty to ninety seconds for use
Useful for quick touch ups
Sometimes includes extra plugs for different countries; car plug for the road
Small design makes tight curls and waves easier
Inexpensive compared to a full sized salon hair straightener
Same temperature level as the full size salon straightener
Scratch resistant and easy to clean
Hair does not pull out as with other styling tools
Every brand of mini hair straightener has different features, but the above are the benefits specific to all. For more information on individual features, read the manufacturer's information for their brand of hair straightener.
Considerations in a Mini Hair Straightener
Women have many considerations to keep in mind when looking for a mini hair straightener. These products are intended to straighten the hair within a short period of time and with a minimum of effort. For this to happen the straightener needs to heat quickly and evenly across the two ceramic plates. If the plates heat unevenly, not all of the hair pressed between those plates gets straightened. Women do not want to wait around for their hair styling tools to heat up either. Look for a mini straightener with a quick warm up that does not take forever to reach the right temperature setting to straighten hair.
Beyond this, safety is an important concern. Mini straighteners are small enough that when using it, one's hands tend to get rather close to the hot ceramic plates. The mini straightener handles must resist heat conduction. The straightener needs to keep the hands safe from the hot plates, but also be easy enough to use. Protecting the hair is another important concern. Look for hair straighteners with coated ceramic plates, a tourmaline coating helps keep the hair from being damaged during the straightening process.
Specifications
Even though, the hair straightener is mini-sized it does not have to have mini-sized heat plates. The larger the ceramic plates on a straightener, the more hair can be treated in one stroke. This saves women from standing in front of the mirror forever straightening a few strands at a time. Most mini hair straighteners have 2.5 cm wide plates, which is great for a quick touch up or use on short hair. However, it is recommended that women with long hair use a straightener with 5 cm wide plates.
Adjustable heat settings are another thing to look for in a mini straightener. Those with fine hair need to use a lower temperature to straighten hair without burning it. If the mini straightener just comes with one setting, it likely is not the setting that is best for fine hair, as the standard temperature for a straightener is about ninety three degrees celsius.
Mini hair straighteners are around 15 cm in length. Smaller than this and the tool is difficult to use safely. It also comes with a standard electrical wall plug. Some straighteners also come with heat resistant storage bags.
Mini Hair Straightener Usage
The mini hair straightener plugs into a wall the same as a full sized salon straightener. Most mini straighteners are simple in design, so flipping the switch on automatically heats up the straightener. Place the straightener on a solid surface away from flammable objects while it heats. It takes up to a minute and a half for the straightener to reach its maximum temperature.
Separate a 2.5 cm section of hair, then, starting at the crown compress the hair between the ceramic plates and pull down along the hair until the very end or tips of the hair. Repeat this process on the same strand of hair for a second time if needed. Then, repeat the process for the entire head of hair. Additional hair styling products may be applied to the hair before using the straightener, such as hair spray, to help the hair stay straight.
When finished straightening hair, switch the button on the mini hair straightener to the off position. Unplug the straightener. Allow the tool to cool to the touch. Put it into a heat resistant storage bag.
Hazards and Warnings
As with any tool that reaches high temperatures, there are some hazards to be aware of when using a hair straightener. Before each use inspect the straightener cord for cuts, frayed ends, or damaged spots. Exposed wire on the cord is not good. This means it is probably wise to dispose of the straightener and buy a new one. Check the rest of the straightener for damage, loose screws, or buttons. Check the back of the straightener where the cord connects to the body closely. There can be a lot of twisting and turning during use that wears the tool until it breaks at this spot.
Be aware of the hair straightener at all times while plugged in. Know where it is, and whether it is turned on or not. Do not leave the straightener unattended when it is turned on. If the straightener body feels too hot to touch, there is something wrong with the wiring. Unplug the tool immediately. Dot not attempt to open up the straightener to fix it, instead, dispose of the hair straightener. The same applies if the hair straightener begins to smoke, even if being used on dry hair. The mini hair straightener is not intended to reach temperatures high enough to burn hair. During use on wet hair, there may be a small amount of steam seen rising from the ceramic plates. This is normal. In general, use the tool only for its intended purpose.
Buying a Mini Hair Straightener on eBay
You can buy a mini hair straightener on eBay that is perfect for travel and does the job in minutes. However, your search may go faster if you use the eBay search engine to find the perfect hair styling tool. The search engine is available from any page on the site. To use it, enter any search term you prefer into the bar, select your preferred category, and go. The search term can be broad or specific. For example, enter a broad term, such as "round brush &", or a more specific term like "Avon &", which is a major brand name. The site searches through all of the listings and returns the matches in a search results page.
Seller Location
Save some time and money on your shipping and handling by purchasing from a nearby seller. You can narrow down your search results by seller location using the "Distance &" refinement. Click on the refinement to open it. Enter in your postcode, and choose your desired search radius. The search radius is the area distance from your location that you want to search within for a seller.
Conclusion
The mini hair straightener is an excellent tool for straightening short hair, or for use while travelling. Women with long hair may have trouble with the small tool, but with patience can achieve the same results. There are several features these tools have to offer, including a compact size, same temperatures as a salon hair straightener, quick heating and easy storage. Some straighteners even come with multiple plugs for use in other countries. Women looking for a mini hair straightener should keep a few considerations in mind. Working with a mini straightener can be more difficult as the tool body is smaller, meaning, it is easier to burn fingers. The smaller tools are more pared down, so there is usually only an on/off switch and no temperature control. Also, women need to remember that the mini straightener is still a hot electrical device. Watch it at all times while it is heating, and remember to unplug it when not in use. Mini hair straighteners are available through several eBay sellers.