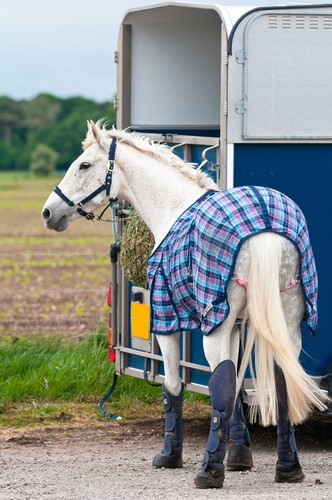 A miniature horse rug is a coat for miniature horses that keeps them warm and protects them from the elements. Available in different sizes, materials and styles; miniature horse rugs are tailored to a horse's shape covering them from their chest to their rump and secures underneath the belly. There is a wide variety of different types of miniature horse rugs available on eBay from under rugs that are worn underneath a saddle to stable rugs which are purely designed to keep a horse warm when inside a stable.
What to Consider When Buying a Miniature Horse Rug?
When buying a horse rug for a miniature horse it's important to buy the right one which will meet the needs of the horse. When buying a horse rug from eBay, consider the following:
The rug's main purpose e.g. to keep the horse warm in the winter or to keep off dirt in the summer.
The weight of the rug.
The type of fabric.
Style.
Size.
Comfort.
Choosing a Type of Miniature Horse Rug
Miniature horse rugs are all designed with a different purpose in mind. In winter, a thick rug for a horse will be required to ensure they stay warm. This is especially true for miniature horses with finer hair or horses that have been clipped. In the summer however, a lightweight rug that ensures the horse stays clean is required rather than offering additional warmth or protection from the rain. Choosing the weight of a rug is important. The horse should be kept warm but the rug shouldn't be too thick as it could cause excessive sweating.
Types of Miniature Horse Rug
There are a wide variety of types of rugs on eBay including:
Rug Type

Description

Turnout rugs

A turnout rug is designed to keep a horse clean and dry when out in the field. The outer material is waterproof and the inner material is available in different weights of filling.

A summer turnout rug may have no filling whereas a winter turnout rug is available in different weights. Lightweight winter turnout rugs have up to 150g of filling, medium winter turnout rugs range from 150g-300g and heavyweight winter turnout rugs have more than 300g of filling.

Fleece rugs

Fleece rugs provide extra warmth for a horse and can be used as a light stable rug.

Fly rugs

A fly rug is a lightweight, mesh rug that protects horses against biting insects and flies in the summer months.

Some fly rugs also offer UV protection to stop light-skinned horses getting sunburnt and dark coated horses from suffering sun bleaching to their coats.

Magnetic rugs

A magnetic rug provides magnetic therapy to horses to help relieve pain and inflammation and support healing. Magnetic rugs have magnets placed all over the rug providing the horse a full body treatment. Magnetic therapy has also shown success at helping horses that stress easily.

Stable rugs

Stable rugs are designed for indoor use only and so aren't waterproof. They provide warmth for the horse when in a stable.

Most stable rugs are padded and available in different weights:

Lightweight – up to 150g

Mediumweight – 150g - 300g

Heavyweight – 300g +

Anti-sweat rugs

An anti-sweat rug prevents chills on a horse when a horse is sweating on cool down after exercise. Anti-sweat rugs are made out of cotton mesh.

Cooler rugs

Cooler rugs provide the same purpose as anti-sweat rugs but are made from different material. They work by taking the moisture away from the horse's coat and into the cooler rug, allowing the horse to cool down gradually and prevent chills caused by sweating

Exercise rugs

An exercise rug is used to keep a horse dry and warm when being ridden.

New Zealand rugs

A New Zealand rug is a traditional waterproof turnout rug used to keep a horse warm and dry when outside in the winter months. The rug is made from canvas or waxed cotton.

Summer rugs

A summer rug is a light cotton rug that offers protection from dust and dirt in the summer.

Travel rugs

A lightweight rug is used when travelling. The rug offers protection from dirt and dust.

Under rugs

Under rugs are used under other types of rugs or saddles for added warmth and protection. They are made of lightweight material – often pure wool.
Styles of Miniature Horse Rugs
As well as type of horse rug, there are also several styles available.
| Style | Description |
| --- | --- |
| Standard | A standard horse rug leaves the neck exposed and is often a good option for a lightweight summer rug. |
| High neck | Covers the withers but not all of the neck. A good choice for a horse with prominent withers or if your horse has problems with rugs causing rubbing. |
| Detachable neck | Has the same shape as a standard rug but allows you to attach a matching neck cover. |
| Combination | Provides permanent neck cover up to the ears. |
Buying the Right Size Horse Rug
Getting the size right is an important part of buying a miniature horse rug. It's always better to buy a rug that is slightly too big rather than too small. Horse rugs come in 3 inch intervals but most horses won't measure exactly to these sizes.
How to Measure a Miniature Horse
Use a soft tape measure and ask someone to help. This will ensure an accurate measurement is taken. To measure a miniature horse, first measure from the front of the chest to the hock. Next, measure from the base of the neck to the top of the tail and finally from the centre of the spine down to the drop.
Standard Sizing for Miniature Horse Rugs
| Rug Sizes | From middle of chest to hock | From withers to top of tail | Depth – from spine to drop |
| --- | --- | --- | --- |
| 16" & 18" | 16" & 18" | 12" & 14" | 10" |
| 20" & 22" | 20" & 22" | 16" & 18" | 12" |
| 24" | 24" | 18" | 14" |
| 2'3" | 27" | 20 | 14 |
| 2'6" | 30" | 22" | 18" |
| 2'9" | 33" | 24" | 20" |
| 3' | 36" | 26" | 23" |
| 3'3" | 39" | 28" | 23" |
| 3'6" | 42" | 31" | 24" |
| 3'9" | 45" | 32" | 24" |
| 4' | 48" | 35" | 25" |
| 4'3" | 51" | 38" | 26" |
| 4'6" | 54" | 40" | 28" |
| 4'9" | 57" | 43" | 28" |
| 5' | 60" | 45" | 30" |
Understanding Miniature Horse Rug Fabrics
When choosing a horse rug for a miniature horse, understanding the different properties of the fabric can help determine your purchasing choice.
Denier – The weight of the fabric. The number of denier details how many yarns are used to make one thread; the higher the number, the bulkier the fabric. So for a winter horse rug, a high denier rug would be required.
Rip-stop – A much more resilient fabric that won't tear easily. This is because the fabric has threads running in both directions in a crosshatch pattern making it stronger and less likely to be damaged.
Ballistic nylon – A strong and resilient fabric similar to rip-stop.
Polypropylene – A water resistant fabric that is coated in plastic. Usually found in turnout rugs but sometimes found in stable rugs as well.
Buying Miniature Horse Rugs Second Hand
Miniature horse rugs can be bought either first or second hand from eBay. If buying second hand however, it's important to research products first to understand what to expect. Buying a rug second hand can be a cost-effective way of purchasing items for a horse, especially if several different types of rugs are required. Before bidding on an item:
Check the description carefully – the item should be in a reasonable condition.
Check the quality on the photos.
Compare the item against a new version of the product to help check the quality.
Don't be afraid to ask the seller questions such as why the rig is being sold, and if another picture is available.
Check the pricing – if an item is second hand it should be less than if it was brand new.
How to Buy a Miniature Horse Rug on eBay
There are thousands of equestrian products available on eBay that are either brand new or second hand to suit all requirements. To search for an item:
Try searching very specifically e.g. miniature turnout horse rug, winter turnout miniature horse rug using the search box
Make use of categories and subcategories e.g. Rugs & Sheets, Turnout rugs
Drill down through the categories and refine the search by colour, fabric, size and condition.
If searching for a bargain, then filter on 'Auction Only' to remove all of the 'Buy It Now' items.
Look at reviews of sellers. This will help provide peace of mind that any purchases will be good quality.
Conclusion
Miniature horse rugs are blanket-like coats for miniature horses to help protect them from the outside elements and keep them warm. There are many different types of coat depending on the horse's requirements such as keeping the horse warm for winter or keeping the horse protected from the sun, dirt or biting insects.
When choosing a miniature horse rug there are several options to consider including size, type, fabric and style.
eBay offers an easy and accessible way of purchasing miniature horse rugs with a wide variety of both old and new items.