Branch Mints
Since 1871, British sovereigns were struck at branch mints, in addition to the Royal Mint in London.
The first branch mint to strike sovereigns was Sydney in Australia. It made good sense to produce British sovereigns close to the gold mining source areas, rather than ship the gold to London to be made into coin, then possibly ship it back again.
In 1872, the Melbourne mint followed.
The Perth, Australia mint started production of sovereigns in 1899, and the Ottawa mint in Canada started in 1908.
The Bombay mint in India struck sovereigns in just one year, 1918, and the Pretoria mint in South Africa started production in 1923.
Mintmarks
The mintmarks used by the various mints are as follows:-
Mint Mintmark First Last
Royal Mint, London, Later Llantrisant None 1817 Present
Sydney S 1871 1926
Melbourne M 1872 1931
Perth P 1899 1931
Ottawa, Canada C 1908 1919
Bombay, India I 1918 1918
Pretoria, South Africa SA 1923 1932
Victoria Young Head
On Victoria young head sovereigns with shield reverse, the mintmarks are to be found on the reverse below the wreath but above the rose.
For the Victoria young head St. George issues, the mintmark appears on the obverse under the head.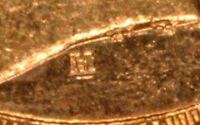 Later Issues
On later issues, the mintmarks are to be found on the ground above the centre of the date. Many collectors find the mintmarks very difficult to find at their first attempt, but it really is quite easy once you know where to look. It helps of course to use a magnifying glass, we use a x10 magnification.
Our photographs show a close-up of the date and mintmark for all seven of the branch mints operating during the twentieth century.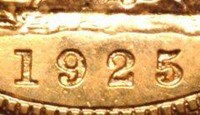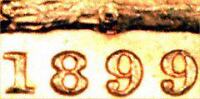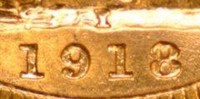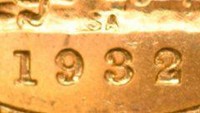 Was This Guide Useful?
If you found this guide interesting, informative or useful, please spare few seconds of your time to vote for it by clicking on the "Yes" button below, thanks.

Other Guides
You may be interested in viewing our other guides:-
Gold Sovereigns - History Information & Specifications

How to Photograph Coins - Advice, hints, tips & more...
1780 Maria Theresa Silver Thaler Restrike Trade Coin

Krugerrand - One Ounce Investment Gold Coin

Buffalo - 9999 Fine Gold US Bullion Coin - 24 Karat Au

Pink Diamonds - One of Nature's Rarest Gemstones
Sniping - Is It Good Strategy or Tactics for Winning eBay Auctions?
£2 Two Pound Coins Queen with Necklace Rumour & Facts

Winning Auctions - Or Spending Money?
CGT Capital Gains Tax Exemption on Gold Sovereigns Britannias UK Coins
Definition of Investment - VAT Exempt (Tax Free) in UK & EU

Second Chance Offers on eBay - Should You Use Them?
Spellings - Is Good Spelling Important - A Few Howlers
Famous People (Celebrities) Who Collected Coins

Heads Upside Down on Coins - Medal & Coin Alignment

Identifying Coins, A Brief Guide to Help Identify Coins

BNTA - The British Numismatic Trade Association
Gold Coins Which Are Not Gold - Including German & € Euros
Postage Packing Shipping Insurance Charges - Fair or Excessive?
The Difference Between Proof and Uncirculated Coins
London Gold Fixing Price

Gold Bullion Bars For Investment

Copyright
All text and images copyright and taken from our "Gold Sovereigns" website.