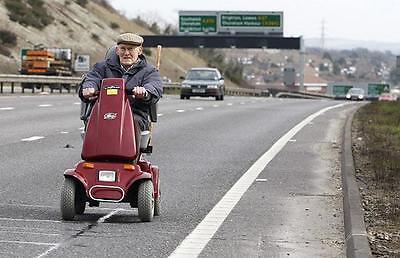 So how much do you know about scooter usage?

Three types of 'invalid carriage' are defined in 'The Use of Invalid Carriages on Highways Regulations 1988'. Failure to be familiar with the rules could lead you to being prosecuted.


Class 1 - manual wheelchair, i.e. self-propelled or attendant-propelled, not electrically powered;

Class 2- powered wheelchairs and scooters, for footway use only with a maximum speed limit of 4mph;

Class 3- powered wheelchairs, and other outdoor powered vehicles, including scooters, for use on roads/highways with a maximum speed limit of 8 mph and facility to travel at 4 mph on footways.

Where can Class 3 vehicles be used?

On footpaths, pavements, bridleways and pedestrian areas at a maximum speed of 4 mph;

On most roads at a maximum speed of 8 mph;

They cannot be used on motorways, cycle lanes or in bus lanes (when in operation). Nor is it advisable to use them on unrestricted dual carriageways (i.e. those with a speed limit of over 50 mph).

What are the legal requirements?

A Class 3 vehicle is not legally defined as a motor vehicle and, therefore, the user is not required to have a driving licence or to take a test. The vehicles themselves are not subject to Vehicle Excise Duty ('road tax') or mandatory insurance requirements (although we advise taking out your own policy)

However, the law does say that a Class 3 vehicle can only be used by a disabled person aged 14 or over, or by an able-bodied person who is demonstrating a vehicle before sale, training a disabled user or taking the vehicle to or from a place for maintenance or repair.

The vehicle must have certain construction features, including:

1. a maximum width of 0.85 metres (2'9");

2. a device to limit its speed to 6.4 kmph (4 mph);

3. a maximum speed of 12.8 kmph (8 mph);

4. an efficient braking system;

5. front and rear lights and reflectors, and direction indicator which are able to operate as a hazard warning signal;

6. an audible warning instrument (horn);

7. a rear view mirror;

8. an amber flashing light if a 4-wheeled vehicle is used on a dual carriageway.

If these conditions are not met, you are liable to prosecution by the police.

Wenman Healthcare can offer you all the advice required on the rules and safety of using all classes of invalid carriages. If the person selling you one can't then we advise you look elsewhere!