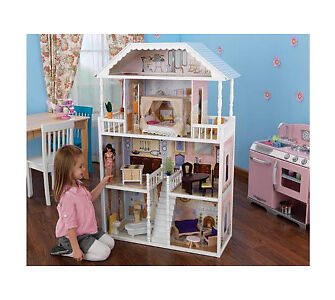 Dolls houses have normally been associated with a more traditional or vintage style. However, modern doll houses are a popular choice for adults and children with a large range of house types and accessories that allow for even the pickiest of tastes to be satisfied.
Modern Doll houses are homes which recreate the homes built after the 1960's. This basically means that these houses are a scale version of the homes that could be lived in today.
Modern dolls houses are a popular choice for adult collectors who also collect modern dolls as well as being a brilliant choice for children's play time. A huge range of modern doll houses and accessories can be found on eBay, which is perfect to suit all types of personnel and tastes.
What is a Modern Doll House?
A modern doll house is a scaled down version (usually 1/10th or 1/12th scale for adult collectors, and 1/6th scale for child friendly homes) of homes that replicate homes of today. Most children's doll houses will fall into this category as they are perfect for plastic dolls and can provide a large array of features such as washing machine and doorbell sound effects.
Modern Doll houses are a great choice as it allows children to play with their dolls in a miniature-sized environment that is similar to their own home, with similar decorations and fixtures and fittings. Adults can also enjoy making or buying their own accessories to match the décor of their modern doll house.
Modern doll houses have become extremely popular over the past decade as they are more relevant to the collectors or children as it depicts an environment which they are familiar with, unlike the more traditional Victorian or Georgian styles of doll house.
Types of Modern Doll House
Choosing the right modern doll house is very important and there are advantages and disadvantages to the various types of house. Consider who and what the doll's house is for and where the house will be used in your own home. The different types of modern doll house are:
House- These tend to be the most popular of the modern dolls houses and are perceived to be the most like most real modern houses. As real homes do, they can vary largely in size from tall townhouses, small two bedroom cottages and to detached country houses. The styles of these may vary by type. For instance a townhouse may have more of a modern living feel to them with hi-tech fixtures and fittings whereas a cottage may have a little bit more of a traditional feel with log fires and wooden furniture.
Mansion- These are the biggest type of modern dolls house available. While they are similar to normal houses in style and furniture, they are modelled on the homes of the rich. They will have lots of rooms and stories and tend to have the most detailed fixtures and fittings of the modern doll house types. Because of their size, it is advisable that mansions should only be bought for a large space in your own home.
Shop- These are popular because of their large variety and their ability to be lined together to create a mini street setting. Different features come with model shops than houses or mansions due to their very nature. Shops such as bakeries and clothing stores are popular choices as there is the opportunity to add some fantastic accessories to customise the shop. While most are quite small in size, department stores are also available and are of a similar size to some mansions on offer.
All these types of modern house can be searched for and bought in the Dolls house section on eBay.
Modern Doll House Materials
Modern doll houses can be made with a few materials. Some are more durable and better play than others while some are better for more detailed creations. The main types of material used for modern doll houses are:
Plastic- By far the most popular material for a modern doll house. Plastic is ideal for children to play with and can be great for small scale collectibles such as furniture. It is a cheap material and can be bought in kit form, so the house can be built from scratch.
Wood- This has been the most used material for doll houses for hundreds of years, with vintage doll houses all the way through to their modern counterparts. The detail and size can vary the cost of a wooden doll house greatly and in a lot of cases can be the most expensive option. These are more popular among the doll house collectors world rather than for children.
MDF- Medium Density Fibreboard are one of the more affordable types of modern doll house and are popular among collectors as they houses can be quite fragile. It is popular because it is very easy to work with and is a very popular choice for kit builders to make their dolls houses with.
Accessories for Modern Doll Houses
One of the most important aspects of a brilliant modern dolls house is its array of accessories such as
furniture
and electronics. Whatever you can find in your house, there is more than likely, a dolls house accessory to match. The accessories that are essential for a fully furnished modern dolls house are:
Furniture- Bed, Sofas, Chairs, Stools, Tables, Bean bags, Arm chairs, desks, side tables, drawing boards, TV stands.
Electronics- Fridges, Freezers, Cookers, Sinks, Washing machines, Dryers, Televisions, Computers, Laptops, Lamps, Lights, Electronic fires, Hair dryers, Hoovers.
Fixtures and fittings- Mirrors, Baths, Showers, Kitchen cupboards, Wardrobes, Cabinets, Clothes horses, Clothes rack.
These are highly important items to put in a modern dolls house and can really bring life to the structure.
What to Consider When Buying a Modern Doll House
When buying a modern dolls house, it is important to consider a number of factors:
Who is it for?
How will it be used?
What sized space will it be situated in?
What material is most suitable?
Use the tips in this guide to choose the best modern doll house for you on eBay.
How to Buy Modern Doll Houses on eBay
eBay offers a massive range of modern doll houses, kits and accessories for collectors and young children. This includes a huge range of miniature furniture, shops, mansions and houses in varying styles.
To find the perfect house or accessories, go to the All Categories section on the top left of the eBay home page. From their find the Doll's and Bears section and click on Doll's Houses. It is here that you can narrow down your search in a number of ways.

If you know exactly what you are looking for, use the search function on eBay which allows searching directly for the item. This function is located on the top of each page. Even a descriptive sentence may be enough to find the perfect item.

You can also use the Advanced Search function to search by seller, store or buyer. The results can be narrowed down to "All of these words," "Any of these words," or "Exact phrase." Also search for the item in All categories to search the whole eBay site.
If still struggling to find that item you are after, tell the eBay community what you are after on the Want It Now function or save a search on My eBay to get relevant items emailed to you when a match comes up.
Buy Modern Doll Houses with Confidence
Be sure to find out as much information about the seller as possible. Also do this for the product as well so there are no nasty surprises when the item is received. Details of how eBay and PayPal protect their customers can be found on their Buyer Protection Programme page.
As an eBay customer, it is important to feel good about the purchase you are making. So research the seller thoroughly by checking their Feedback rating, Feedback comments, Number of completed transaction and Positive response percentage.
Most eBay sellers run their accounts like retail stores and have their own terms and conditions for returning items. Does the seller have this?
eBay will always cover the price of purchase and shipping charges with eBay Buyer protection in the unlikely event that a modern doll house or accessory hasn't been delivered or isn't the item described in the listing.
Always read the item listings carefully and be sure to factor delivery costs into the overall price and that the seller will insure the items when being shipped.
If you need information about the product, ask by clicking the "Ask seller a question" link.
Conclusion
Buying Modern doll houses is a great hobby and pastime for the younger and young at heart. eBay have an enormous range of houses, kits and accessories to enable you to tailor a modern doll house to taste and impress friends with its intricate details and furnishings or just as good for playing with. Visit eBay today for any modern doll house needs.