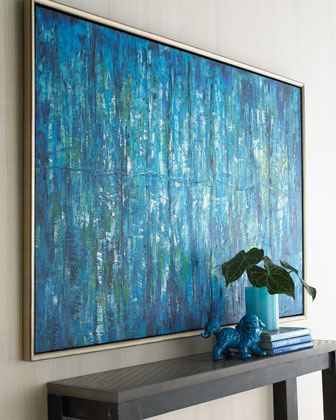 Finding the right modern art piece to hang in the home can complete the overall feel and look of a space. As with any purchase, doing a sufficient amount of research beforehand is key, since prices can vary according to the specific style. Becoming familiar with types of modern style and what to look out for in a modern art piece will help to make the correct buying choice. Follow the steps below to find the right wall hanging for the home.
What to Look Out For
The key component of any piece of modern art is style. There are many styles of modern art that are available to buy, so firstly it is essential to find a style that suits the space in which it is intended to be hung. This can be entirely individualistic, and relying on current popularity is not necessarily the way to go. A style of modern art that is popular now may not be so popular in a year's time, and current popularity will be reflected in the price. It is down to the individual to decide if they would like a modern wall hanging that is very trendy but may date quickly, or one that is more timeless but may not be as exciting. Decide which is best for the intended home. Some types of modern art are based entirely on existing or past art movements, others are based on existing or past movements but with an individual twist, and others still are based on entirely new concepts. The possibilities are almost endless. Below are some of the many kinds of modern art
Types of Modern Art
Given that art is known for its lack of boundaries, there are many different types of modern art on offer.
Abstract
One of the most dominating art movements of the 20th century. Famous for taking non visual aspects of an object and applying them into a physical art form. The abstract type of art is purely non-objective. An example is art by Jackson Pollock.
Conceptual
A form of art that revolutionised the modern art movement. The conceptual style of art is all about free thinking, and more emphasis was paid to the thought process behind the work, rather than the finished article. An example is art by Marcel Duchamp.
Optical
Optical art became popular in the 1960s and became one of the trademarks of the swinging sixties. It is called optical art as it is based on optical illusions, which trick the eye into seeing something that isn't really there.
Pop
Similar to optical art, pop art was at its most popular during the 1960s. The idea of pop art was to take everyday items, the most famous being a soup can, and to display them in a different way to get people to notice them. An example is art by Andy Warhol.
Cubism
This type of art was at its most famous in the early 20th century. In Cubist art, figures, objects and anything else that may appear in a piece of art are broken down and portrayed as angles and lines. An example is art by Pablo Picasso.
Surrealism
This kind of art emerged in the 1920s. Surrealist art attempts to express the inner truth in such a way that is different to a normal way. An example is art by Salvadore Dali.
Dadaism
An unusual type of art that appeared towards the end of the First World War as a response to the stagnant art scene, Dadaist art was a rebellion against art itself. Many artists affected by the horror of war, who felt art did not represent the post-war world, deliberately set out to offend the art world. The most famous piece was that of the Mona Lisa with a moustache. An example is art by Marcel Janco.
Impressionism
Art of this style was first popular in the late 19th century and is responsible for many modern art movements. Although at first glance Impressionist art may resemble a photo, certain details are cleverly drawn attention to by the artist. An example is art by Claude Monet.
Expressionism
This art was most popular in the early 20th Century. Expressionist art is portrayed as an emotional response, not just as what was seen with the eyes. There is a similarity between this type of art and impressionism. An example is art by Edward Munch. Of course, bear in mind that this list is not exhaustive and new styles of modern art are arising all the time. Also, not all modern art can be categorised under a particular movement, so it is always worth learning some names as part of research before buying since that may be an easier way to find the right product.
Choosing the Right Style for the Home
This may seem daunting, but if care is taken, then it should be a simple process. Modern art on the whole can be very removed from modern furniture, so by matching colour schemes or by finding some form of link between the artwork and the rest of the decor, it is possible to find a suitable piece. It is entirely possible to have, for example, traditional interiors with a modern piece of artwork hanging on the wall. The two key considerations to review when deciding what modern wall hanging to purchase include whether or not the piece would fit in aesthetically in the home. It is also important to review personal taste. Would the art work appeal to the people who have to see it everyday?
Buying Modern Art Wall Hangings Online
The wonder of being able to purchase online is that the choice of modern art is wider than is possible in most stores. It can be delivered, so there are limited transport costs - and many sellers on eBay will provide postage and packaging free of charge - and the art itself can be cheaper. However, as with the purchase of any product, research first is important. In order to ensure the item is of good quality, follow the steps below: 1. Always check the dimensions of the wall hanging so that there are no surprises when the item arrives. If unsure, use pieces of paper to establish how large the product will be, and compare to the size of the rest of the furniture, for example a sofa. 2. Check the seller's returns policy. Some sellers will accept returns with no reason needed, others only if the item is damaged. If the product is not what was expected or simply looks out of place, how easy will it be to return? 3. Look for plenty of information about the product being bought. Lack of information may mean there is something wrong with the item or that it may not be up to standard. It is always worth contacting the seller directly if there are specific questions that are unanswered.
Where to Find Modern Wall Hangings on eBay
In order to find modern wall hangings on eBay, first head to the homepage. Using the options on the left hand side of the page, first click on Home & Garden and then Home & Garden again from the drop down options in order to get to the Home & Garden category of eBay. From this page, go to the category of Furniture & DIY on the left hand side, and select Home Decor from the options. This then goes to the Home Decor page. The option for wall hangings is towards the bottom of the options. Once that has been clicked on, the results from the search with the words wall hangings will be listed.
Conclusion
There are many different types of modern art that can be hung in the home, and finding the right one takes a good amount of research and relying on individual taste. As with any purchase, having a clear idea of the market and the space in which the wall hanging will be can help. Buying online via eBay can save money, time, and is much easier than buying through a traditional art gallery.