A tender thought Mon Cheri a taste of pure intense sensation.
I got hooked on these while living in Europe. They are not your average chocolate covered cherries. These wonderful little pieces of decadence have three stages. First you taste the dark chocolate that is not too rich, but has just the right amount of sweet and bitter that melts on your tongue as you bite into the chocolates. Next there is the impact of the cherry liquor and finally the chocolate, cherry liquor all mix into this super blend and burst of flavor. If you are yet to try them then you're missing out on something special!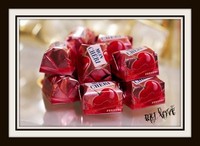 Do you think these could possible be the best Chocolates in the World? Reaseach suggests they are sales are def very high so maybe it's true? What do you think Love them Hate them let me know.
Mon cheri launched in 1956 and is the start of the Ferrero success story in the world of boxed chocolates.
Mon Cheri is one of the most successfully marketed and produced chocolates in the world for several reasons. first of all the recipe, which unites ingredients with strong flavors and yet harmonious at the same time. Then the color Red signifying the intense sensations Mon cheri has to offer, and of course the name Mon Cheri express the love and tenderness shared by giving a box of these highly sort after chocolates. Mon Cheri after all is for everyone's pleasure and meant to be shared lovingly.