Which Monoi Fragrance Should I Choose?
Monoi de Tahiti oil has been created in a fragrance range that is delicate at one end of the scale, to mild and subtle in the middle to bewitching at the top end. The fragranced oils are exotic and heavenly and despite their fragrance strengths they are never "overpowering" or " too strong".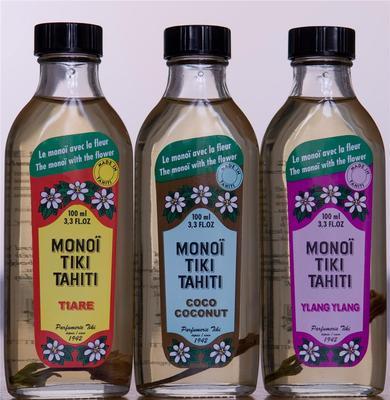 Fragrance Description
Each Monoi de Tahiti oil fragrance is unique. Every Monoi oil product is created by having the Tiare Tahitensis (Gardenia) flower added to the oil. Each batch is then individually perfumed. The choice is often difficult, but there will always be one that will stand out the most, and give you the most pleasure when wearing, or using. I list the fragrances in no particular order and a brief description

Brut - Unperfumed
The most uncomplicated of the Monoi oil range and 100% AO. This has no added perfume, only the lightest whiff of the Tiare flower only. Brut is suitable for babies and their delicate skin, baby bump or those with sensitive skin and who simply do not wish "added" perfume. Brut is perfect for those who wish to customise it with a particular fragrance of their choice. Brut is suitable for both men and women.


Coco - Coconut
The delicate fragrance of Coconut - a simple step up from the Brut. A fragrance so delicate, not sickly or heavy and ideal if you wish just a hint of fragrance, but desire more than unperfumed. Perfect for any time of day and it simply is a tropical holiday in a bottle. Coco is suitable for both men and women.

Santal - Sandalwood
A fragrance at the time designed with men in mind. Being neither "woody" or "hard" on the nose, it is a fragrance that gently builds in intensity once applied to the skin leaving behind a wake of warm and calm. In recent years Santal has become very popular amongst women who do not like their perfumed Monoi floral. It is my favourite Monoi in the colder winter months in the UK. A great oil for a body massage as it helps relieve aches and pains also the fragrance is incredibly relaxing. Santal is a fragrance for men but with many growing female fans.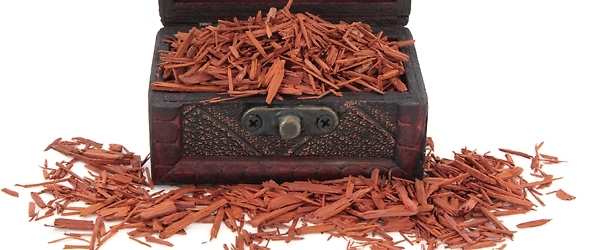 Tipanie - Frangipani
The entry level floral Monoi which is also known as Plumeria. A subtle floral fragrance which is distinctive, feminine and exotic. The flower is used in Polynesian culture to indicate relationship status - over the right ear when searching for a suitor, over the left ear if taken. A bewitching fragrance suitable for daytime wear but without making a statement. Tipanie is a fragrance for women.

Tiare - Gardenia
The Orginal, this is the No.1 selling Monoi de Tahiti oil, it is often referred to as the "Monster of Monoi". Floral - yes, bold - yes, turns heads - yes. and worn by many a celebrity since creation, a legendary cult fragrance. Produced commercially since 1942 there is simply no stopping this fragrance. The attributes of Monoi Tiare for some are simply too much "flowers", it's heady and has a much stronger fragrance intensity than Tipanie, yet it deserves the respect it has earned. Suitable for daytime and evening wear. Tiare is a fragrance for women.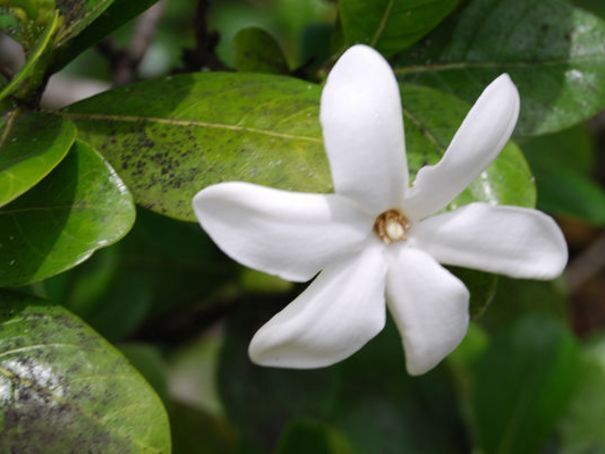 Vanille - Vanilla
Designed for the young woman, the young at heart or girlie girl. Known as the "absolute sweetie", there is no escaping it this is a fragrance for women. It has a warm gentle aroma with rich undertones of Vanilla and Vanilla bean. A fragrance that appeals to the younger generation who may find the other florals too complicated, or perfect for those days when you simply want to bring out your more feminine side. More than suitable for day wear. Vanille is a fragrance for women.

Ylang Ylang - Ylang Ylang
A floral scent known as "Flower of Flowers". A rich perfume that is not as heady as Tiare, yet it leaves behind a gorgeous lingering, sophisticated fragrance, which is reputed to be an aphrodisiac. Ylang Ylang is worn by the most refined Tahitian women in society. Suitable for daytime wear and perfect for the evening. Ylang Ylang is a fragrance for women.

Pitate - Jasmin
The strongest fragrance of the Monoi oils. Jasmin is classed as the flower of romance in Tahitian society, and is the preferred fragrance of the bride to be. It's fragrance is rich, floral, deep, seductive, very exotic and can be "too strong" for many. If a stronger perfume is to your liking then Pitate is for you. Suitable for daytime wear if very lightly applied, better worn in the evening during the warmer summer months where the fragrance will thrive and keep on giving. Pitate is a fragrance for women.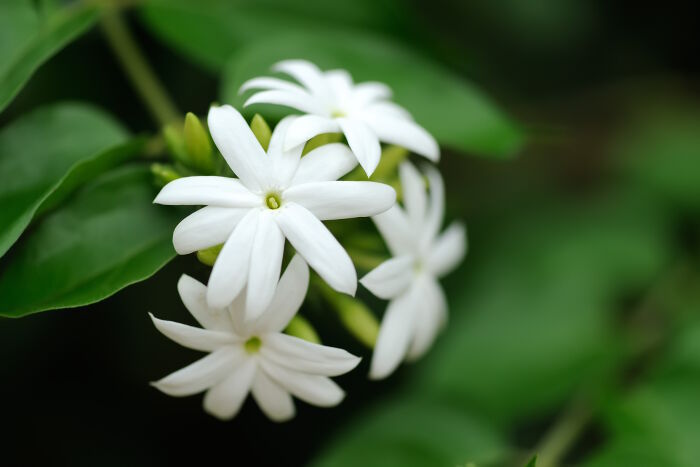 Amber - Moroccan Amber
A fragrance that changes from either warm, rich and deep, to honeyed, Vanilla and golden. It's your body chemistry that will do this! A smooth fragrance that's not overpowering, yet takes time to develop and release it's subtle lingering aroma. Amber resin is a natural perfume with relaxing properties. Some can find this "too warm", "rich" or "sweet" a fragrance. It's a non floral scent, which can be applied to pulse points to see if your body agrees with it's ever changing aroma before you dare to lavish in it. Suitable for daytime or evening wear. Amber is a fragrance suitable for both men and women.

As with any of the Monoi de Tahiti oils, these can of course be layered.
The Decision is Yours
I hope that you have found this Monoi perfume guide useful. The final choice or choices ultimately will be down to you and your own body chemistry.

This is my personal opinion, and the information provided is for reference only.