When considering purchasing Monoï de Tahiti oil, customers should be aware of poor, low quality imitations.
All genuine Monoï oil products should have:
Appellation D'Origine Logo or AO clearly marked on the product
Secondly the concentration of Monoï oil should be clearly visible or noted on any additional information, ie leaflet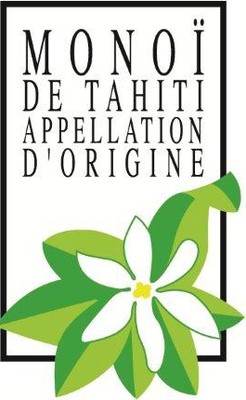 Without these two vital pieces of information it will be questionable whether you have purchased a genuine product or a weak, poor grade, fragranced coconut oil.
Superior quality Monoï De Tahiti is made with over 97% Coconut oil (Cocos nucifera), and does NOT contain an emulsifier. Therefore when the oil is cold, or in a cold climate, ie, the ambient temperature is under 24°C/75°F, it will be in a solid form.

Genuine Monoï de Tahiti oil will never be "white" or smell heavily of "coconut". Monoï de Tahiti oil in its solid form will be off white, or pale ivory in colour. In its liquid state it will be a golden yellow colour. It will be perfumed delicately of the fragrance you have chosen, unless you have opted for 100% AO Monoï, which will have the gentle fragrance of the Tiaré flower only.
If you are unsure about the quality of the Monoï oil purchase a small amount, or a sample. If it's authentic and you like the fragrance you can purchase a larger volume.
For further verification visit the website of the Monoï Institute.
Of course you do have the right under the Distance Selling Regulations to return your product if you believe it to be an imitation.