The Mont Blanc Barracuda is the perfect cycle carrier for those that want something which is simple to install and will carry almost any bike size there is...
Key Features:
* The bicycle is secured in the frame holder with a secure frame gripping claw
* Chromium-plated frame holder tube in special steel
* Black Coloured Base unit made of UV-resistant composite material - Durable and Lightweight
* Takes frame diameters from 20 up to 80 mm
* Barracuda bike rack is great for adults and children's bikes
* Max tyre width 2.2 inches
* Manufactured in accordance with DIN 75302
* Lock your bikes to the Barracuda and this rack to your roof bars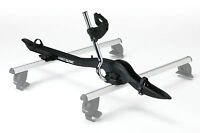 The main feature of the Mont Blanc Barracuda is that the wheels locate in a moulded profile, this holds the bicycle in an upright position whilst it is being loaded into the carrier. This means that you can use both hands when securing the wheels and the frame to . When the bicycle is attached to the frame holder, the bicycle holder is secured to the load carrier.
....holds a wide range of bike sizes....
The Barracuda holds both Adult Bike and Children's Bikes with ease, the fantastic Gripping Clamp has a rubberised coating which protects the frame of your bike and is very simple to secure and lock down. This gripping clamp can be moved up and down the chrome pole to fit a wide range of bike sizes,

As you can see the Barracuda has a very sleek design with a black base tray and chrome finished 'adjustable pole', this particular design matches most new cars on the road today. It will also fit to both standard square bars and includes fittings to fit to Aero or ALU style bars, again the design doesn't look out of place on either roof bar system and is very quick to fit.
....A great cycle rack with excellent features...
Overall the
Mont Blanc Barracuda
scores very high with many of the bike enthusiasts we know and speak to at Carracks.co.uk, it is perfect for Road Bikes, Mountain Bikes and BMX Bikes. We have the
Mont Blanc Barracuda
in stock for rapid dispatch and delivery across the UK, the Mont Blanc Barracuda is simple to find on our eBay store.