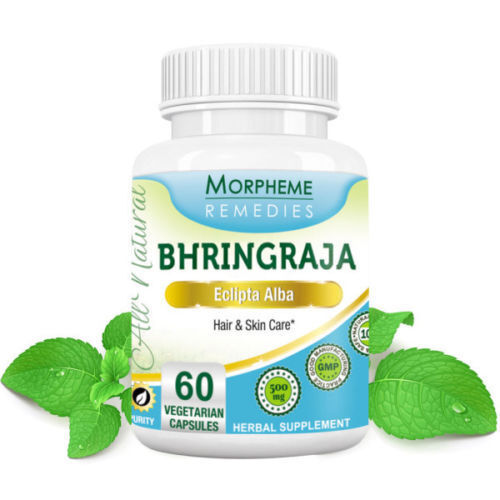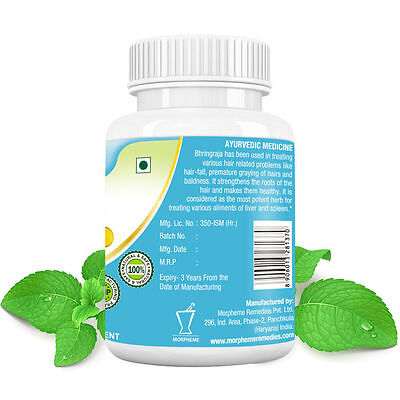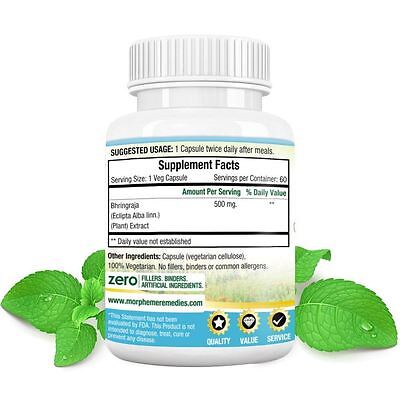 Description
Morpheme Remedies Bhringraja is a premium quality Eclipta Alba product. Eclipta alba, commonly known as Bhringraja in Ayurveda, is an herb that is widely known in the traditional medicines of the Indian subcontinent for promoting hair growth.

Morpheme Remedies' Bhringraja capsules contain high quality pure Eclipta alba extract. It has been manufactured under hygienic conditions in GMP certified facilities. Free from contaminants, additives, binders, fillers and synthetic substances, this is a natural Bhringraja supplement.
How Is Bhringraja Useful?
The botanical name of Bhringraja is Eclipta Alba. Also known as false daisy, it grows in the tropical and sub-tropical regions. In Sanskrit, Bhringraja Means The King Of The Hair. Bhringraja also has antihyperglycemic property. There are various benefits of consuming Bhringraja.
How To Take?
Take one Bhringraja capsule after meal, twice a day. This is an effective and side effect free product.

Serving size: 1 Veg capsule
Servings per container: 60
Each 500 mg capsule contains: Eclipta alba (Bhringraja) plant extract

Suggested Usage: 1 Capsule twice daily after meals.

Serving Size: 1 Veg Capsule

** Daily value not establishedMorpheme Remedies Bhringraja is a 100% natural supplement. It contains pure Eclipta alba plant extract. Additives, binders, fillers and synthetic substances are not present in the herbal capsules.

RESEARCH IN HAIR GROWTH:
EXPERIMENTAL STUDIES SUGGEST THAT ECLIPTA ALBA HELPS IN STIMULATING HAIR GROWTH. STUDIES HAVE REVEALED THAT THE HERB, BY REDUCING THE TIME TAKEN TO INITIATE AND COMPLETE THE HAIR GROWTH PROCESS, SUPPORTS FAST HAIR GROWTH. (ROY RK ET AL. "HAIR GROWTH PROMOTING ACTIVITY OF ECLIPTA ALBA IN MALE ALBINO RATS." ARCH DERMATOL RES. 2008 AUG).