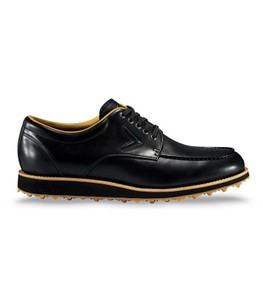 While golf shoes are not required on every golf course, they can be very advantageous when it comes to playing a great round of golf. Many people may not realize it, but golf shoes can provide additional comfort and support that other types of shoes do not when navigating a golf course. Considering it takes the average golfer four to six hours to play 18 holes, with an average of four miles walked per course (if a player chooses to opt out of a golf cart), strongly supported shoes are an absolute necessity.
There are many options available on the market today when it comes to golf shoes, so one must understand what to look for before purchasing a pair. The most important aspects to consider when purchasing a pair of golf shoes include knowing what materials the shoes are made out of, what types of shoes are available, and considerations like price, frequency of play, and the fitting process. Golf shoes can be purchased at department stores, sporting goods stores, golf retailers, and through the Internet on sites like eBay.
Purpose of Golf Shoes
There are many reasons why a person should opt for golf shoes when heading out to the course. They are commonly designed with spikes or molded grip bottoms, which gives the player traction when walking on areas of short grass that may be slippery (especially when wet). These designs also help hold a golfer in place when taking a swing, and will not damage the turf in the meantime. Golf shoes are meant to handle the hilly terrains golf courses are known to have, with a large degree of support designed into the shoe that will allow a player to play comfortably for hours.
Golf Shoe Materials
When selecting a pair of golf shoes, it is important to understand what types of materials are available to choose from. Different materials will be used depending on the quality and price of the shoe.
Leather and Synthetic Leather
Ever since golf shoes were created, leather was and always has been the most popular material to use in the exterior portion of the shoe. Leather is known to be very comfortable, and once broken in will mold to perfectly fit a golfer's foot. The material is commonly waterproof, and is a good choice for the warm summer months as it is also a very breathable material. Considering the craftsmanship and type of material being used, golf shoes made of leather are high quality and have the price tag to prove it. For those that are not looking to spend a great deal of money on a pair of golf shoes, there are synthetic leather options available. While synthetic leather will not offer the same quality level or features of a 100 percent leather shoe, they will still offer some functionality for the golfer that is wearing them.
Gore-Tex
The material known as Gore - Tex is sturdy, thick, and fully waterproof, which makes it a great option for golfers playing in colder weather. Even though Gore-Tex is a more heavy-duty type of material, it is still very breathable and will keep a golfer's foot comfortable. Due to its design, Gore-Tex is a good deal warmer than leather and should be avoided when playing in hot temperatures.
Polyester
One of the least expensive ways to make a golf shoe is to use polyester as a lining, which is spread across the outer portion of the shoe to protect it from external influences. A polyester lining is not nearly as durable as leather, and does not provide the quality features that leather or Gore-Tex do. As a result, polyester is both thinner and lighter than the other materials as well.
Spikes
Many spikes used to be designed with metal, but are now becoming a thing of the past and are generally not allowed on most golf courses, as they are known to tear up the greens. Plastic has been the material of choice to replace metal spikes with, which has proven to be a success. Plastic spikes are much more gentle on the golf greens, and are more lightweight as well. As plastic becomes the norm for golf spikes, they continue to improve in design and now offer almost the same amount of traction that a metal spike typically would. Many plastic spikes are also replaceable, making it very convenient to swap out a broken or damaged spike and replace it with a new one as opposed to buying a completely new pair of golf shoes.
Types of Golf Shoes
No longer do golfers have only a few options of golf shoes to pick from. As golf shoes continue to advance in technology and grow in popularity, different styles have been released for the consumer to enjoy. There are many different brands, styles, designs, and colors to choose from, allowing golfers to show their personality through their shoes. In today's market, golfers have the option to choose from golf shoes, golf boots, and golf sandals.
Golf Shoes
Traditional golf shoes are the most popular style to choose from, which offer traction, breathability, water resistance, and overall comfort to a player's game. Prices can range from high to low depending on the materials the shoe is made out of and the quality of the craftsmanship put into the shoe itself. As golf shoe designers broaden their designs from the typical white option, there are a number of different colors and designs to choose from in today's market.
Golf Boots
Golf boots are a relatively new product to be released to the market, and are meant to stand up to the tougher elements of mother nature. They are meant to be 100 percent waterproof and are very warm for the cooler days spent on the greens. Golf boots are known to be more expensive than other types of golf shoes; however, they will keep the feet comfortable, warm, and dry in any type of weather.
Golf Sandals
For those frequently golfing in warm temperatures, a golf sandal can be a great option. They are lightweight, breathable, and not nearly as constricting as a golf shoe can be. These can be less expensive than the classic golf shoes; however, they also do not protect against outside influences, such as bad weather or terrain issues.
What to Consider When Purchasing Golf Shoes
When going to try on golf shoes, there are many things to keep in mind before purchasing a pair. While online sites offer a great selection of golf shoes to choose from, it is important to try a pair on in a brick-and-mortar store before making a final purchase.
Price
People searching for the perfect pair of golf shoes will see that there can be a significant range in prices. Cost of a golf shoe will vary depending on the quality of material it is made out of, as well as other features built into the shoe that make it more or less expensive. For example, golf shoes made out of the best calfskin leather will be much more expensive that a pair constructed with a polyester lining. While it is important for any golfer to shop within their means, high quality golf shoes have proven to be helpful in improving one's game.
Frequency of Play
How often a person plays golf can be a large factor in how much one is willing to spend on a pair of golf shoes. It may not be as important for a person that only plays a few times a year to invest a large amount of money into a pair of golf shoes. However, for someone that plays every weekend (especially those lucky enough to live in warm climates year round); investing in a high quality pair of golf shoes is more prudent. Golfers who spend a large amount of time on the course will want a pair of shoes that are going to provide high levels of comfort, breathability, and support.
Take the Fitting Process Seriously
When trying on a pair of golf shoes, it is important to approach the fitting in the correct way so that one will find the perfect pair on their first try. If a person is looking for a high quality pair of golf shoes, he or she should opt for a golfing pro shop where experienced golfers will be able to assist them. If someone is looking for a less expensive pair of golf shoes, many sporting good stores sell midrange options.
When trying on a pair of golf shoes, one should wear the same socks they would normally wear golfing, which will help determine the appropriate fit. Check the bottom of the shoe to see what type of spike is used, which should be plastic. Keep in mind that if golf shoes have metal spikes, many golf clubs will not allow them on their greens and the purchase will be a waste. Once the golf shoes are on the feet, it is important to walk around for at least five to 10 minutes and maybe even take a couple of practice swings in order to make sure the shoes are truly comfortable and supportive. If the shoes feel off-putting in some way, then they should be discarded as an option because they will not provide comfort in the long term. Golfers who have ankle or foot issues may also want to seek out a brand that is known to provide more support than others, which will allow for a greater amount of comfort on the greens.
How to Buy Golf Shoes on eBay
Now that you understand what materials golf shoes are made of, what types of shoes are available, and how to approach the fitting process, you are now ready to purchase a pair of golf shoes. eBay offers thousands of options when it comes to finding the perfect pair of golf shoes for you, no matter if you are looking for classic leather shoe or a more simple golf sandal. To start, you can begin with a keyword search. To do this, go to the eBay home page and locate the search box on the page. Here, you can type in your preferred keywords, which will vary depending on if you want to do a search that is more broad or specific in nature.
If you want to see a large amount of available options, you can simply type "golf shoes&" into the search bar and click search. This will produce all designs and styles of golf shoes available on eBay at any given time, allowing you to look at different types until you find the model you are looking for. If you already know exactly which type of golf shoe you would like, you can be more specific with your keywords as well. For example, if you are looking for a pair of Nike Zoom Trophy golf shoes size 11,, type this into the search bar and click search. Only this product will be produced in the search results, making the entire process quick and easy to find exactly what you are looking for.
If you do not want to search through the use of keywords, you can always choose to browse through eBay's categories instead. Golf shoes can be found in a couple of different categories, which can be found from the eBay home page. One option is to find golf shoes in Fashion,, under either Men ' s Shoes or Women ' s Shoes.. Golf shoes can also be found under the Sporting Goods category. Under the Golf category, click on the Clothing, Shoes & Accessories subcategory, and finally, Shoes..
Conclusion
There are many different factors to consider when purchasing a pair of golf shoes. The material of a golf shoe is one of the most important decisions to make, as that will impact the durability, support, and comfort a shoe will provide. Leather is the best choice for a supportive and long lasting shoe, which will hold up against the tougher elements, such as water. Leather can be expensive, and more moderately priced options like polyester are available. There are different types of golf shoes to choose from as well besides the classic model, which includes both golf boots and golf sandals. These provide different advantages, mainly around the type of weather one may be golfing in. Finally, the fitting process must be taken seriously before purchasing a pair of golf shoes. Once a person finds a great fitting pair of golf shoes, it is easy to go online and find that same pair on eBay.