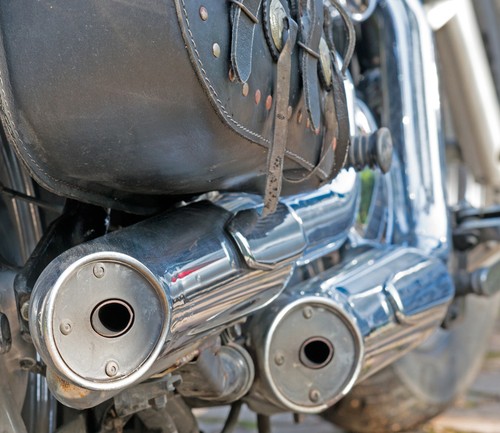 A significant number of motorbike riders choose to upgrade their bike exhaust systems, and this seemingly small modification is among the most commonly performed when it comes to bike modifications. While this may not seem like a major change, it does have a considerable impact on aspects like fuel economy and power, not to mention sound, which are also the most commonly cited reasons of bikers looking to replace their bike exhausts.. In today's world, with an array of options from which to choose, a buyer is truly spoilt for choice.
Buying motorbike exhausts does require some understanding of what new exhausts can do, the different types of exhausts on offer, the compatibility factor, and budgeting, so addressing these aspects before making a decision is always suggested. When it comes to actually buying an exhaust silencer or an exhaust system, buyers have the option to visit shops that deal in motorbike spare parts, try their luck at salvage yards, or simply search online using a website like eBay..
How Can Replacing an Exhaust Help?
Replacing exhaust silencers and exhaust systems can help in various ways, which primarily depends upon the item for which a rider is looking. Areas in which replacing an exhaust can help include performance, sound, weight, and a bike's appearance.
Performance
Close to half of all riders who go the way of changing their exhausts do so to improve their bike's performance. Riders looking to improve their bike's performance should think about investing in an entire exhaust system, as opposed to just a silencer because it results in a more pronounced improvement. Using the right type of exhaust system can help increase a bike's power output by around 5 per cent, and when clubbed with enhanced air filtering, a bike's power output can even rise to more than 10 per cent.
Sound
A bike's sound is something that is the result of the exhaust system that it uses, and wanting to change a bike's sound is also cited as a common reason to replace exhausts. The sounds produced by cruisers and sportbikes are distinctly different, and by using the right type of exhaust, these sounds cannot only be altered, but made louder as well. What buyers need to take into account, though, is that there are legal stipulations surrounding how loud the silencer of a bike can be, and what is allowed on the racetrack is not necessarily allowed on the road.
Weight
Replacing a company-fitted exhaust system with a new one can help to reduce the weight of a bike simply because stock exhausts are typically heavier than exhausts designed for performance. When it comes to how much a silencer or an exhaust system weighs, the material used to make it bears significance, and those made using carbon fibre are among the lightest available alternatives. Aluminium is also a lightweight alternative, and presents a great strength-to-weight ratio. When it comes to titanium, although it is much lighter than steel, it is considerably heavier than aluminium, but given that titanium exhausts are made using very thin material owing to its strength, they can be fairly lightweight as well, and finding titanium exhausts that are lighter than aluminium is quite easy.
The Look
The idea that getting a new exhaust can help with enhancing the appearance of a bike has not gone unnoticed. A number of standard-issue exhausts leave a lot to be desired in the looks department, and when it comes to looking for replacement alternatives, riders have the option to choose from chrome,, grey, black, power-coated, as well as a host of custom made options.
Choosing the Right Type of Motorbike Exhaust
When it comes to buying motorbike exhausts,, compatibility is the first aspect that should be addressed simply because not all exhausts work with all types of bikes. For example, exhausts that are designed for two-stroked bikes do not work with four-stroke bikes, and vice versa. When it comes to choosing exhausts, buyers essentially have the option to look for full exhaust systems, slip-on systems, and flange-on systems.
Full Exhaust System
Full exhaust systems connect to the engine's head, and when it comes to improving performance, these work the best. Commonly preferred by racers as well as bikers who travel long distances, these systems are also favoured by most cruiser owners as they help with power, speed, as well as control. A full exhaust system replaces a bike's entire existing exhaust system, and apart from adding horsepower, it can, as previously mentioned, reduce a bike's weight as well.
Clip-on Exhaust System
A clip-on exhaust typically attaches at the opening that houses the exhaust system's muffler and replaces its exhaust canister and s-bend pipe. Such an attachment suits those who do not use their bikes very frequently and are not looking for too much in terms of increasing a bike's power. Clip-on exhausts do add some power to a bike, they make starting and stopping easier, they help to reduce a bike's weight, and they are commonly used by stunt riders. Some drag racers are known to favour low mount or high mount clip-on exhausts as they can help lower or raise a bike's seat in accordance to the requirements of any given manoeuvre.
Flange-on Exhaust System
A flange-on exhaust system is one in which a canister attaches to a bike's existing exhaust system, using its original s-bend pipe and headers, while replacing its stock muffler. A flange-on exhaust can also help increase a bike's power and reduce its weight. These canisters are used in the same position as that of the original canister, and reinstalling a bike's original muffler, should the need arise, is fairly straightforward.
Tourers or Sportbikes
Many tourer owners tend to look for full aftermarket exhaust systems, which are easy to come by for makes like Yamaha,, Kawasaki and Harley Davidson.. A majority of these, as mentioned, work by reducing a bike's weight, and they also add to a bike's performance. When it comes to sport bikes, riders are found replacing just the cans or the entire system, which is basically a matter of choice. What is to be kept in mind, though, is that a full exhaust system replacement results in better performance as well as greater weight reduction. With some of the new sport bikes that come with complete titanium systems, simply replacing the cans can help override any restrictions.
Replacing Stock Mufflers with Slip-ons
Some riders opt to change just the exhaust system's muffler,, which can either be to replace a heavy muffler with a lighter one or to receive a change in sound; getting a lighter muffler can help increase a bike's power. Replacing a bike's muffler, in most instances, is quite easy, given that the exhaust's control valve does not have to be removed, which is normally the case with full system replacements.
Buying Motorbike Exhausts on eBay
There is no dearth of alternatives when it comes to looking for motorbike exhausts on eBay, and this choice extends to owners of bikes produced by Harley Davidson, Kawasaki, Honda, Suzuki, Aprilia, Triumph, Scorpion, Ducati, and scores of other manufacturers. In addition to offering buyers the ability to search through full exhaust systems, eBay also gives its users the ability to search through exhaust silencers, as well as exhaust headers,, exhaust studs, and exhaust gaskets, seals, and clamps.. A definite advantage when shopping on eBay is the ability to look for used exhausts and exhaust systems, given that they can lead to considerable savings.
eBay buyers should take into account that a number of sellers use this platform to sell their goods, and there are instances of similar exhausts being priced differently by different sellers. As a result, making sure that a thorough search is conducted is recommended, and owing to eBay's simplified search box that can be found on every eBay page, searching for any type of exhaust is fairly simple.
Conclusion
Although investing in a new motorbike exhaust is quite common, not all riders pay due attention to the process, and instances of buyers being short-changed in terms of value for money or performance are not uncommon. As a result, buyers ought to pay attention to certain aspects when buying a full exhaust system, an exhaust silencer, a muffler, a header, or even a heat shield.
The replacement should be checked for compatibility, wherein it should not only attach to the bike in the right manner, it should also be in line with the bike's technical specifications. In addition, if a replacement does not exceed the capabilities of the stock version, it really does not serve any genuine purpose.
Identifying just what is required of the new exhaust in terms of its performance, sound, and style should be taken into account at the very start. Establishing a budget should also be taken into account, which helps to ensure that no time is wasted in the search process and no money is wasted if you end up with something that is not really required.