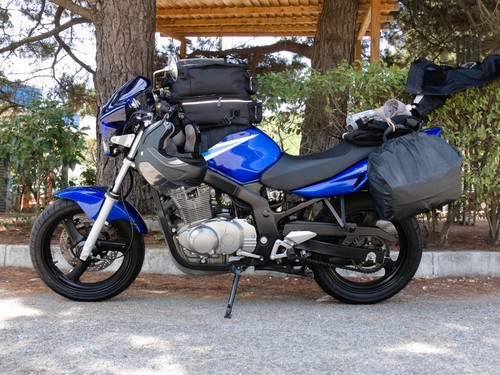 Whether it is for the daily work commute, the Saturday afternoon cruise, or the long awaited holiday bike tour, any rider who owns a motorbike requires some sort of luggage compartment to carry the essentials for the trip. Motorbike luggage is available from various stores where motorbikes are sold. Buyers can also find motorbike luggage for sale online at various sites, such as eBay. eBay has a wide range of luggage options to suit any type of bike.
Taking the time to learn about the options available when looking to purchase motorbike luggage can ensure a consumer makes an informed purchase decision. Motorbike luggage comes in hard and soft materials, and there are several different types of luggage, designed for the various styles of bikes. The amount of storage space required, the weather conditions, and the weight of the luggage are all factors to be considered before making any final purchase decision.
Hard or Soft Motorbike Luggage
Motorbike luggage can be divided into two categories. A hard luggage case is made from strong plastic, while a soft luggage case is made from flexible canvas material. The choice to purchase hard or soft luggage for a motorbike comes down to personal preference.
Hard Motorbike Luggage
Some riders believe hard motorbike luggage is the ideal way to store items when out on the bike. It is lightweight, durable, and hardwearing. Security padlocks can keep contents safe compared to soft luggage. Hard luggage is waterproof and protects contents better should the rider have a fall. Those who love the hard luggage option believe that it may offer some level of protection in an accident. Then there are those who feel that hard luggage can be restrictive in size, inflexible, and cause a potential hazard in an accident.
Soft Motorbike Luggage
Soft motorbike luggage is the alternative for those who do not like the hard luggage option. Soft luggage is flexible, lightweight, relatively inexpensive, and often comes with useful user-friendly features and various pockets. Soft luggage can be more comfortable against the rider's legs or back. However, soft luggage does not offer the same amount of security as hard luggage. A quick slice with a pair of sharp scissors can enable any thief quick access to the bag's contents.
Different Types of Motorbikes
There are a number of different types of motorbikes available, and some brands make their luggage to suit these different styles. Before purchasing any motorbike luggage, it is recommended to consider whether the particular piece of luggage is suited to the bike it is to be used on. The following table provides a list of the different types of motorbikes available.
| Motorbike Type | Motorbike Description |
| --- | --- |
| Cruiser | Style based on American bikes of the 1930s to 1960s; popular brands include Harley Davidson and Indian; rider sits in a relaxed armchair position when riding; chopper is a popular style of cruiser |
| Touring Bike | Designed for driving over long distances; made for rider comfort, practicality, and offering lots of luggage space |
| Sport Touring Bike | Combines the benefits of a touring bike and sport bike; more comfortable than a sport bike over longer distances, they can comfortably carry a passenger and offer acceptable amount of luggage space |
| Sport Bike | Designed for acceleration, speed, cornering, and braking over comfort and fuel economy; known for their lightweight frame and high performance engine, sport bikes position the rider forward and relatively low on the bike |
| Standard Bike | With an upright riding position and moderate luggage space, the standard bike is the more common type seen on the road; relatively inexpensive to buy |
| Off-Road Bike | Include dirt bikes, trail bikes, rally bikes, and motocross bikes; lightweight with high suspension and little luggage space |
| Scooter | Small bike with small motor; rider sits upright with both feet in front on a small platform; smaller wheels and a quiet ride; relatively easy to ride; quite a lot of luggage space |
As the table above shows, there are several different types of bikes. In order for a consumer to make the right purchase decision, it is recommended to choose the type of luggage that is designed for the bike it is to be used with in order to utilise it to its fullest potential.
Different Types of Motorbike Luggage
Although there may not seem to be a lot of storage options on a motorbike, many manufacturers have come up with a wide range of different luggage types, designed to be placed on various areas of the bike and able to store a good selection of items. With the right type of luggage, one can easily pack all that is needed, whether heading for a weekend bike trip away or heading out on the daily trip to work.
Tank Bags
A tank bag is attached to the fuel tank of the motorbike. Attached with magnets to a metal fuel take or with straps to a plastic fuel tank, a tank bag sits in front of the rider making access to the contents quick and easy for the rider. A tank bag, usually small and often made of soft canvas material, is ideal for smaller items, such as sunglasses, wallet, mobile phone, keys, and other small items.
Top Boxes
A type of hard luggage, a top box is secured to the bike behind the rider's seat. Some motorbike models have a top box already integrated into the frame, while others may be added. Considered one of the more secure types of luggage available, they are made of solid, durable, and waterproof plastic, and feature a lock of some sort for security.
Top boxes can be used as a comfortable backrest for a passenger, and some feature built-in tail lights for added safety. Many riders use their top box to store their helmet when not being used. Large top boxes that hold two full face helmets are readily available and a common motorbike luggage option.
Saddle Bags
Sometimes referred to as a pannier, a motorbike saddle bag is mounted at the rear of the bike, behind the rider's seat. It features two separate storage areas that sit over each side of the bike's rear wheel. Available in a range of materials, including leather, plastic, metal, or synthetic fabric, saddle bags come in a range of sizes to suit. They may be strapped to the bike frame or permanently attached. Saddle bags are a popular choice for those heading out on a long weekend cruise.
Tool Rolls
When out riding, especially on a long tour ride, most prefer to have a few essential tools handy in case the bike breaks down. When space is tight, a tool roll is a handy luggage option to have available. Often made from durable leather, a tool roll keeps all essential tools in one secure pack. A tool roll has several pockets to store tools in and rolls up nicely so that everything stays in its place. Quite small in size, tool rolls are designed to fit snugly into a larger luggage bag.
Luggage Elastics
Luggage elastics are elasticised nets that have clips or hooks and are designed to hold items securely in place on a bike. For example, often riders use luggage elastics to hold a second helmet on the bike when it is not being used by a passenger. Not actually used to store items, luggage elastics are designed to keep stored items in place, stopping them from slipping or falling during the ride. Lightweight and easy to store, they are inexpensive to buy and riders find them quite useful to have handy.
What to Consider When Choosing Motorbike Luggage
Because there are so many different shaped and sized bikes and so many different types of motorbike luggage to suit, it pays to take into consideration the amount of storage required, the likely weather conditions, and the weight when choosing the right sort of motorbike luggage to buy.
Amount of Storage Space Required
The rider heading out on their daily work commute is not likely to need saddlebags, top box, and a tank bag. For small items like keys, wallet, mobile phone, and sunglasses, a tank bag may suffice, and the rider who needs to cart files to and from work may prefer a slim saddle bag. However, for those planning a long road trip cross-country, a large saddle bag, tank bag, and top box may be necessary. A motorbike offers many places to store equipment, and the rider should consider how much storage they need before making any final purchase decisions.
Weather Conditions
Some types of luggage are more weatherproof than others. If heading out on a long journey, it pays to be prepared for any kind of weather. Hard luggage that offers good quality waterproof seals is ideal. Although leather motorbike luggage is waterproof, it does need to be regularly conditioned if it gets wet to keep the leather soft, supple, and free from cracks. The rider who tends to ride in predominantly good weather may get away with a lightweight, soft luggage bag. It helps to note that any type of luggage purchased is ideal if it is waterproof as the weather can be quite unpredictable, and one never knows when it might pour down with rain.
Weight of the Motorbike Luggage
Motorbikes range in size, shape, and balance. Consumers should consider the weight of the luggage when filled so as not to unbalance the bike and make riding it when packed with luggage a safety hazard. For this reason many riders like to balance their luggage evenly across their bike. If they have large heavy saddle bags at the rear, they can balance this up with using a tank bag. No matter what type or amount of luggage space a motorbike has, riders have to ensure they pack it with the weight evenly distributed. One would not load one side of the saddle bag and not the other. Instead, items would be divided evenly between both sides of the saddle bag.
Conclusion
To carry those important essentials when heading out to work or to the shops or to carry all the necessary clothing and equipment needed for a long road trip, motorbike luggage is a requirement for almost any rider. Motorbike luggage options range in their style, quality, size, and price. Buyers have the option of choosing between hard or soft cased luggage to suit a range of different bike styles. The different types of luggage available include tank bags, top boxes, saddle bags, tool rolls, and luggage elastics. In order to find the right size, shape, and style of luggage, it is important to consider the amount of storage space required, likely weather conditions the bike is to be used in, and the weight of the luggage being carried.
eBay provides useful search options, reputable sellers, and secure online payment methods to help make finding and buying the right type of motorbike luggage simple and cost effective. With useful buyer tools and helpful resources, consumers can learn how to quickly utilise eBay to its fullest potential.