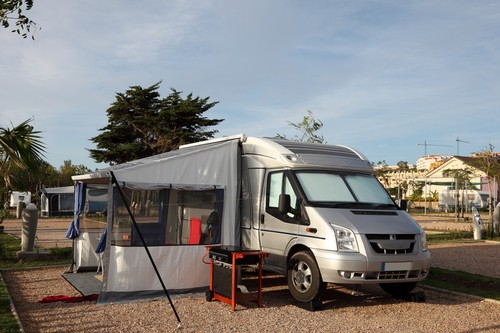 There are quite a few different types of awnings for motorhomes. The one that is purchased has to be the one that fits the motorhome and the needs of the person driving it. Many people who live in motorhomes year round keep them in a stationary park, which negates the need for folding awnings. Others who travel frequently in their motorhome need a collapsible type of awning. Each of the different types of motorhome awning can be found at motorhome supply shops or on the popular auction website, eBay.
Regardless of the type of motorhome, there are several standard issues that have to be considered. Most of these are simple issues and can be resolved by making sure the proper awning is purchased. Before purchasing a motorhome awning, a consumer must decide if they plan to leave a motorhome parked or use it for travelling, then learn to fit an awning to the different lengths of motorhome, and then a material for an awning needs to be selected. Once these decisions are made, it is simply a matter of purchasing the awning that is selected.
Parking or Travelling Styles of Motorhome Awning
Many people choose to live in a motorhome park all year. These are special camps where motorhomes are almost permanently placed, usually on a concrete slab. Then, there are those who purchase a motorhome for travelling from place to place. Both of these uses require different awning selections.
Awnings for Motorhome Parks and Stationary Motorhomes
Just because a motorhome remains primarily in a park does not mean that it cannot be moved. Most awnings meant for stationary motorhomes take this into account. There are a selection of awnings that are more stable than those for travelling motorhomes. They may be made of a hard plastic or fibreglass, instead of cloth, and they are sometimes removable. This is not to say that roll-up or folding awnings cannot be used for stationary motorhomes, but some people prefer a more durable awning for stationary motorhomes. This is particularly true for those that are placed in a climate where snow may accumulate on an awning. Although they are removable, hard fibreglass or plastic awnings are preferred for stationary motorhomes.
Awnings for Motorhomes That Travel
If the purpose of a motorhome is frequent travel, a hard plastic or fibreglass awning can be cumbersome, and is not generally recommended even if it is removeable. Awnings of this sort are often difficult to remove. The hard awnings that are meant to fold down offer a different set of problems. When travelling, a motorhome is under a considerable amount of wind. The wind can catch a hard, fold-down awning and tear it free from the motorhome, causing damage or risking an accident with another vehicle.
This is why roll-up cloth or folding cloth awnings are often chosen for travelling motorhomes. The cloth awnings are easier to remove, roll to a smaller size, or fold down into a position where they do not catch wind.
Summary of the Types of Awnings and their Benefits
Each type of awning can be used for each type of motorhome and have both their benefits and drawbacks. Most people choose the awning with the least maintenance for their type of motorhome.
Type of Awning

Drawbacks

Benefits

Hard, permanently-fixed

For use with stationary motorhome only

More expensive

May become cracked, damaged, or worn

Cannot be removed

Provides year round protection from the elements

More durable than other types

Can be used in areas that snow

Leak-proof

May be difficult to remove

May be damaged in removal or setup

More expensive

Have to be removed before travel

Takes up storage space when travelling

Can be used both as a stationary or travelling awning

More durable than other types of awning

Can be weighted with snow

Leak-proof

Canvas, removable

May be difficult to remove or setup

Takes up storage space when travelling

Canvas can tear during setup or removal

Supports may become bent or broken

Do not take weight well

Can be used as both stationary and travelling awning

Most likely used for travelling

Smaller to store than hard awnings

Less expensive

Easier setup and takedown

Not good for stationary motorhomes

Can be torn or damaged

Supports may bend during setup, takedown, or travel

Adds drag to motorhome while in motion

Do not take weight well

Convenient to roll up to travel

Protects from most elements

Lightweight

Generally easy to unroll

May be motorised

Canvas, flat

Can suffer damage during travel

Adds drag during travel

Does not take weight well

Requires a special fit

Folds onto the side of a motorhome for quick setup and takedown

Less expensive

Some protection from most elements

Cloth, roll-up

Only protects from sun

Adds drag during travel

Does not take any weight

Very easy to damage

Very lightweight

Easy to unroll and setup

May be motorised

Inexpensive

Easily replaced
This is not a full list of all of the awnings available. It is simply a list of the main types used for both stationary and travelling motorhomes. Each of these has their own disadvantages and benefits. Selection of a type of awning is based on the specific needs and budget of the user.
Different Awning Sizes for Motorhomes
There are quite a few different-sized awnings. The size selected depends on the length of a motorhome and the amount of area to be covered. Most of the motorhome awnings purchased take up around one-half to one-third of the length of a motorhome. There are awnings that take up the entire length of a motorhome, but they are considerably less popular than the shorter models, particularly for travel.
The width of an awning depends on how much area a person wants to shade or protect from the elements. Standard sizes are 2 m, 3 m, 4 m, and 5 m. The larger sizes are geared more toward the fibreglass or plastic stationary motorhome awnings. In order to select the proper size of awning width, a consumer has to take into account the slant of the awning as well. Most cloth or canvas, and some plastic or fibreglass, awnings begin higher at the top, the portion closer to the motorhome, and then slope down as they move away from the motorhome.
When travelling, a shorter awning is almost always preferred because it can be packed up against the side or rolled up onto a motorhome, and heavy supports are not needed. The longer the width of the awning, the more and heavier the support needed. Of course, with heavier supports comes more difficulty with folding, removing, storage, and rolling an awning.
Awning Materials
Awnings are generally made from a combination of, or type of, four different materials. They are made from cloth, canvas, fibreglass, or plastic. Each of these types of material can be used for each type of awning, although flexible awning material is better for travelling, and stiff types of material are better for stationary motorhomes. The material that one chooses depends on the awning and the desired level of protection from the elements. Many types of awning are waterproof to make sure they do not leak. For instance, a sail canvas awning keeps both the sun and rain out, but does not do much for the harsher elements. Cloth, on the other hand, is normally not waterproof and only protects from sun. When using waterproof awnings and the stiff fibreglass and plastic awnings, a person has to make sure that snow and water do not build up on the awning. This is why it is important to think carefully about what the awning's primary use is.
Buying Motorhome Awnings on eBay
When buying a motorhome awning on eBay, you simply have to input the key search terms "motorhome awning", into the search box, and click search. This gives you a large listing of the different awnings available. If you want to browse through the awnings and are not sure which type you want, this is the best search to perform. If you know the type of awning that you want, you can narrow the search by typing in "canvas motorhome awning", "roll-up motorhome awning", or "removable motorhome awning" to get a narrower list of results.
Once you have browsed through the list and found an awning that is suitable for your purposes, simply left-click on the listing. This brings up a detailed description of the product that should include the size, style, material, and type of awning. It should also include the seller's shipping and return policies. Since some awnings are custom fit, it is a good idea to contact the seller with the sizing information before purchasing an awning if the sizing is not listed. There is a place to ask the seller a question on the detailed listing site. It is also a good idea to look at the feedback listed on the seller's profile to get a good idea of their business practices.
Conclusion
Since there are many different types of motorhome, it stands to reason that there are many different types of motorhome awning. The proper selection of an awning can only be made after deciding whether or not the motorhome remains mostly stationary or if it is going to be a form of travel or recreation. Then, the pros and cons of the different types of awning can be weighed and the material selected. It is also a good idea to take a look at where the motorhome is located when deciding which material to choose. A waterproof material can be extremely beneficial if someone wants protection from rain or from other elements.
Many of the awning selections take weather, weight, cost, and convenience into account in their design. Awnings can be purchased from many of the motorhome retailers as well as from an online marketplace, such as eBay. If ordering an awning online, be sure to check the size and fitting instructions to make sure the awning works with a particular motorhome.