How not to be fooled.

The Startac 130 was the last startac to be manufactured by Motorola before the lesser quality MR501 pay as you go you can tell it by the slim line batterry and the gold lettering. It has 3 extra function keys and is as different from the mr501 in the build quality:
The plastic has a smooth matt feel.
The phone is slimmer and 5mm thinner (this was to fit the centre consul of the XJS Jaguar when in the car kit)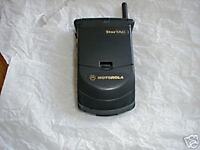 Notice the flat back and gold lettering.

See the three extra keys and GOLD startac emblem.
The Jag startac had jaguar on the closed front in gold instead of motorola.
Prices for a mint mr501 should be £20
Prices for a mint 130 should be £50-60
Prices for a 50-or 70 (the earlier versions of the contract startac should be £20-30 these are better buys than the mr501 due to the build quality.
Prices for a Jaguar startac are market driven due to their rarity and all 130 and Jaguar startacs are a good investment.