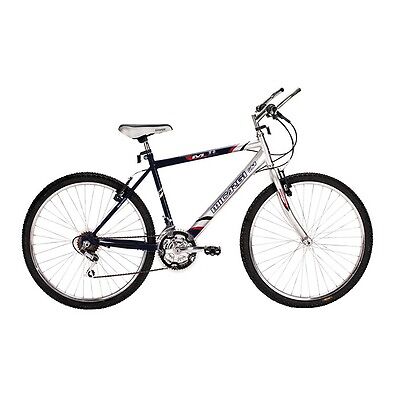 Mountain bikes are specifically designed to be used off-road, often on are rocky, steep or unpaved terrain and trails. Therefore, parts of a mountain bike need to be able to deal with the rough terrains and use. Mountain bikes come in a range of sizes and style, and are easily found and bought on eBay.
History
Although the first ever mountain bike is said to have been created in 1896, mountain biking was not established as a sport until the 1950's when the French Velo Cross Club Parisien was launched. The VCCP consisted of twenty-one young cyclists from Paris whose riding styles were the starting point for the sport now recognised as mountain biking.
In the UK, the Roughstuff Fellowship was established in 1955 for off-road cyclists. In 1966 one of the members created a bike especially for dealing with rough terrain, and named it the mountain bicycle. The mountain bike design idea was later developed further with a much lighter design suited for the terrain of South East England. In the 1970s and 1980s, a number of manufacturers started to produce mountain bikes designed for the purpose of cycling off-road, and it became mainstream in the 1990s.
Mountain biking now has a number of sub categories, such as cross-country, downhill, freeride, four-cross, dirt jumping and urban/street, which are reflected in the types of mountain bikes available.
Mountain Bike Types: Rigid, Hardtail, Softail and Full Suspension
The type of bike require will depend very much on the rider and the intended use of the cycle. It will also depend on the skill level of the rider.
Mountain bikes generally come in four categories:
Rigid: A frame with a rigid for and no suspension.
Hardtail: A frame with front suspension.
Soft tail: A frame with a small amount of rear suspension.
Dual
or
full suspension
:
these mountain bikes have additional suspension at the rear.
The most commonly used mountain bikes are hard tails or full suspension. For most general mountain biking a hard tail is sufficient; for more extreme riding activities, a full suspension can enhance technical riding when switching between challenging terrains.
Mountain Biking and Bike Varieties
| | |
| --- | --- |
| Cross-Country (XC) | Cross-Country riding means riding on a variety of terrains including climbs and descents. Cross Country bikes usually weigh around 9-14 kilos and have suspension at the front. |
| All Mountain (AM) | AM bikes usually have 125-180 millimeters of rear and front suspension travel. They have stronger components than XC bikes, whilst still being a suitable weight suitable for both climbing and descending on a range of terrains. |
| Downhill (DH) | Downhill riding usually involves rapid descent from an elevated point which has been reached via lift or car. It differs from XC riding as the descent is usually a race or time-measured; as the bikes are not designed to be ridden uphill, DH bikes are heavier than XC and AM variants. |
| Four Cross (4X) | 4X is a sport in which riders compete either on separate tracks. Most bikes used are light hard-tails. |
| Free Riding | Freeriding is discipline that encompasses everything from downhill racing to jumping, riding elevated trails and stunt riding. |
| Cross Country/Touring (XC) | XC mountain bikes are designed around the discipline of cross country racing with an emphasis on climbing as well as speed and endurance. |
| Trail Bikes | Usually used by recreational mountain bikers on natural off-road trails or trail centres. Trail bikes tend to be hardtails. |
| SIngle Speed (SS) | Single-speed (SS) mountain bikes have one set gear ratio and tend to be rigid, steel-framed bikes. Single speed bikes are ridden by fit riders on mild to moderate cross country terrain. |
| Dirt Jumping (DJ) | Dirt Jumping refers to riding bikes over mounds of dirt or soil and becoming airborne. Dirt jumping bikes tend to be smaller hardtails to complete tricks easier. |
Mountain Bike Components
There are various parts to the construction of the different types of mountain bikes.
The components will vary depending on the type of bike required and it's intended use.
Mountain Bike Wheels
Mountain bike wheels vary as much as the mountain bikes themselves, both in size, shape and thickness. Most bike wheels are 26-inches, although they can go up to 27.5 and 29, or down to 24 inches. Like many products, sizes do vary based on country and requirements. For example, some specialist bikes have smaller tyres to deal with particular obstacles.
Gears on a Mountain Bike
Most mountain bikes have a triple chainset gearing system to allow for a wide range of gears to deal with steep climbs and fast descents. The gears are operated by a mechanism known as 'shifters' on the handlebars of the mountain bike.
Frame of a Mountain Bike
The frame is the core of a mountain bike. Frames can vary in make and weight, so ensure the bike frame will be manageable for the intended use. Frame sizes refer to the mountain bike size, and are usually measured in inches.
To find the right sized frame and mountain bike measure the height of the rider and inseam length. The frame size of mountain bikes refers to the distance from the centre of the crank to the top of the frame at the seat tube.
| Height of Rider | Inseam Length | Frame Size |
| --- | --- | --- |
| 4'11" - 5'3" | 25" - 27" | 13-15" |
| 5'3" - 5'7" | 27" - 29" | 15-17" |
| 5'7" - 5'11" | 29" - 31" | 17-19" |
| 5'11" - 6'2" | 31" - 33" | 19-21" |
| 6'2" - 6'4" | 33" - 35" | 21-23" |
| 6'4" and upwards | 35" and up | 23" and up |
Mountain bike frames are made in a range of materials:
| | |
| --- | --- |
| Chro-Moly/Steel | Steel is very strong, durable, inexpensive. |
Mountain Bike Tyre Widths
A variety of widths are also available in mountain bike wheels. Thicker wheels are often popular on freeride and downhill mountain bikes, while standard wheels are fine for general mountain bikes. As time goes on though, more and more wheels can be slimmer and lighter thanks to advanced technology. Wide wheels are still popular with those riding in adverse conditions.
Saddles on Mountain Bikes
Mountain bike saddles come in a variety of shapes and designs. They can be easily replaced, so when looking for a bicycle be mindful that if the rest of the bike is suitable, a saddle can be upgraded and customised at a later date.
How to Buy a Mountain Bike on eBay
eBay has a wide range of choice for buying a mountain bike.. There are plenty of options available to suit every rider and style of mountain biking. On eBay, sellers are renowned for their competitive pricing and wide range of products, coupled with the flexible payment options available. Additionally, eBay can offer a much wider range of mountain bikes and accessories that many of the high street competition.
Find mountain bikes in the Sporting Goods section, in the Cycling category. Alternatively, type in specific search terms into the search box provided on every page. Using specific searches such as "Mountain Bike" or "Hard tail mountain bike" to help locate the desired item.
After searching for an item, thoroughly look through the listing and read all the available information. If there are few photos, or the images are low quality, contact the seller for a clearer photo. Also, check their feedback to make sure they have a good reputation and feedback. Finally, contact the seller with any questions.
If interested in an item, place a Bid, Buy it Now, or put in a Best Offer. These options depend on whether the seller offers them. The option is available to pay with PayPal, to make sure the purchase goes smoothly. eBay users are protected by Buyer Protection Program.
Conclusion
Buying a mountain bike on eBay requires some research and knowledge of which variety of mountain bike would best, and in which size. There is a wide range to choose from for all the different aspects of mountain biking. Buying through eBay makes it easy to find a great mountain bike to suit all needs and budget.