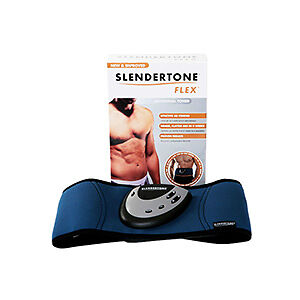 Muscle Toning Belts are a great way to tone the abdominal muscles with minimal effort. Even with intense exercise and a strict diet, it can be difficult to get the washboard abs look, but muscle toning belts are a fantastic accessory to aid with this, when in conjunction with regular exercise and a carefully planned diet.
Hundreds of variations of muscle toning belts for women and men of a whole range of body types, and are available in the Exercise and Fitness category on eBay..
What Is a Muscle Toning Belt?
Muscle Toning Belts are designed to make abdominal muscles contract and relax, which mimics an abdominal workout and helps to define and tone the abdominal muscles. Marketing of these products in the past have led people to believe that no exercise needs to be done in order to lose weight or tone the muscles. This is absolutely not the case, and muscle tone belts will only show results for people who are exercising regularly and dieting in such a way that they are burning more calories than they are consuming.
Muscle toning belts are wrapped around the abdominal area and have pads built into them, which are designed to send little shocks to the muscles in order to make them contract. Doing this over an extended period of time will mimic an abdominal workout and will tone the abs. These belts will have LCD screens that allow the user to configure the intensity of the shocks, so it isn't painful when first using the equipment.
Muscle Toning Belts are proven to give great results within eight weeks, when in conjunction with an exercise regime and strict diet, and is a great way to firm and tighten the muscles around the home. A lot of the belts will target the muscles deep inside the abdomen as well, and not just the muscles that are being touched by the pads. Some of the belts will have warm up and cool down settings as well to prevent injury and ease the user in to the process.
A large range of muscle toning belts for men and women are available in the Exercise and Fitness category on eBay, including brands such as Slendertone,, Bodi-Tek and Gymform..
How to Use a Muscle Toning Belt
Muscle toning belts can have great results. However, to get the best out of a muscle toning belt it is important to make some important lifestyle changes. There is no substitution for a good exercise regime and eating the right food in order to get the toned look desired. To get the best out of a muscle toning belt, pay close attention to the following steps:
In order to lose fat and tone the muscles, the body needs to burn off more calories than it is taking in. With this is mind, it is important to stick to a diet that doesn't have a lot of fat or carbohydrates in it. Carbs are great just before workouts as they release energy, but shouldn't be the main part of the diet as it stores as fat. Eating a lot of protein can really help to build and tone muscle fibres and is rarely high in calories.
Stick to a prepared exercise plan. There is no replacement for working out, and it is important to work on the abdominal muscles in the gym, as well as cardio to lose the fat around the abdomen area. The muscle toning belt will only help your muscles to tone when there is little fat in front of the muscles, so there is definitely no quick, easy fix.
With these steps being followed, you will get the best out of the muscle toning belts and get that 'ready for the beach' look. Muscle toning belts are extremely easy to use and for best results follow these simple steps:
Fasten the muscle toning belt around the abdomen just above the hips, ensuring the pads are touching the stomach.
Get into a comfortable position.
Once the belt is fastened, turn the belt on using the LCD screen and put it on to the lowest setting.
As and when you feel ready, turn the level up to the setting that is best for you. The pads should apply enough of a shock that your muscles contract slightly and start to ache a little bit. It is recommended not to do this for more than 30 minutes.
To finish using the belt, move down the settings so the muscles can cool down rather than just switching it off. This will prevent the belt from malfunctioning and will also prevent potential injury.
Now you know what is required when using the muscle toning belt properly, it is easy to find out what belt is best for you in the Exercise and Fitness category on eBay..
What Are the Benefits of Using a Muscle Toning Belt
There are many benefits to using a muscle toning belt if used properly. Some of the benefits of using these belts are:
The muscle toning belts can be worn at any time and any place, even when watching TV.
They are extremely comfortable thanks to the padding all around the belt.
The belts are light and can easily fit under clothes so they can be worn discreetly.
Easy to use for everyone.
Velcro strips make the belt easy to put on and take off.
Helps muscle growth and can bring about really great results for rock hard abs.
Tones muscles and makes them more prominent.
There is little physical effort actually needed.
The belts have up to four hours of battery life and have no wires attached them, so you can't trip over them.
With all of the fantastic benefits, a muscle toning belt can be a brilliant purchase, so take a look at the Sporting Goods section on eBay, and see if you can find the right muscle toning belt for you.
Conclusion
Muscle toning belts are great for the exercise fanatics, as well the people who are just looking to get a body for the beach. Whether new or experienced to exercise, having the right muscle toning belt is essential. This guide listed key information that should be known in order to make the right choice of muscle toning belt. The main things to consider when buying a muscle toning belt are:
What parts of the body do you want to tone?
Do you exercise often enough to see the benefits of using a muscle toning belt?
Can you stick to a healthy diet in order to see fantastic results?
Using eBay allows the user to find a huge range of options, and the process of buying an item is both personal and straightforward, making eBay the ideal platform to shop for muscle toning belts. Take a look at the Exercise and Fitness category and view what eBay has to offer today.