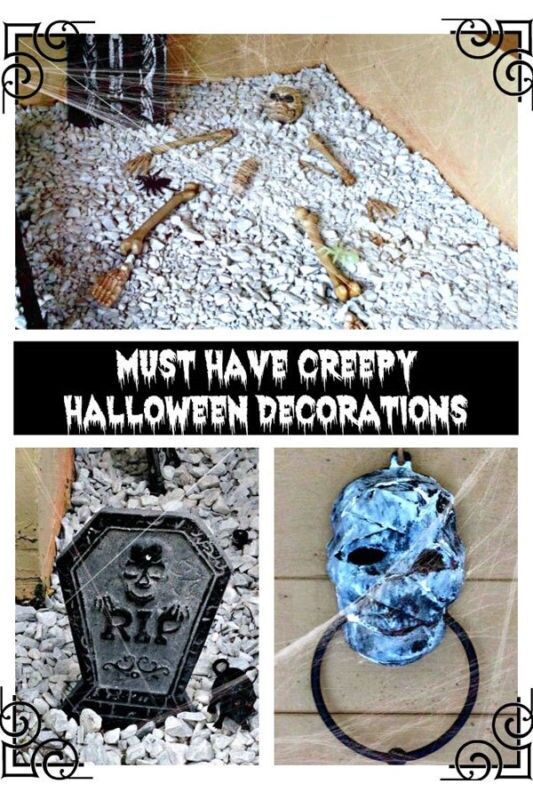 Nothing says Halloween quite like a spooky cemetery or eerie sounds in the black of the night. Halloween is such a creative and fun holiday from
costumes
to decorations. From ghosts and goblins to witches and skeletons, the different choices when it comes to Halloween decor is endless. If you want to get into the Halloween spirit and entertain your guest and trick-or-treaters with the spooky fun of Halloween than decorating your home is a MUST! Pick a weekend, early in October so you can enjoy your work and turn your home into the essence of Halloween with these must have decorations for the spooky season.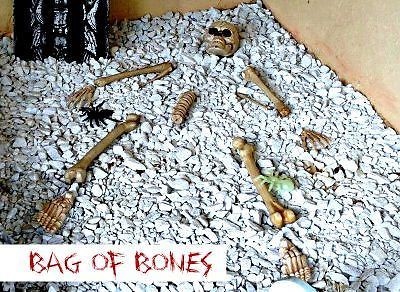 Bag of Bones
No cemetery is complete without a
bag of bones
. Either create a skeleton that has risen from the grave like the one pictured here or scatter the bones through out your garden. For an even more amazing effect, cover the bones with some dirt or bury portion of the bones so they look like they are protruding from the ground. If you really want to spook your guests purchase a skeleton that will make noise, or pop out of the ground when it detects motion. Halloween is all about the scare!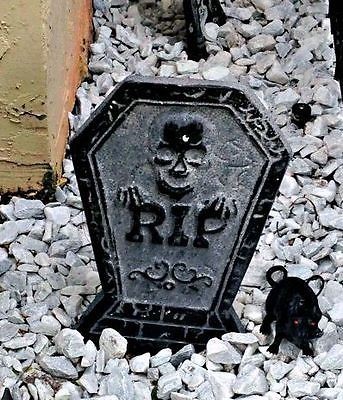 Creepy Headstones
You can find
headstones
in many different sizes, styles and designs. You can chose creepy headstones that speak of the doom and gloom ahead or funny headstones that will make your guest chuckle before they knock on your door and shout "Trick-or-Treat". The key is to decide is your purpose to scare them or to make them laugh. Maybe position a rat or other creepy crawler behind the headstone, even better if they have glow in the dark red eyes.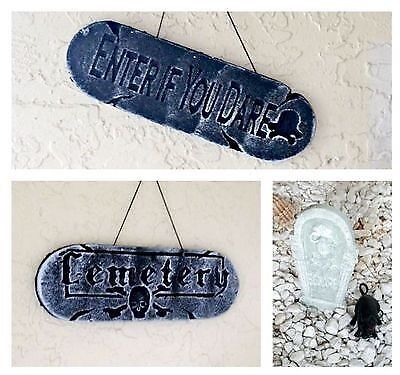 Directional and Warning Signs
Nothing says keep away than a sign that says "Keep Away!" or "Enter if you Dare!" Line the path, corridor and walls with fun
Halloween signs
that warn your guest that they may want to turn around and run for the hills.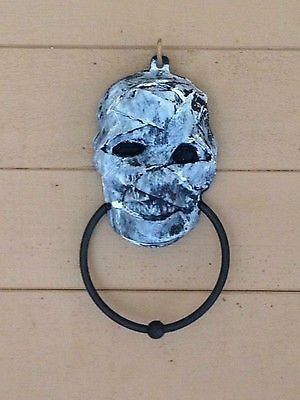 Door Knocker/Door Bell
If your trick-or-treaters make it past the scary cemetery and dare to knock on your door make sure that they wonder if it was the right decision. Adding a fun
Halloween doorbell
or doorknocker to your Halloween decor is a must. If you go with the Halloween doorbell be sure to get one that when pressed will creak like a door opening, howl at the moon, cackle like a witch or groan.
I can't wait for Halloween so I can transform my own garden into spooky Halloween fun!
More Fun and Informative Halloween Guides