With all online selling the photo is EVERYTHING!
No matter how much detail you put into your description it's going to be the photos that will dictate if the item sells or not, if it's an auction the perfect set of photos will make all the difference to the final price, so it's well worth the bother to take the best photos you can.
My stock is made up of fairly small items, this is where I have most experience so this guide won't be much help for items that won't fit onto a tabletop.
Most eBay photography guides will suggest that you use backdrops to give a clear image without any distractions behind the object and extra lighting. I agree, and here is the cheapest, easiest way to do this.
After 8 years of selling on ebay I've perfected my 'studio' - I use my dining table for my photos, this faces the window so I have natural light, this is enhanced with a £3 car boot sale Anglepoise that sits on a chair and shines at the wall to the side of me so I get a soft bounced light, I never use flash, you get hideous light flares and the colours get wiped out.
To make the backdrop I use 3 cardboard box files and some large, thick card, looking at my shot below you can see that the boxes and the card have been used so much they are taped up to make them last another 8 years...
I put the 3 box files flat on the table and jam the card upright between them so that I have 2 boxes closest to my chair at the end of the table. You can see here -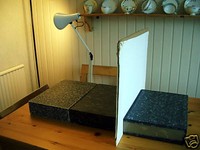 I then throw a cloth over for the backdrop, a cheap polycotton piece picked up from a market stall is fine -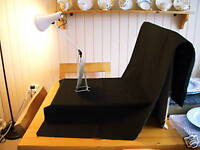 The item is placed on top of the front box so that the background is a good distance away and seemingly fades to infinity, you don't 'see' the cloth at all but even so I still make sure that it's been pressed because when I do a closer photo you can see the cloth clearer.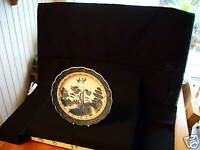 I sit at the table and steady my arms onto my chest so I don't get any camera shudder, I get a clear photo of the item face-on which shows far more detail than placing the plate flat on the table and standing over it..
This is how NOT to take a photo!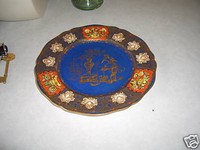 Same plate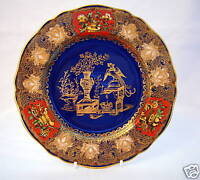 Because the item is standing on the file box you can photograph right down to the base without seeing the table like this photo of a large bowl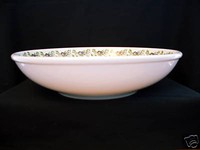 90% of my photos work best with a black cloth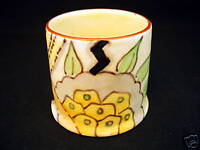 If the item is dark then it has to be a white cloth
But sometimes the item won't work on either black or white so the red cloth comes out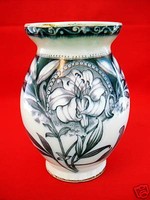 I don't use any photo editing software other than the basic setup that came with the camera so I just alter the saturation and contrast and crop it so the image is tight onto the object. If your camera isn't good with close-up detail and blurs then try taking the photo from further away and cropping the image when you edit it.
I know that the photos aren't technically perfect but I didn't spend more than £10 on my tabletop studio and the finished result serves it's purpose very well.
Other tips -
With plates that have a great deal of white background my camera struggles to focus so a tip I picked up was to hold an item in front of the plate - I use a pencil - press the shutter halfway to get the best focus on the pencil, remove it then press the shutter the whole way
When have your dining table studio set up don't stint on the photos, take plenty, they are all free to take and then when it's time to write your listing you can choose from lots of images to give the buyer the feeling that they've seen all of the item as if they'd held it in their hand. If you use a photo host like Photobucket or Auctiva you can include many extra photos in your listing with no photo charges.
I have a few bits of advice for taking photos of flat items like books (you see so many photos of flat items taken at bad angles) I wanted to add some photos to demonstrate a few points but I'm only allowed to have 10 images per guide so you'll find this in my other guide ' Photographing books and DVDs'
Still being edited......