Everyone knows that car boot sales can be fun and a great place to pick up a bargain.
Here are a few tips I have picked up over the years to try and keep you one step in front of the other bargain hunters!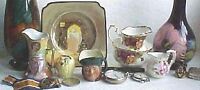 Arrive early. The best bargains will be snapped up straight away.
Take plenty of change with you. I recommend about £20 in coins. Many car boot bargains cost very little. Remember time is money, there is nothing more annoying than waiting for change.
Bid and barter! That is what a car boot sale is for. It costs nothing to try.
Check the floor. Everyone dives for the boot of the car but remember to check the floor for boxes. If an item is not thought highly of then it is more likely to be left forgotten in a box.
Ask for what you want! If you collect or are looking for something in particular then dont be afraid to ask the seller if they have what you are looking for.
Be in the right place at the right time. If you go to enough car boot sales then lady luck will eventually be on your side. A lot of the time there is no skill in buying, you have to be the lucky person there when the treasure comes out.
Take your tools of the trade. Rember to take a spy glass and other tools with you. Take a good look for damage. Finding damage can be a good thing as it makes an ideal bartering tool.
Dont give up. Once you have finished looking round the car boot sale have a cup of tea and a break then have another look round. Stall holders may have found an item they forgot about or something you were interested in earlier may now be reduced in price.
Keep your hands free. There is nothing worse than missing something because you are carrying all your earlier buys. Make regular trips to the car.
Talk to people. It is amazing the kind of people at a car boot sale. I have bought and sold from soap stars, pop stars, from doctors to archeologists. Nearly everyone has a story to tell. Remember you can learn a lot. If you have a question do not be afraid to ask it.
Last and by no means least - ENJOY YOURSELF! Walking around a car boot sale is exercise, its good for you so even if you do not buy anything you have not wasted your time. If you do not find what your are looking for then there is always next week.