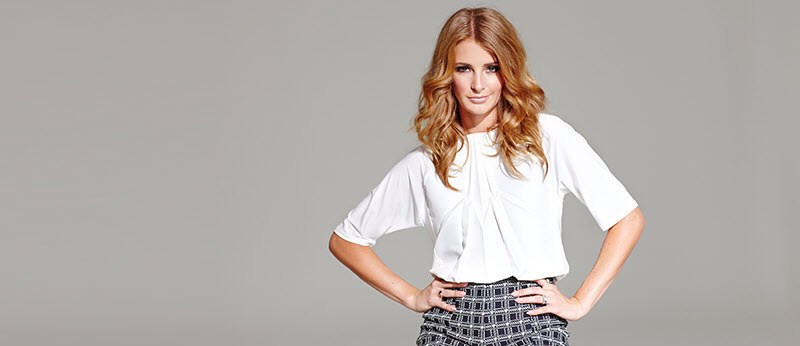 I love fashion weeks and I can't wait to check out next season's trends. But I have to admit London always has the best in show, which is why I'm so excited to share my favourite accessories from the British Contemporary Designers Collection with you.
I'm an accessory hoarder - it's important to have lots of options! My trick is to never overdo it and I always take something off if I think it¹s too much because accessories really can make or break an outfit. It's amazing how one lone accessory can send out a different vibe depending on how it's worn.
Alexis Barrell 'I love London scarf'
London flies the flag for great design talent and I'm a Brit girl who loves fashion, so I think any Brit fashionista would
wear this scarf with pride
. The illustrations are really cute, too. There are so many ways to wear a scarf and this style is just so versatile. I'd pick out one of the colours and pair it with matching stilettos or a red lip to tie an outfit together. I might wear it around my neck and let it flow down so it shows off the print, maybe knot it roughly around the bust area a la Kate Moss or even tie it to my handbag.
Paper London 'Atom' iPhone snap on cover
Phones have become the ultimate accessory and an extension of your outfit, so you might as well treat yourself to a cover that looks fashionable. I am never without my phone and it's quite common for people to pick up phones by mistake unless they're distinguishable from the rest.
I'm a fan of
alternating my phone covers
, especially for ones with that fashion edge. This case really has that. It's so on-trend with its graphic geometric pattern and the bold block colours make it stand out. Pretty and protective!
Wear them with
The gorgeous sheen and origami pleating give this top a real vintage feel -
this is definitely something I'd wear
. I think it would look really beautiful tucked into tailored trousers or shorts. The shape is extremely flattering and the neutral colour means it'll look great with most colours without the fear of it clashing. It would make a lovely daytime blouse for the office or dressed up with a collar necklace and an embellished jacket for a glam evening look.