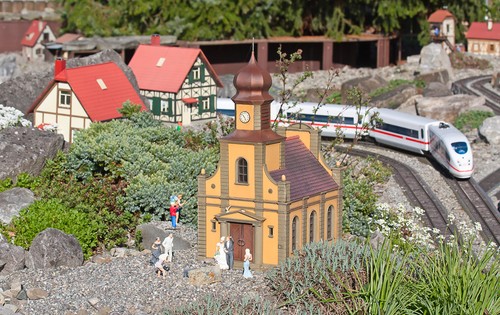 N gauge trains are a specific type of train used in model railroading. They are one of many different sizes available to those who take part in model railroading as a hobby or to those who wish to collect model trains.
Trains labeled as N gauge are done so because of their size. Whilst there are many other gauge trains available, such as O gauge, OO gauge and G gauge, N gauge trains are a widely used gauge of train. They are popular because of their smaller size in comparison to the other gauges available.
Gauge as a term used to discern between different model trains and is often confused with the scale of a train. Whereas the scale of a train refers to its size in comparison to its real life counterpart, the term gauge refers to the width of the track that the train can ride on.
N gauge trains run on a track width of 9mm and whilst there are a number of scale sizes that can run on this track width, the more commonly used scale for N gauge trains is that of 1:148, especially in the United Kingdom. In the United States and Japan, train scales of 1:160 are more widely used.
Types of N Gauge Train
There are different types of N gauge train that can be purchased. These are generally split up into the varying degrees of power source that exist with the N gauge train marketplace. Here are some of the more popular types of N gauge train available:
Steam Trains: Due to the smaller stature of N gauge trains, steam trains for this track width are used less regularly than other forms that populate the N gauge train category. This is partly because model steam trains need a certain amount of momentum and space to get up to fully working order. With N gauge trains often being used in smaller spaces, steam trains of this gauge were difficult to get up to speed and in turn, left users with trains that were not realistic portrayals of their bigger counterparts. However, advancements in model steam train technologies have meant that N gauge steam trains are now truer to the experience of using a steam train than they used to be.
Electric Locomotives:Electrically powered N gauge locomotives are extremely well suited to this track width. This is because the electricity allows for a constant flow of power to the locomotive, which means that the model train is able to reach higher speeds faster and more efficiently. Model trains of this manner are also able to handle crossings and changes in direction in a way that is a lot smoother and economical than the likes of N gauge steam trains. These characteristics are so well suited to the N gauge tracks because of their size.
Types of N Gauge Train Car
As well as there being a choice of N gauge train in terms of their power source, there is also a choice when it comes to their design and functionality. Other than a locomotive car, there are also a number of other car designs available that are true to those used on standard sized railroads. These include:
N Gauge Tender Cars:Tender cars are used in real life as a means of carrying the fuel source for steam locomotives. They are a separate carriage from the rest of the locomotive and sit behind the front carriage. As well as carrying the fuel, be it wood, coal or oil, the tender car also carries the water that is used to keep steam locomotives running for long distances. These are available for N gauge sized trains as a means of replicating both the functionality of carrying fuel sources, as well as their specific design attributes.
N Gauge Tank Cars: Tank Cars incorporate the exact same function as a tender car except for the fact that they carry the fuel source and engine all in one car. Tanks tend to be used for shorter journeys as, despite the fact that they can carry proficient amounts of fuel or water; a tender car has a larger volume capacity.
Electric N Gauge Trains:
Furthermore, there are also differing types of electric power sources available to those who wish to buy an electrically powered N gauge locomotive. These various power supplies all allow the model locomotive to perform in different manners to the likes of steam or diesel model trains. Here are the main types of electrical power supply for N gauge model trains:
| | |
| --- | --- |
| Power Supply | |
| DCC (Digital Command Control) | DCC is an acronym for the words, Digital Command Control. This is a modern technology that allows for the users of model trains to be able to control the train itself, as opposed to controlling the locomotive via an electric signal sent to the track. It functions via a decoder, which is placed onboard the locomotive. This decoder receives a digital signal from the handheld controller and from there the user can manipulate the speed of the train, as well as performing swift changes of direction. However, due to the size of N gauge trains, some manufacturers will not necessarily fit DCC decoders. On the other hand, there are many modernised brands and manufacturers of model trains who recognise the potential of DCC. N gauge train users who wish to update to digital command control can also fit DCC decoders individually. |
| DC (Direct Current) | N gauge trains most commonly run on a direct current electrical power supply. This low voltage current allows for high speeds and changes of direction to be achieved whilst keeping energy bills low. Direct current N gauge trains can be regularly found from a number of popular brands at affordable prices from the likes of eBay. |
| AC (Alternating Current) | N gauge trains that use alternating current, whilst in existence, are hard to find. However, the vast majority of digital command control N gauge trains make use of alternating current to enhance the smooth changes of direction that they are notorious for. |
N Gauge Trains Assembly
There are different ways that a potential buyer can purchase an N gauge train. Similar to collectors of most gauges of model train, there are collectors of N gauge trains who prefer to build their set from scratch. Not only does this include the likes of scenery and tracks, but also the locomotive itself. There are a number of N gauge train building kits available on the likes of eBay.
Most commonly, however, N gauge trains can be purchased as pre-assembled locomotives. This is a more popular form of purchase as due to their size, N gauge trains can be complex and delicate to assemble from scratch.
Buying N Gauge Trains Online
N gauge trains are a very popular gauge of train and many of the most widely recommended model train brands such as Bachmann and Hornby cater for N gauge users and collectors. Due to the fact that it is such a widely used gauge amongst model train hobbyists, there are plenty of places to go online to help with the decision as to which N gauge train to purchase.
Sites such as model locomotive discussion boards and forums all have threads and sections of their pages dedicated to those who wish to trade hobbyist tips and collector recommendations when it comes to N gauge trains. Make use of these to distinguish between certain brands or designs in terms of both their worth and how well they perform on the track.
What is more, use online retail sites that sell the likes of the brands mentioned above so as to gain an insight into the prices one should be realistically paying for an N gauge train. These prices can be used as a means of ensuring an affordable deal is found elsewhere, perhaps on an auction site such as eBay.
Buying N Gauge Trains on eBay
With a price range in mind, it may be a wise idea to head over to an auction site such as eBay in attempt to beat that price. Whilst some sellers may offer N gauge trains at Buy It Now prices, if one is willing to place a Bid a deal may be struck that could mean a much more reasonable price is being paid.
To find N gauge trains on eBay, visit the Collectables section of the site and follow this through the Trains/Model Railways section. Use the filter tab on the left hand side of the page to bring up listings of strictly N gauge trains and make use of the keyword search bar to bring any more specific requirements.
If a suitable product is found, make sure to check the seller's previous transaction history. Whilst eBay ensures that those who sell on the site are reputable, some sellers may be trying to make a quick sale, particularly if the product is second hand. In this instance, thoroughly check the images provided by the seller to be sure of the product's true condition. Also, thoroughly read the product description to gain an insight into the seller's knowledge of model trains.
Conclusion
Despite their size, N gauge trains still run particularly well. They're also remarkably realistic in comparison to their standard sized counterparts in the way they perform. Whilst steam N gauge trains are increasing in popularity due to their pulling weight, so too are electrically powered locomotives as they entertain users with their ability to reach high speeds.
The best way to guarantee that a sensible deal is being made during the purchase of an N gauge model train is to be knowledgeable on all the aspects of the hobby. Make use of this guide, as well as online resources, to ensure that a smooth and secure transaction is made.