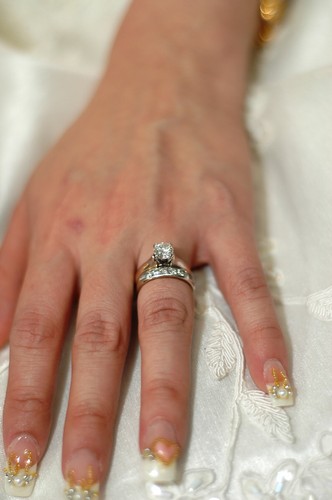 Nail art crystals vary widely in price and quality. While they are a popular way to add a bit of glitz and glamour to one's nails, one should be able to distinguish good crystals from those which are low quality. High-quality crystals provide a shine and brilliance that comes from a combination of quality materials and manufacturing techniques. Nail art crystals,, also known as rhinestones, come from a few different sources worldwide. Each source makes the rhinestones in a slightly different way which alters the quality, and therefore the price.
Before deciding if the extra money is worth it, one should know the difference between cut crystal and moulded acrylic. While these two are on the far ends of the scale, there are several options in between that provide a good compromise regarding quality and price. By learning about the factors that affect crystal quality, the main sources of nail art crystal, and crystal sizes and colours, one can shop wisely in boutiques and online at eBay.
Understanding Nail Art Crystal Quality
In nail art, the terms 'crystal' and 'rhinestone' are used almost interchangeably. However, there is technically a difference between the two. Crystal, in the realm of nail art, is a special type of glass. Crystal rhinestones are only one type of the rhinestones used for nail art. The other types are made from regular glass and acrylic. There are also two main manufacturing methods used to produce rhinestones. Each of these materials and methods produces a slightly different quality of crystal.
Acrylic Rhinestones for Nail Art
Acrylic has the lowest cost of all rhinestone materials. Acrylic is a type of plastic which is moulded into a rhinestone shape, and has the least amount of lustre. Acrylic rhinestones are widely available for nail art, and are a low-cost solution when shiny crystals are not necessary. They are available in many colours, and are useful for those learning to use crystals in nail art.
Glass Rhinestones
Glass rhinestones are made of plain glass with a reflective backing. The glass can be cut or moulded into a crystal shape with 8 to 12 facets, or sides. However, while they can come in a number of colours, plain glass rhinestones do not shine in the same way as crystal rhinestones.
Crystal Rhinestones
Crystal is actually just plain glass with lead oxide mixed in. The lead makes the glass reflect light differently, creating the beautiful sparkle associated with crystals. Lead crystal is heavier and more expensive than plain glass because of the lead content. In most of Europe, crystal must have at least 4 per cent lead in order to be sold as lead crystal. Swarovski and other high-quality crystal manufacturers use around 30 per cent lead content to give crystals a superior shine.
Cut Rhinestones
The art of cutting crystals to maximise the shine goes back centuries. In recent times, the job has been done by specialised machines and master glass-cutters. Cut crystals are always superior to moulded crystals. Both glass and lead crystal can be cut to shape. Acrylic crystals can only be moulded into shape. Most nail artists agree that cut crystal is superior in comparison to moulded crystal, regardless of the material.
Moulded Rhinestones
Moulded rhinestones are produced by melting glass, lead crystal, or plastic, and then pouring it into moulds. While moulded crystals look similar to cut crystals as far as the number of facets or the shape of the crystal, the quality of the shine is in fact quite different.
Nail Art Crystal Sources
There are four basic sources of rhinestones worldwide. The highest quality is almost universally agreed to be the Swarovski crystal. The lowest quality are imitations made in China.
Swarovski or Austrian Crystals
Swarovski has been a leader in the jewellery world since 1891 when Daniel Swarovski invented a machine that cut facets into glass quickly and easily. Today, Swarovski crystals are made from the highest quality materials (crystal cut glass) and have a brilliance that is hard to match. Swarovski crystals are sometimes called 'Austrian' crystals.
Preciosa and Czech Crystals
If Swarovski is matched by any other company, it is the Czech company Preciosa. Rhinestones and crystals have been made in the Czech Republic for centuries. Nail art crystals made by Preciosa are also made from high quality lead crystal and come in many colours and variations, just like Swarovski crystals. The difference in shine is very small, and Preciosa crystals are significantly more affordable, making them extremely popular. There are also a few other Czech companies which produce lead crystals for nails. However, some of these are moulded rather than cut glass crystals.
Chinese and Taiwanese Nail Art Crystals
Asian rhinestones are usually made from acrylic, or plastic. These are moulded into shape and typically have very little shine. For use on nails, they have practically no shine once a top coat is added.
Take the time to fully understand the different levels of crystal quality, as well as the most common sources for each crystal type.
| Crystal Types | Quality | Sources |
| --- | --- | --- |
| Machine-cut crystal | Highest quality; unmatched shine | Swarovski, Preciosa, few other companies |
| Moulded crystal | Third-best; preferable to moulded acrylic or glass | Other Czech companies, some Asian companies |
| Machine-cut glass | Second-best to machine-cut crystal | Korea |
| Moulded glass | Affordable; higher quality than moulded acrylic rhinestones | China, Taiwan |
| Moulded acrylic | Economical alternative; low shine | China, Taiwan |
As the table shows, Korea produces machine-cut glass crystals that are a good choice when cut crystal rhinestones are out of the price range. Likewise, other crystal types are useful in applications where shine is not a priority and there is a strict budget.
Nail Art Crystal Sizes
Nail art crystal sizes are measured in 'ss' sizes that have nothing to do with millimetres. 'SS' stands for 'stone size', and is a gem measurement scale that dates back centuries. Another measurement system used for rhinestones is 'Pearl Plate', or 'pp'. By better understanding the many sizes of different crystals in SS sizes, pp sizes, and millimetres, one can truly be satisfied with their purchase.
| | | | | | | | |
| --- | --- | --- | --- | --- | --- | --- | --- |
| Stone size | 5 SS | 6 | 7 | 8 | 9 | 10 | 12 |
| Pearl Plate size | 11-12 pp | 13-14 | 15-16 | 17-18 | 19-20 | 21-22 | 24 |
| Millimetres | 1.8 mm | 2 | 2.2 | 2.4 | 2.6 | 2.8 | 3 |
While rhinestones come in many more sizes, both bigger and smaller than the ones shown in the table, these are the sizes most commonly used for nails. The 5 SS size is popular for hands, whereas 12 SS are used more for feet. However, the best size depends on the size of the nails.
Crystal Colours
Crystals come in a huge variety of colours, and shapes. Every company produces its own range of colours, so it is hard to compare between brands. However, some names and labels are commonly used, therefore it may help to understand what they refer to. Gemstone colours and many special effects are also quite popular.
Gemstone Colours
Since rhinestones are commonly used as artificial gemstones,, it follows that the colours would mimic those of natural gemstones. The plain white colour that mimics diamonds is usually called 'crystal'. Other common rhinestone colours include: emerald, topaz, ruby, citrine, peridot, sapphire, amethyst, garnet, and opal to name just a few.
AB Crystals and Other Special Effect Coatings
The abbreviation 'AB' stands for 'Aurora Borealis', and refers to a special coating created by Swarovski that creates a rainbow effect. The label is now used by all brands with a reflective metallic coating that reflects many colours. Some other special effects created by various brands are the golden shimmer, a pearl effect, and various bi-colour crystals that change colour depending on how the light hits them.
How to Buy Nail Art Crystals on eBay
Nail art crystals of every shape, colour, and size are available on eBay. eBay's easy search options and public feedback system make it an excellent source for nail art crystals and other nail art accessories. Especially when shopping online, the security offered by eBay is an important benefit. The convenience of shopping from home is another major benefit of buying nail art accessories on eBay.
Finding Nail Art Crystals on eBay
Finding nail art crystals is as easy as entering the term 'nail art crystals&' in the search box on any eBay page. The listings that show up as a result of the search can be refined by choosing the appropriate subcategory and then specifying other criteria such as price, type, subtype, and seller among others. Be aware that crystal colours may show up differently on the screen depending on the monitor settings. For this reason, it is often worth buying a sample card from a seller before ordering larger quantities of a crystal, especially Swarovski rhinestones. Also make sure to check the seller's feedback score and transaction history by clicking on his or her name. eBay's Top-Rated Sellers are those who have a history of excellent customer service and fast shipping times. They are denoted with an award icon next to their names and on their listings.
Conclusion
Nail art is a fun and inexpensive way to add glamour to any outfit. Nail art crystals and rhinestones are often used to create beautiful nails that attract compliments wherever one goes. Crystals for nail art come in a range of different prices. Buyers should be aware that in the case of nail art crystals, price is a very good indication of quality.
The best rhinestones for nail art are machine-cut lead crystal rhinestones. These are made by just a few companies, most notably Swarovski and Preciosa. Less expensive crystals may be made of machine-cut glass, moulded crystal, glass, or acrylic. Rhinestones come in an innumerable amount colours and many shapes and sizes. The variety of crystal colours allows nail artists to express their creativity. By shopping on eBay, both beginner and experienced nail artists can get the crystals they need from the comfort of their homes to create beautiful nail designs that shine.