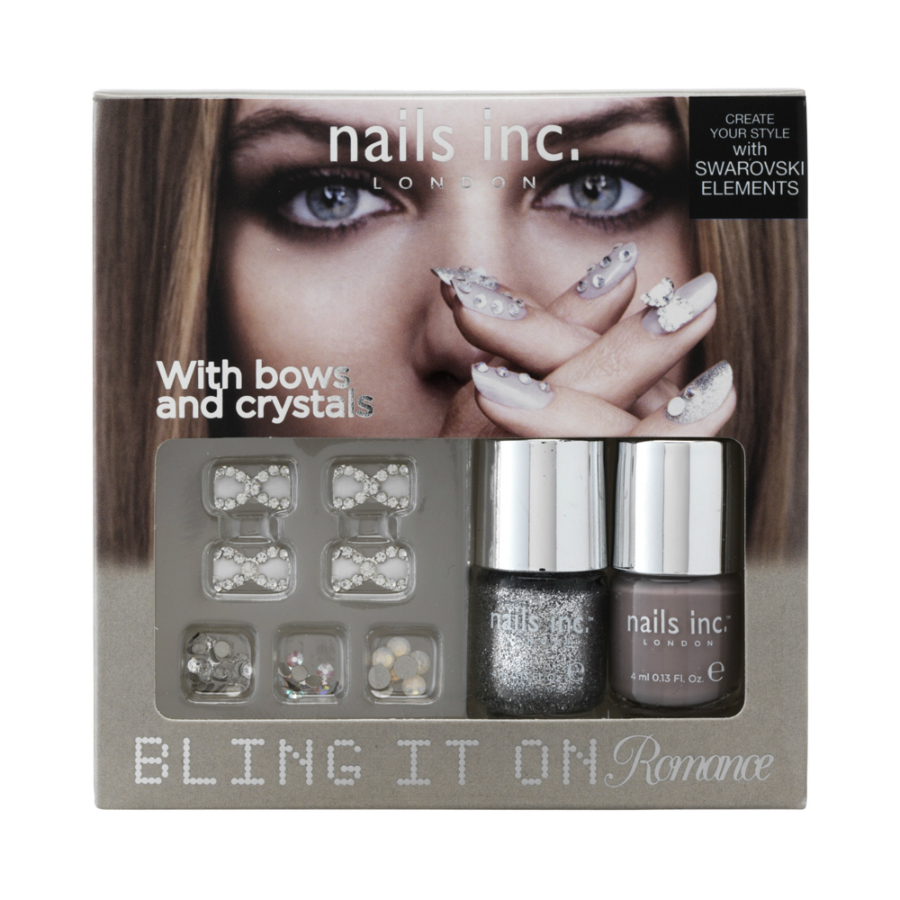 Lately, the fashion trend of nail art, which is the process of custom designing and detailing the polish on one's nails, has gained a lot of attention from media and style gurus alike. From popular blogs that feature 'nail of the day' snapshots submitted by readers to the fashion walks of New York, Paris, and London, nail art is a growing trend that everyday women can easily join.
However, those who are new to the nail art scene may find the process of selecting the right materials a bit daunting. Indeed, despite its DIY intentions, nail art seems awfully complex and exact for the typical woman whose art skills may have topped out at stick figurines. The good news is that manufacturers of nail polish and accessories have picked up on this fear and catered to customers by designing nail art kits in a variety of styles fit for everyone, from young girls at a slumber party to working women.
Nail Art: A Growing Trend
Although the practice has existed amongst certain communities for decades, the idea of decorating one's nails beyond a simple polish or French tip has really only gained traction since the early 2010s. In fact, it was actress Zooey Deschanel's unveiling of her own 'tuxedo-clad' nails at the 2012 Golden Globes Award show that really thrust this trend into the spotlight. Since then, everyone from runway models to suburban mums have been sporting nail art catered to their own lives and style, leading to a whole new niche of the beauty industry.
Nail Art and DIY
The reason for the sharp rise in nail art's popularity in the 2010s has several roots. Besides the obvious influence exerted by pop culture, the global economic downturn is also partly to blame. This is because of the DIY, or do-it-yourself, aspect of nail art. Indeed, unlike donning couture frocks or paying large sums for the newest hair style, nail art is something most women can do for themselves inexpensively and still be in fashion. In fact, through the use of nail stickers and stencils, even women with nominal artistic ability can display amazing nail art and change their styles frequently. However, one's ability to join this trend often relies upon the acquisition of a quality nail art kit that includes all the necessary materials.
Basic Types of Nail Art
Because it has been around in certain communities for such a long time, several different styles of nail art have had the chance to develop over the years. These styles range from something as simple as the clean white line of a French tip to complex designs that resemble cartoon characters. However, achieving these styles relies on one of only two basic skills: freehand designs or enhancements.
Freehand Designs
Freehand designs in nail art are by far the most diverse and spectacular. Using everything from an artistic flick of the wrist to complex dotting, marbling, and colour-blending techniques, nail artists are able to create beautiful and unique designs. Freehand designs represents the most basic type of nail art and form the basis of many nail art kits.
Enhancements
In addition to the paints and tools used to make freehand designs, nail art also includes another option which can be used independently or in addition to the first: enhancements. Most popular amongst young girls without the fine motor skills or patience needed to sit for more complex designs, nail art enhancements, such as stickers and stencils, can comprise either the whole design or add depth and character to freehand creations.
Essential Nail Art Tools for Freehand Designs
Freehand nail art is by far the more involved of the two options for nail art. While there are several different types of freehand nail art kits currently on the market, certain essential tools should be minimally included in all of them in order to help home nail artists make simple, yet elegant designs. These tools will help users create a 'base' or a pallette for more complex and enhanced designs; therefore, everyone from beginners to experts needs to be in possession of these essential nail art tools.
Art Polish in Basic Colours
Most basic nail art is done by simply using specific nail polish in basic colours and applying it in an artistic way. Therefore, the key to a good nail art kit is making sure that it includes the colours most frequently used to that end. Most professional nail technicians recommend that a basic nail art kit include the following colours:
The most popular additional colours to consider are reds, pinks, blues, and purples. Buyers will also want to consider their own favourite colours and/or those that coordinate with their particular wardrobe and style. The colours above will match with just about any outfit, which is what makes them so versatile.
Finding the Right Brush
In addition to having the right colours for the job, good nail art also relies on users being able to properly apply the polish they purchase. Nail polish that is designed for the purpose of freehand nail art will generally come with a corresponding type of brush, which should be both long and incredibly thin.
However, almost any brand of nail polish works with freehand nail art application. The trick to using bottles not specifically designed for nail art simply lies in acquiring the appropriate brush to use. Many nail art kits will either include this long, thin brush or supply buyers with bottles specific for that use. Buyers who want greater control over their art may also want to invest in a separate nail art brush or brush set, independent of the nail art kit.
A Great Top Coat
The final essential element of a good nail art kit is the top coat. Anyone who has gotten a professional manicure knows the enhanced and longer lasting look provided by a quality top coat. This is even more important when protecting the thin lines and detail of nail art. Therefore, make sure that the nail art kit comes with a professional grade top coat or else invest in one separately. It invariably makes a significant difference in the extended life of nail designs.
Enhanced Nail Art Tools
In addition to the basics, many women also like to invest in some enhanced nail art tools, which either highlight great freehand nail art or else take its place for the less artistically inclined amongst us. There are two major options when it comes to nail art enhancements: stickers and stencils.
Nail Stickers and Crystals
Also known as decals, nail stickers and crystals are a great way to enhance freehand nail art, make a simple manicure extra special, or provide some art for young girls who cannot hold still long enough to master the more complex designs. Most children's nail art kits will include stickers and crystals as a standard addition, although they are also available separately, which allows buyers to choose favourite themes, characters, or designs.
Similar to stickers, crystals are a great way to add pizzaz to nail art. Crystals can have sticker backings, really just representing a 3D sticker, or may need additional adhesive for application. For the latter type, separate nail crystal kits can also be purchased.
Nail Stencils
For a more professional and permanent enhancement to one's nail art, nail stencils are also available. Generally used by professional nail technicians, along with an airbrush, nail stencils can also be used at home with the proper equipment.
At-home nail artists can purchase an airbrushing machine, but that is usually quite expensive. Alternately, however, they can use nail stamps to obtain a similar effect. Nail stamps are used over stencils in the same manner as the airbrush, but are generally lighter in colour since the ink is embedded into a stamp pad rather than added on demand, as with an airbrushing machine.
Buying Nail Art Kits
Buying nail art kits can be rather confusing for inexperienced nail artists. The items addressed in the sections above, however, should help buyers to gain a better sense of the types of materials they need to look for in their kits. The popularity of nail art also means that nail art kits are widely available at retailers as diverse as department stores and specialty beauty shops, as well as through many online retailers and marketplace websites, like eBay.
Using eBay to Buy Nail Art Kits
eBay is a great place to find nail art kits as well as many other accessories to use in the creation of nail art, such as stencils and additional stickers. Searching on the website is easy since the main search bar is at the top of every page on the site. Users need to simply type in what they are looking for into the bar. However, bear in mind that more specific terms will yield a smaller field of results, especially among popular products such as nail art. Consider specific terms such as 'Hello Kitty nail stickers' for a concentrated search result.
Users who are new to eBay can quickly sign up for a new account. This includes registering with PayPal for enhanced security of personal financial information. The benefit of shopping from an eBay account is that it allows users the ability to shop with multiple sellers and their shops from all over the world under one user name, eliminating the need to constantly enter post and billing information.
Conclusion
Because it is a rapidly rising fashion trend, doing nail art at home has become extremely popular, as have the nail art kits that are used to do so. However, before purchasing a nail art kit, buyers need to educate themselves about what they need and why. There are two specific types of nail art that can be done at home, freehand designs and enhancements. Understanding these skills is only the first step to successfully completing nail art at home, however, buyers also need to know which types of items they need in the nail art kits they find.
For freehand designs, good polishes in basic colours, as well as proper brushes, are needed. It is also critical to find a good top coat. For nail enhancements, users can consider stickers and crystals, as well as stencils and stamps. Different kits will have some or all of these tools, depending on their size and price. They are all widely available both in stores and online through websites like eBay.