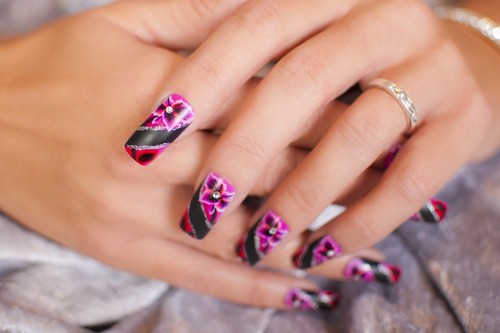 Manicured nails have always been popular among women. While most people think of one colour when they think of manicures, the new trend when it comes to manicures is nail art. Nail art is a great way to express creativity and individuality. With unique designs such as flowers, stripes, or rhinestone details, the wearer is able to match their nails to their unique personality. Unlike standard manicures, nail art designs are unique and customisable, and represent the wearer's style.
Many women go to nail salons for nail art, which gets expensive over time. Other people choose to do their nail art at home, which is easy and affordable with the right supplies. Another benefit to at home nail art is that the wearer is able to customise their nails to their unique taste and style. By doing nail art at home, the wearer is able to create a one-of-a-kind design. Nail art supplies are found in brick and mortar beauty supply stores, or online using eBay. eBay has an extensive selection of tools for buyers to create affordable nail art. By understanding the many types of nail art supplies, it is easy to find the right tools to create a unique look on a budget.
Nail Care Tools
Before doing at home nail art, it is important to ensure the nails are clean and manicured so the design lasts. Before applying nail art, nails should be trimmed and filed to a similar length and shape. Cuticles should also be trimmed, and nails should be buffed, to ensure the manicure stays put and does not chip.
Nail Files
There are three main types of nail files: emery boards, glass nail files, and metal nail files. Nail files come in different shapes as well as different 'grit numbers'. Higher grit numbers have a finer grit for smoothing and polishing, while lower grit numbers are more rough in order to file down the nail. Once the grit is dull or filed-down, the file should then be replaced.
Emery boards are the most affordable option since they are made with cardboard. Some emery boards have a file on one side and a nail buffer on the other, combining two tools into one. However, they usually do not last as long as glass or metal files. Glass files are usually double sided, and are usually the most gentle file on the nail, but are also the most expensive. Glass files are recommended for soft, peeling, or nails that are easily broken. Metal nail files tend to be more harsh on the nails.
Cuticle Tools
To remove cuticles, they should first be massaged with cuticle cream or cuticle oil. Once the cuticle is soft, it should be pushed back with a nailstone or stick. Cuticle cutters are used to gently remove the cuticle. Before applying polish, nail polish remover should be used to remove any excess oil or debris from the nail.
Nail Art Painting Tools
The most common nail art is made from designs painted on the nail with nail polish. Some designs are as simple as stripes, while others are very much complex and detailed. Nail art painting tools are essential in creating a detailed look at home.
Nail Brushes
One of the most essential nail art supplies are brushes. Different types of brushes create different lines for different types of nail art. Thin, skinny brushes are used to create thin lines for striping. Shorter thin brushes are used for detail painting. Thicker brushes are used to cover the entire nail with colour. Most beginners choose to purchase a nail brush set that includes a variety of different nail brushes. The set of brushes make it easy to create many different nail art looks for any style or occasion.
Nail Art Pens
Nail art pens are polish filled pens used in nail art for creating details. There are two different types of nail art pens: felt tip pens and two-way pens. A felt tip pen has a felt tip that the user must press down to use. A two-way pen has two sides, one with a long brush and the other with a pointed nib. Two-way pens are better suited for creating thin lines or details, whereas felt tip pens are typically used for creating thicker lines or designs. Both types of nail art pens are close in price and vary based on the brand of nail polish. Quality nail polish tends to be more expensive, but generally lasts longer and does not chip as easily as cheap polish.
Dotting Tool
Dotting tools are thin metal tools that are dipped in polish in order to create dots on the nails. There are many different sizes of dotting tools, and many people purchase a dotting tool set for all of the different sizes. Dotting tools are used to create fun, polka dot nails, or to add small dot details to a more complex nail design.
Other Nail Art Supplies
There are many other ways to create nail art aside from paint. While painting requires patience and skill, there are other options for quick and easy nail art. From stencils to stick-ons, it is easy to create a unique design at home with a little bit of creativity.
Nail Stamps
Nail stamps are designed stamps that are transferred to the nail. Nail stamps come on image plates with a variety of similar stamp designs. From stars to animal prints, image plates come in thousands of different designs to appeal to almost every person. To apply nail stamps, an image plate, scraper, and stamp are all required. There are many tutorials available online for people to learn how to use nail stamps to create a unique, cutomised look.
Nail Foils
Nail foils are thin metallic foils, usually gold or silver, that are pressed onto the nail. Nail foils are quick, easy, and affordable making them a popular option. To apply, a user must simply paint their nail with primer and press on the foil. Other nail foils are applied with heat. Nail foils are purchased individually or in sets to create an accent nail or a full set. Another benefit to nail foils is that painting is not necessary, so nails are made to look clean and professionally done.
Rhinestone Nail Gems
Rhinestone nail gems add a bit of flair and bling to basic manicured nails. Rhinestone nail gems are applied by either sticking them, or gluing them onto the nail. Gems that are glued on, tend to last longer than the stick-on options. Rhinestone nail gems come in a variety of colours and sizes, making it easy to create a unique style for anyone. They are purchased in small sets or in large sets, with seemingly any colour imaginable. Rhinestone gems are affordable and easy to apply to help to create a quick, stylish look.
Glitter
Glitter is another popular way to add a little flare to manicured nails. Some people prefer to use glitter nail polish, while others prefer to use glitter on top of the polish or design. Glitter that is glued onto the nail usually has more sparkle than glitter nail polish, but may be more difficult to apply. Glitter is an affordable way to add a touch of sparkle to any nail art design.
How to Purchase Nail Art Supplies on eBay
eBay is one of the best places to find nail art supplies because of the extensive selection of products. By understanding the different supplies for nail art, you can save money by creating your own unique looks at home. Another benefit to doing your own nail art is that you can create a unique look to match your style or a specific outfit. With the wide variety of tools on eBay, it is easy to find the tools to create any nail art design.
To begin your search on eBay, you can start with the use of keywords on the eBay home page.. If you already know what you are looking for, you can search for specific terms, such as 'nail brush sets' or 'felt tip nail pen'. To browse a number of different supplies while viewing the different prices of each, you can start with a broader search term, such as 'nail art supplies'. By browsing multiple supplies for nail art, you may come up with a new idea for a fashionable design.
Conclusion
Nail art is both beautiful and unique, and is a great way to add colour to any outfit. Nail art supplies make it easy to create customised nail art looks at home, without the high cost of going to the salon. With some practice and patience, people can create an affordable, unique look to match their individual style. Purchasing nail art supplies is an investment that saves money by preventing wasteful trips to the salon. Most tools last a while, so buyers only have to make the initial purchase to invest in nail art supplies.
It is important to never share nail art tools. Sharing nail tools may result in fungus on the nails or hands. It is also important to clean and sterilize the tools before and after use to ensure the tools are safe for use. With proper use, nail art supplies turn a boring manicure from drab to fab. Nail art creates a unique, customised look that is sure to be noticed.