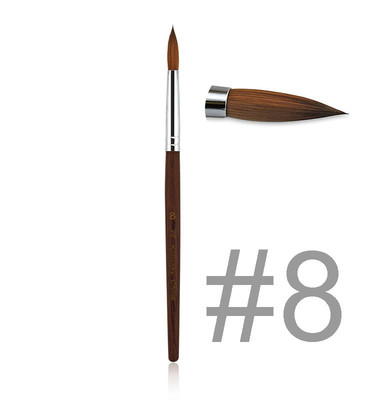 XXX ACETONE XXX Never use Acetone on any brush.
Acetone will kill the glue that holds the bristles in the metal casing causing the bristles to fall out.
Will also dehydrate the bristles enough so they will not hold as much liquid.
Acetone will melt or deform most non-animal hair bristles.
Don't touch you brush with your oily fingers as human skin is oily and greasy.
Always leave your damp brush in a shape you would like to find it next time.
Reshape the brush using a clean cloth or towel.
Clean acrylic brushes with fresh acrylic liquid / monomer
Clean Gel brushes with Gel or Cleanser / clean off and store out of sunlight so it will not set! and leave it

Trivia:
Queen Victoria favourite brush for painting was a number 7 WN kolinsky today's price £82 each.

Genuine Kolinsky / sable brushes for £3 freepost.... i think not lol
For me if i see the words Kolinsky / sable in the title or handle under £15 then at best your getting a percentage of real hair.
Squirrel / Badger blends are most common but you don't see them names on handles. although they make good enough brushes for 95% of nail work