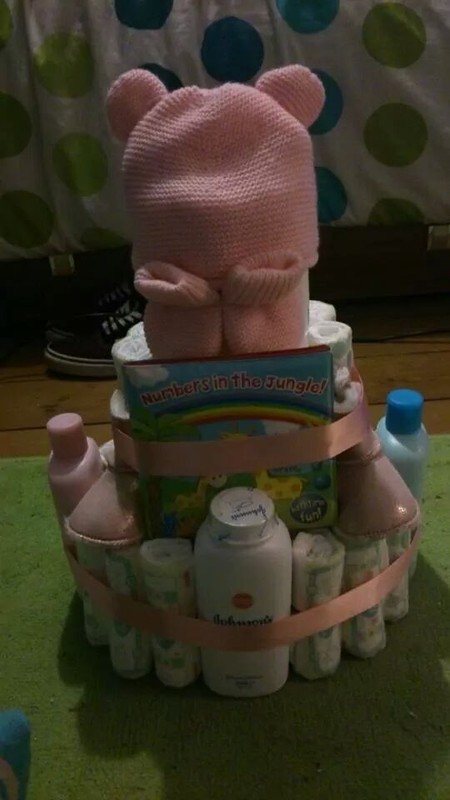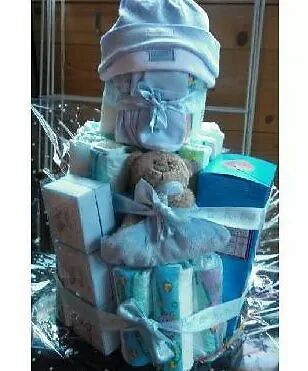 what are nappy cakes?
I asked this exact question 5 years ago when my heavily pregnant friend asked for one as her present for the bubba. Nappy Cakes are definitely not an edible delight but are lovely to look at and fun to make. They are made up of nappys, hats, mitts, teddy's, memory boxes, chocolates, dummies and anything else that you want to put on them. They don't all have to be the same and each one can be unique :-)
how do I start to make nappy cakes?
First of all you need to give yourself a budget for the nappy cake. There are so many nice baby items out in the shops that it can be easy to get carried away. Once you have done that you need to Decide how many nappys you want to use. I normally say 12 nappies per item you want to put on the cake. Then you need to find yourself a nice clean table and start rolling the nappys from the closed end to the open end, and secure with an elastic band. Once all nappies are rolled up and secured you can start to arrange them to look like a cake, using more elastic bands to secure the structure.
how do I make it look pretty?
As you can imagine a wedding cake shaped structure made up of nappys and elastic bands really doesn't look like something anyone would like to recieve so you need to make it look pretty! I always use ribbon and cellophane to give it that desired look but before you use that you need to arrange the items on the nappy cake, again with elastic bands to secure in place! Then use a 4cm thick ribbon to cover the elastic bands around each level of the cake. Wrap the cake in cellophane and secure in place with an elastic band. Then use a 1.5cm thick ribbon to tie a bow 🎀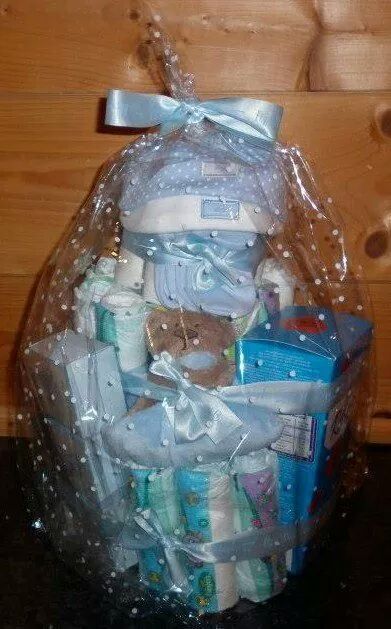 what can I put on a nappy cake?
You can put whatever you want on a nappy cake but it depends on how creative and patient you are! I've been making nappy cakes for nearly 3 years and have only just bought my first baby blanket to put on the nappy cake I am currently making! I normally use the following on my nappy cakes:
- Hats
- mits
- Dummies
- Teddy taggy
-Box of chocs
- Memory boxes
- Baby bath
- Baby lotion
Pop across to Facebook and visit "Especially For Yoo Nappy Cakes and Gifts"
I was asked to write some ebay guides by bzz agent. I recommend you pop across am delighted sign up too for lots of awesome challenges and rewards. :-)