A Brief History
I'll keep this brief as I was never one to pay attention in my history lessons and believe it or not the history of soap can be quite involved. There are two mentions of soap in the Old Testament, so as if we needed telling, washing with soap has been happening for a long time. Back then it is likely that people mixed alkaline plant ash with water. Things have progressed a bit since then, although throughout history true soap making has changed surprisingly little. Oil and fats are boiled with alkali and the reaction produces soap and glycerine.
Are You Sure It's Natural
This would depend on your own personal definition of the word Natural. The traditional way of making soap, by blending pure vegetable oils is what we at The Crafty Soap Company define as natural. Today, there are other ways of making soap, Melt and Pour being one of them, we use this method to create some of our collections including Almost Edible where we use our love of cakes to design eye catching soaps. Although not natural, it allows us to get creative and use vibrant designs, colours and favourite fragrances that our customers love. There are some Natural or Organic Melt and Pour products on the market, but unfortunately these have been mechanically processed and is not the traditional way of making soap. When testing Natural and Organic soap base we had real trouble getting any lather out of it, ok, it may not be the lather that necessarily gets you clean but bubbles were the fun part of bath time as children and what we associate soap to be.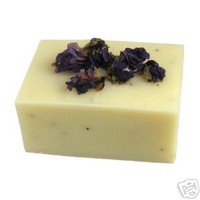 Where It Began
The Crafty Soap Company's true love of soap, and how we started, was with our 100% Natural Collection, made using the Traditional Cold Process method, used and trusted by our ancestors, it is the art of blending vegetable oils or fats with lye to create and amazing chemical reaction called soap..... and it really DOES give you a great lather. To this we add pure Essential Oils, natural colour from herbs and spices and dried botanical, all known for there wonderful properties......and that really is it. Although a time consuming way of making soap, we think that this process is worth every minute, as the end product is superior to any other soap we have found. People with varying skin complaints tell us they happily use our Natural soap because the gentleness and pure oils means that it does not cause any problems.
It Makes You Think
Our bodies absorb an amazing amount of what we put on them, including make up, creams and soap, I once read that over a womans lifetime 2kg of lipstick will be absorbed into her body, imagine eating that! We all know that the skin is the bodies largest organ and it deserves looking after as much as anything else.
Enjoy
After that insight into soap, we hope that whatever type of product you choose, you enjoy it as much as we enjoy making it.