Last week Apple announced a line of new generation iPods and a lot of eBayers are trying to make a bit of extra money by advertising old iPods as 'new generation'. This guide will hopefully clear up a few things about the new generation iPods by stating the colours, sizes and battery lifes of each one.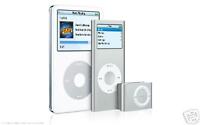 First lets start with the iPod shuffle. These are only available in 1GB versions and can be bought from Apple for £55. They include earphones a USB dock and a Quick Start guide in the package from Apple and are available in one colour. The battery life is up to 12 hours. The design of this is completely different to the old model so it is easy to notice old generation models by looking at the pictures.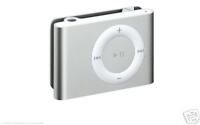 Next are the iPod Nanos. A 2GB model is available in Silver for £99. A 4GB model in Silver, Green, Blue and Pink for £129. A 8GB model for £169 in Black. Make sure you check the colour and size against this list before purchasing, currently no other combination of colours and sizes are available. Included in each package are earphones, a USB 2.0 cable, a dock adapter and a Quick Start Guide. The battery life is up to 24 hours. These have a slightly different design to the older model, there are no longer rounded corners, the edges are rounded and the case is made of aluminium - like the iPod Mini.
Lastly are the iPods. These are available in a 30GB (£189) and 80GB (£259) model in both black and white. The battery life for the 30GB model is 14 hours and 20 hours for the 80GB model. The design of this model is the same as the previous model but the prices are different and the 60GB model has been replaced with an 80GB model.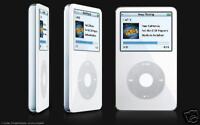 Hopefully this will help somebody from getting scammed, and remember the prices shown here are the prices that these iPods can be purchased from Apple so if you pay more on eBay you are being ripped off.