Trumpeter 1/48 Vickers Wellington MK1 Bomber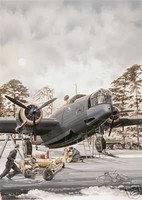 Introduction
We have been informed about the released of Trumpeter 1:48 Vickers Wellington since 2005. After a long wait, we are expecting the releases of this Vickers Wellington Mk1 Bomber, it has been released in Far East Mid July, and expected to arrive UK early August.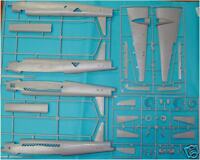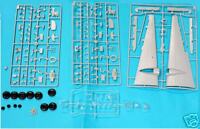 Test Shot
The test shot includes sprues for both Mk IC and Mk III Vickers Wellington.
Sprue for the Mk IC fuselage halves and bomb bay doors
Sprue for the Mk III fuselage halves and bomb bay door
Sprue for fuselage bulkheads, bomb bay and flaps
Sprue C – Port wing, aileron and elevators halves
Sprue D – Starboard wing, aileron and elevators halves
Sprue E – Sprue for cockpit/interior parts
Sprue H – Mk IC cowl, tailplane and rudder halves
Sprue J – Mk III cowl, tailplane and rudder halves
Sprue P – Bristol Hercules engine parts plus de Havilland and Rotol propellers
Sprue Q – Bristol Pegasus engine parts plus a de Havilland propeller
Sprue T – clear parts for turret, canopy, lights and various windows
Also included are the rubber tires for the main and tail landing gears.
However, there seems to be a sprue or two missing from the test shot since I cannot locate the following:
main landing gears and rims

interior parts like the 'steering wheel' for the control column, rudder pedals, seats for navigator, radio controller and bombardier

parts for the turrets and guns although the guns for the beam positions

bombs or torpedoes

open bomb bay doors
Only one sprue was provided for the engine, thus only one set of the 2 different engines each can be built.
Decals and phototech parts, is included.
Kit Features
1. Fuselage and wing in simulated geodetic construction with fabric covering throughout
2. Geodetic construction simulated inside the fuselage halves
3. Parts to make either the Mk IC and B.Mk. III
4. Detailed fuselage interior
5. Bomb bay with interior details
6. Various Turrets:
Frazer-Nash F.N. 5 Front Turret

Frazer Nash F.N. 9 'Dustbin' Turret

Frazer-Nash F.N. 10 Rear Turret

Frazer-Nash F.N. 20 Quadruple Gun Rear Turret
7. Separate control surfaces and flaps
8. Rubber Tires
Comments
a. Geodetic Construction
The kit was included in Trumpeter's 2005 catalogue, however I understand that the release has been postponed to 2006 because Trumpeter wants the geodetic structure simulated properly.
The fuselage interior also features the geodetic construction all throughout.
b. Interior
Although the instruction sheet was not included, I could say that the interior will basically be complete. However, these will all be hidden once the fuselage halves are closed. For the Mk IC, some details can be seen from the outside due to the large windows on top of the main wing. After installing the bulkheads, fit of the fuselage halves is still generally good.
c. Wing
Like their 1/48 Fw-200 Condor, no spars were provided to strengthen the wing installation. It seems that Trumpeter will rely on the strength of the fuselage/wing joint since only locating holes are noted on the fuselage where the wings are to be located. However, the instruction sheet is not included, thus I can't tell how the wing will be installed.
All control surfaces are separate. Flaps are provided with some detail although looking at actual restored aircraft pictures, it seems these should be a bit more complex.
For the B.Mk III, larger tailplanes are provided and a rudder with larger trim tabs.
d. Engines
Bristol Pegasus
One of the better injection-moulded engines I've seen in 1/48. It seems almost complete. Addition of wiring/plumbing will greatly enhance this. Included are cowl flaps in the open and closed positions.
So that these details won't be lost when the cowling is closed, it seems that Trumpeter added two notches inside the engine covers as guide so that an engine panel can be opened.
Bristol Hercules
For the Hercules, you need to clean up the holes at the cylinders for the exhaust/collector ring to fit properly when integrated with the engine. Also, locating pins and holes are not provided between the 2 engine rows.
Hole for the propeller needs to be drilled out. Notches are not provided for the engine covers.
Different exhausts are also provided for both Pegasus and Hercules.
Propellers
Although 3 propellers are provided, it seems that 2 are de Havilland (or is the other one a Curtiss Electric or Hamilton Standard?) and the other is the Rotol (available for the Hercules sprue only). As with their 1/48 Fw-200 Condor, the propellers will be glued into place and cannot be rotated.
e. Bomb Bay
I'm not sure if other parts will be provided for the bomb bay such as mounting for bombs or torpedoes since the bomb bay 'ceiling' is basically plain. Also, only closed bomb bay covers are provided in the test shot. An open bomb bay must be provided on a separate sprue.
f. Clear Parts
Clear parts for the turrets, canopy, windows, lenses for landing and navigation lights (top fuselage only) and the observation dome are included. It seems that the windows for the bombardier are not included and one of the Frazer-Nash turret half was lost.
Turret halves were separated on the turret frame, thus won't be noticed when assembled and painted.
Decal: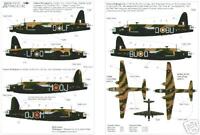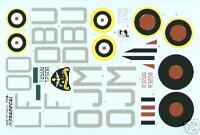 There is also a new-released decal for Vickers Wellington Mk.IC (3) T2508 LF-O by Xtradecal which is available from Hannants.
Vickers Wellington Mk.IC (3) T2508 LF-O 37 Sqn Fl/Lt 'Cheese' Lemon Egypt 1941; R3206 OJ-M 149 Sqn Mildenhall 1940, with fuselage roundels reflecting the way the bright areas were toned down by the squadron using dull red which did not fully cover the white area or the brighter red centre
T2709 BU-D 214 Sqn Sgt Geoff Cole RAF Stradishall 1940 with nose art designed by Daily Mail cartoonist 'Zec'which still exists today in the possession of Sqn.Ldr Geoff Cole DFC.