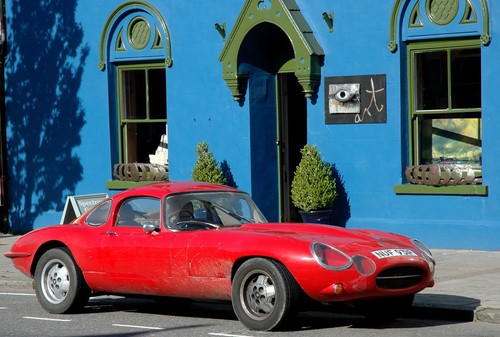 Adding a new car to the garage is an exciting prospect for most people. This is even truer when that car is from a classic and well-respected manufacturer, like Jaguar. However, not everyone has an easy time choosing between a new and used Jaguar. This is because both types of Jaguars have their own advantages and it is not always easy to see which fits best into a particular home. Luckily, both types are widely available at dealerships, from private sellers, and also online from eBay, which does make shopping a bit easier. While some consumers may see the solution to the new or used Jaguar debate as being easily solved, many more are unsure which is the right choice for them. By carefully considering the difference between a new Jaguar or a used Jaguar purchase, it can be that much easier to make the final decision and end up with the right car for the job, no matter what the job is. Before purchasing a new or used Jaguar, consumers should be familiar with the popular models and weigh the reasons for buying either a new or used Jaguar.
Popular Jaguar Models
One key element that comes into play when shopping for a Jaguar, whether new or used, is the model of the car. Over the years, Jaguar has produced many different styles of cars, each with its own distinct features. The following table describes a few common Jaguar models.
| | | |
| --- | --- | --- |
| Model | Years Made | Category |
| XF | 2008 to present | Mid-size executive car |
| | 1968 to present | Full-size luxury saloon |
| | 2006 to present | Luxury grand tourer |
| | 1999 to 2008 | Mid-size luxury car |
| E-Type | 1961 to 1974 | Sports car |
As it would stand to reason, the Jaguar models that are still in production are more widely available, both as new and used cars. The older Jaguar models are more difficult to find and may come at a much steeper premium.
Reasons to Buy a New Jaguar
In one form or another, the Jaguar company has been in business since 1922, although they did not manufacture cars until 1935. Today, Jaguars are still in production, meaning that anyone who wants to purchase one must choose between a new and used Jaguar. There are a number of reasons to choose a new Jaguar over a used one in some instances, including a pristine interior, improved reliability, and better access to repairs when necessary.
Interior
Virtually any car, no matter how well it is made, can suffer from interior damage after being driven for a number of years. This damage may take the form of stains, tears, or discolouration. One benefit of choosing a brand new Jaguar is that the interior is pristine from the outset. This means that whoever purchases the car has the option to take very good care of the interior and upholstery so that it may last as long as possible. This undamaged feeling and even the new car smell can be reason enough for some people to purchase a new Jaguar.
Reliability
The reliability of a car should always be taken into consideration. No one wants to purchase a car and immediately have to sink more money into it in order to repair it with new parts and accessories. A new Jaguar is much more likely to be able to go without repairs for an extended period of time. Although a new Jaguar is likely to cost more than a used Jaguar, some of that money can be made up for in the fact that no repair expenses are necessary during the initial period of ownership.
No History of Damage
There are a number of issues that may cause concern when purchasing a used car, one of which is the car's history of damage or accidents. When purchasing a brand new car, it is much easier to be assured that no serious incidents have befallen the car in the past. A new Jaguar likely has very few miles and has never had any repairs whatsoever. For some people, this is certainly a point of comfort. Purchasing a used car can mean walking into the problems of the previous owner with no warning, which can end up being quite expensive.
Easier Maintenance
Even the most reliable cars need regular maintenance and eventually repairs. When purchasing a new Jaguar, it is not fun to think about the first repair that the car is likely to need. However, new Jaguar drivers can take comfort in the fact that for new models, Jaguar parts and mechanics are both much easier to find. For older Jaguar models that are either no longer in production or that have changed a lot in their construction over the years, parts can be difficult and costly to find. Easier maintenance is certainly a consideration when choosing a new Jaguar or a used version.

Reasons to Buy a Used Jaguar
While a new Jaguar has its practical and aesthetic advantages, there are also many reasons why a potential owner may prefer to purchase a used Jaguar. These reasons could include the fact that overall, used cars tend to sustain their value for longer, as well as the fact that older Jaguars have a much different look and style than new models.
Value
The simple fact is that a brand new car loses a great deal of its value as soon as it is purchased. For someone who wants the look and feel of a new Jaguar without suffering this issue, it may make the most sense to purchase a Jaguar that is one or two years old, which is likely to retain its initial worth for longer. Of course, there is also the consideration that a used Jaguar comes at a lower cost. For many who do not find a new Jaguar to be in their budget, a used model may be the only way that this type of car would be affordable, and so should be considered.
Classic Styling
While the value consideration may be obvious, there are also less practical reasons to consider purchasing a used Jaguar. One of these reasons is that older Jaguar models, particularly those that may be classified as "classic" look quite different than most modern cars. Collectors and drivers alike may simply have a preference for this type of styling and so choose a used Jaguar for aesthetic reasons alone.
British Construction
Jaguar is known to be a British manufacturer, but the truth of the matter is that since 1990, the brand has been a part of one larger conglomerate or another. From 1990 through 2008, Jaguar was actually owned by the American Ford Motor Company. In 2008, Ford sold the Jaguar division to Tata Motors of India. While both of these sales have had their critics, they do mean that Jaguars from these periods are different than those distinctly British cars that many have in mind when they think of Jaguars. Purchasing a used Jaguar from before the 1990 period is indeed the only way to recapture the original British glory of the car and may be enough of a reason for some drivers.
How to Buy a New or Used Jaguar on eBay
Regardless of whether you choose to purchase a new or used Jaguar, there are many options available to you on eBay. In order to find the type and style of Jaguar that fits your lifestyle, you can enter some relevant search terms into the search box, which can be found on every page of the site. You may simply want to search for "Jaguar", and then use the eBay filters to narrow down the results until you find exactly for what you are looking.
In the case of purchasing a car on eBay, shipping convenience and costs can certainly come into play. Depending on your location and that of the seller, shipping may not even be an option. For this reason, using the eBay geographical filtering feature is a great idea when looking for cars on eBay. This feature allows you to search for Jaguars that are located near you so that you can easily arrange a pickup with the seller and not incur any shipping charges. Just be sure to reach out to the seller using the eBay interface in order to make sure that he or she is amenable to this solution. This way, you can complete your purchase without worrying about the shipping terms.
Conclusion
Whether someone is adding a new car to a collection or purchasing a vehicle that is intended for everyday use, there are many different reasons to consider purchasing a Jaguar. One of the biggest decisions when purchasing any type of car, however, is whether a new model or a used version should be chosen. Both types of Jaguars have their advantages and their disadvantages, aesthetically and mechanically. Someone with unlimited funds may think that a new Jaguar is automatically the best choice, but that is not really the case. By taking the time to study the different drawbacks of both new and used Jaguars, the shopping experience should be much more productive, and hopefully, less stressful. Keeping these factors in mind when shopping, either at a dealership or on eBay, means a more efficient process overall. A new Jaguar or a used Jaguar can be a great car as long as proper care is taken to choose the right model at the right price.