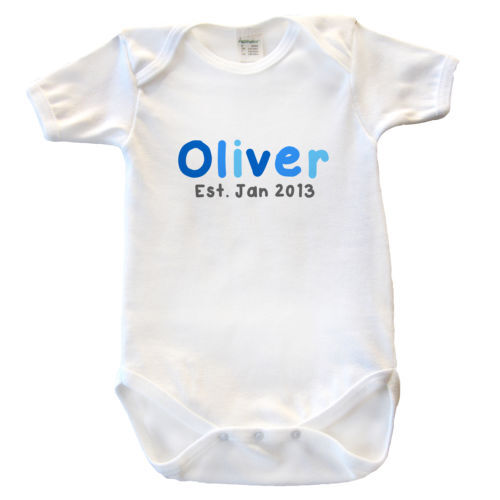 Whether buyers are looking to purchase newborn baby clothing for the new addition to their family or as a gift for a friend or family member who is expecting, there is a wide range of sizes, colours, and styles to choose from. Newborn baby clothing is designed to be breathable, comfortable, and practical. Clothing with drawstring and press stud closures is a great option as they are easy to get on and off a new baby.
Newborn baby clothing is available from department stores, many high street stores, and specialty baby stores. For premature baby clothing, there are specific stores that specialise in clothing for very small newborns. Buyers can also head online to eBay to find a wide selection of both new and used newborn baby clothing at competitive prices.
Newborn babies grow quickly, so it pays for buyers to arm themselves with a little knowledge on whether to buy gender specific or gender neutral clothing, the ideal size, and the style of clothing that would be most appropriate for the newborn baby.
Gender Specific or Neutral Newborn Baby Clothing
Newborn baby clothing is available in a wide range of colours, patterns, and styles. Consumers may like to buy clothing that is specifically designed for a baby boy or girl, or they may prefer to purchase newborn baby clothing that may be worn by both boys and girls.
Newborn Baby Clothing for Girls
Newborn girls' clothing tends to include different shades of pink, with pretty flowered patterns and cute animals and teddy bears. Clothing for newborn girls often features small amounts of frills, although consumers should stay away from newborn clothing that has too many frills, lace, beading, or other types of embellishment. Clothing that is simply made usually offers better comfort for a newborn baby girl.
Newborn Baby Clothing for Boys
Clothing for newborn boys often features various shades of blue. Browns, beiges, and greens are also popular colours to choose from when looking at buying clothing for boys. Often featuring images of trucks, cars, boats, or jungle animals, newborn boy clothing should be practical and comfortable for the baby to wear.
Neutral Newborn Baby Clothing
When expectant parents are unaware of the gender of their unborn baby, they may like to purchase a few neutral coloured items to help them get through the first few days once their newborn has arrived. Popular neutral colours for newborn clothing include yellows , greens, and purples. Traditionally, these colours are considered acceptable to be used for both boys and girls.
Different Newborn Baby Clothing Sizes
Deciding what size of clothing to buy for a newborn baby can be a little tricky. If the baby is already born, it is best to know the baby's weight in order to buy clothing that can fit correctly. In general, clothing that is sized either 0000 or 000 is the best option. Premature babies require significantly smaller clothing, and premature clothing sizes include 000000 and 00000.
Because newborns grow quickly, they do not tend to wear one newborn size for very long, so take this into consideration when looking at how many items in a particular size to buy. The following table provides a list of the commonly available sizes for newborn babies and their corresponding measurements.
| | | | |
| --- | --- | --- | --- |
| Size | Weight | Height | Age |
| 00000 | up to 3 kg | 50 cm | premature |
| 0000 | up to 4 kg | 55 cm | newborn |
| 000 | 4 kg to 6 kg | 61 cm | 0 to 3 months |
All babies are born at different ages and are of different sizes. The size chart above provides a general idea of newborn baby clothing sizes, although it is useful to get an idea of the newborn's size before making any final purchases.
Various Styles of Newborn Baby Clothing
Newborn babies are small and can be difficult to dress at times. Therefore, the style of newborn clothing is important to consider. There are a few basic styles that work best for newborn babies, including one-piece suits, stretch suits, and infant gowns. Newborn clothing is designed to help get baby in and out of the clothing as simply and easily as possible. When looking to purchase newborn baby clothing, it pays to consider the time of year and the likely temperature.
Summer Newborn Baby Clothing
To clothe a newborn during the hotter summer months, choose soft natural fabrics that are breathable. One hundred percent cotton newborn clothing is a popular choice for babies born during the hotter summer months. Sleeveless or short-sleeved undershirts that do up at the side are easy to slip a newborn in and out of, and they can be worn on their own on a hot summer's day.
For comfortable night-time sleeping, choose a short-sleeved infant sleeping gown. These gowns are long and have a drawstring closure at the bottom, completely encasing the baby's feet. An infant sleeping gown is ideal at night and reduces the need for using any extra blankets throughout the night. The drawstring closure also makes changing nappies a lot simpler.
Winter Newborn Baby Clothing
During the colder winter months, soft woollen fabrics and warm cotton fleece fabrics are a good option. Newborn stretch suits are ideal for use during the day and for night-time sleeping. A stretch suit is an all-in-one outfit. For winter, choose a long-sleeved suit with mittens attached to cover the baby's hands. These mittens help keep the infant's hands warm while also reducing the likelihood of babies scratching themselves. Stretch suits also have built-in feet to keep the baby's toes warm.
Instead of using blankets over the baby at night, a stretch suit underneath a long-sleeved infant sleeping gown should be sufficient to keep the baby warm and comfortable throughout the night. Other newborn clothing items ideal for winter use include socks,booties, and hats. Furthermore, newborn sleeping bags are useful for those babies born in areas where the temperature gets very cold. A newborn sleeping bag is just like an adult's sleeping bag, but it has shoulder straps and sleeves. Many styles have a small slit and are designed to also be used with a car seat belt harness.
Knowing How Many Newborn Baby Clothing Items to Buy
For first time parents, it can be a bit confusing knowing how many items of newborn clothing a new baby needs. The following table provides a general guide to understanding how many items of each style of clothing a baby may typically require.
| | |
| --- | --- |
| Clothing Style | Number of Items |
| Undershirts | 4 to 6, short- or long-sleeved, depending on the season |
| One piece suits | 3 to 4, short- or long-sleeved, depending on the season |
| Stretch suits | 3 to 6 |
| Infant sleeping gowns | 3 to 4 |
| Socks and booties | 1 to 2 pairs for summer, 3 to 4 pairs for winter |
| Hats | 1 to 2 |
Consumers purchasing for their first baby can go a bit overboard when it comes to knowing how many items to buy. Following the table above should help to give first-time parents a general idea of how many items of clothing their newborn is likely to need.
Find Newborn Baby Clothing on eBay
To find clothing for your newborn baby on eBay, simply type newborn baby clothing into the search bar found at the top of eBay's home page and any other page. This gives you an overall idea of what is available for sale. You can further refine your search by typing a specific phrase into the search bar, such as newborn sleepwear or used newborn boys' clothing . Alternatively you can filter the search results by using the available search categories. eBay allows you to search by price range, condition of the item, seller type, or buying format.
eBay makes finding and buying newborn baby clothing simple and cost effective. By utilising eBay's shopping tools , you can access your eBay account anytime anywhere. These tools include eBay mobile, a free downloadable application for Smartphones and mobile devices, as well as eBay desktop tools. Whether you use Microsoft Internet Explorer, Mozilla Firefox, Google Chrome, or Apple Safari, you can quickly and easily download the eBay extension, meaning you can get great deals direct to your browser and keep updated with all your eBay activity.
Conclusion
With comfort, practicality, and breathability in mind, newborn baby clothing is available in a wide range of colours, styles, and sizes in a price range to suit any taste or budget. Newborn baby clothing can be expensive, so knowing what type of clothing to choose can save consumers time, effort, and money. Clothing in pretty pinks and pastel colours is a good option for that new baby girl, while blue, beige, or soft green clothes are ideal for newborn boys. To gets the most wear out of the item, it is a good idea to buy the right size in a style that suits the current season.
For first-time parents, it pays not to buy too many items prior to the baby's arrival. A small selection of different styles of clothing is recommended, as new parents usually receive various outfits as gifts once their baby arrives. Choosing to purchase newborn baby clothing on eBay is an ideal option for many consumers who may be looking to save money or find that unique item of clothing. eBay offer buyers simple search methods, reputable sellers, and secure payment options.