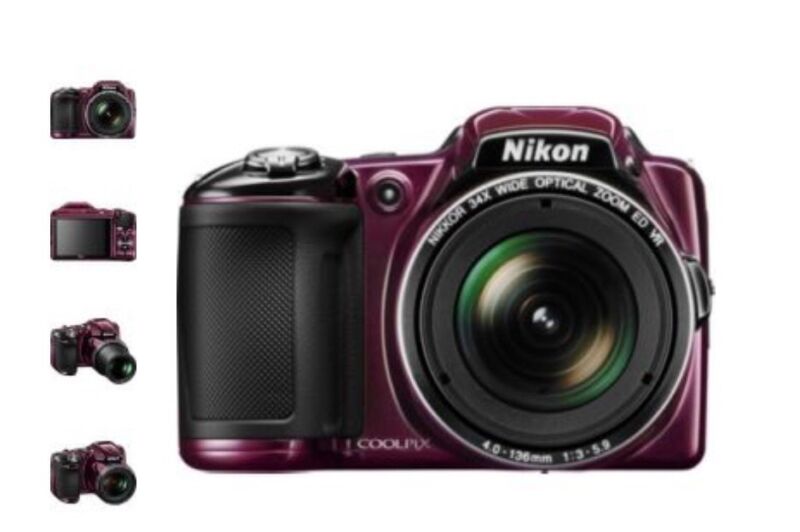 perfection in plum (or red or black)
If your looking for an easy to use bridge camera I would highly recommend the nikon coolpix L830.

A mid range price 16mp bridge camera with 24x optical zoom.
This camera looks awesome and is easy to use, all functions are changed at the touch of a button no difficult menus to navigate, yet many function. Including several diffrent shooting modes like portrait, sports, macro shooting etc.
i have owned the camera about a month now and find it the best camera I have had by far. In the time I have owned it have taken a wide range of photos, including sunsets, nature, children, pets and fireworks all with equally fantastic results.
The camera also capture full HD video if you prefer to take videos rather than still photos on any occasion.
You then have the option to play your photos and videos on a telly using the hdmi port on the camera.

I was slightly put off when I discovered the camera took AA batteries rather than a Lithium battery but I shouldt have worried the batteries that came in the box with the camera lasted ages even under constantant use and a lot of use of the zoom function. On replacing the batteries I decided to go with rechargable AA batteries and have had no problems there either.

The camera itself looks high quality and is available in 3 colours. The plum one that I own also the one shown in the pictures looks fab, it's also available in red or black. Despite looking quite big the camera is not that heavy, it's comftable to hold and can be held one handed if needs be while still having full control over all the buttons.
The LCD screen moves into diffrent positions which is really handy if the sun is on your screen or if you are holding your camera in a diffrent position but wouldn't not be able to see the LCD in the normal position meaning you have more options for taking pictures and getting good results.

So to sum this camera up all I can really say is it's an awesome piece of kit that's easy to use, which takes a variety of diffrent pictures with fab results every time :)
Trust this camera to capture those special memories perfectly :)

This camera is currently available in all three colours on ebay direct from Argos with a 12 month gaurentee for the bargain price of £119.99 half it's normal price so grab yourself a bargain you will not regret it. (Link below)


http://www.ebay.co.uk/sch/i.html?_from=R40&_trksid=p2050601.m570.l1313.TR0.TRC0.H0.Xnikon+coolpix+l830&_nkw=nikon+coolpix+l830&_sacat=0









Product specification:

16 megapixels.
34x optical zoom.
4x digital zoom.
3in screen with TFT LCD technology.
3060mm wide angle lens.
CMOS shift image stabilisation.
Up to 8 frames per second.
Shutter speed of 1/1500 to 1/4000 sec.
CMOS sensor.

Lens information:

Lens type: standard.

Features:

View finder.
Minimum ISO rating 125 and maximum ISO rating 3200.
1080p HD recording.
Video capture.
Features intelligent scene mode feature.

Memory card compatibility:

SD, SDHC and SDXC memory card formats.