Ninety Land-Rover (Pick-up with canvass tilt)
This is one of many illustrated classic transport guides I've created for the community. I hope you enjoy it. If you wish to find out more about the classic Land-Rover art featured in this guide please click here.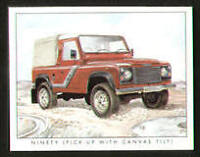 The Land-Rover Ninety and One-Ten were phased in over 1983-1984 to replace the long serving Series III models. They represented a huge advance over the Series III because they had coil sprung suspension instead of leaf-springs, which improved the ride, and disc front brakes, which improved their stopping ability. The long-wheelbase One Ten model arrived first, replacing the Series III 109 in 1983. The Ninety arrived just over a year later to replace the Series III 88-inch. Its wheelbase was actually 92.9- inches between axle centres, rather than the 90 inches its name suggested.
If you would like to see more guides on classic Land-Rover please click!
Thank you for reading my guide and I hope you found it interesting!