On Friday 5th December, HMRC (Revenue and customs) Seized a Large amount of FAKE Nintendo DS Lite consoles.
The Point being, please be careful when buying this Christmas.
Again I always say, we all like to grab a bargain, but at what cost ?
If you buy a DS Lite Console from an Asian country (China), what exactly are you Getting.
Well, NO WARRANTY, thats the first thing.
The Second Thing is, the Voltage in Asia is different to the UK, so you would need a Step Down Adaptor, THESE ARE NOT NORMALLY SUPPLIED, What you are supplied with is, A BLACK (Supposed ce approved plug),
THESE PLUGS ARE DANGEROUS, - I confess 2 years ago, I sold some of these and 2 of them caught FIRE, I HAVE NEVER SOLD THEM SINCE.
We only now sell the Original Nintendo Plugs and we buy these From Nintendo.
Here is a picture of an original Nintendo Plug :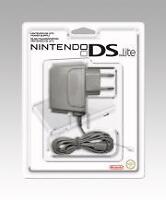 Guys please be careful, - We receive regular updates, and although people are still selling and supplying these cheap BLACK PLUGS, they are dangerous and Nintendo are trying to Stop these being sold.
Dont risk your chances, try to buy a UK VERSION DS LITE, in a UK BOX, with a UK PLUG, doing this means you have a "VERY MERRY CHRISTMAS"
Good Luck to you all