Nintendo Game and Watch


Gunpei Yokoi came up with the idea of producing these great games that would fit into the palm of your hand, the first of which was "Ball" produced in 1980 . These games sold in their millions, and anyone with one was the envy of everyone else in the school playground! Today, you`d still be envied if you had the complete collection all minty in boxes! as these have become quite collectable.
As The years progressed, they came in different flavours, namely:

Silver - the first batch, with silver fascias hence the name
Gold - released in 1981, 3 models made and with a gold fascia
Widescreen - 10 models made - had wider screens than it`s predecessors
Multiscreen - 15 of these made - had 2 screens providing greater gameplay
New Widescreen - The same as above, but had coloured fascias, 8 of these were produced
Tabletop - As the name suggests these were bigger machines than before with colour LCD display. 4 produced
Panorama - 6 released - clever use of light and a mirror to enhance the screen, again these are larger than the previous handhelds.
Supercolour - Only 2 made, much slimmer and wider than previous versions
Micro Vs - A neat idea - a 2 player game & watch with joypads that folded away. 3 produced
Crystal - 3 made - had a clear LCD screen so you could actually see through it!
Mini - Keyring versions of the popular game & watches, produced much later than the "real game & watches
If you`re thinking of starting a collection, you`ll be looking for all these (and have a lot of cash to spare!):
Balloon Fight (Crystal Screen, Nov 1986)
Balloon Fight (New Wide Screen, Mar 1988)
Ball (Silver, 28th Apr 1980)
Black Jack (Multi Screen, 15th Feb 1985)
Bombsweeper (Multi Screen, Jun 1987)
Boxing ...aka: Punch-Out!! (Micro VS., 31st Jul 1984)
Chef (Wide Screen, 8th Sep 1981)
Climber (Crystal Screen, Jul 1986)
Climber (New Wide Screen, Mar 1988)
Crab Grab (SuperColor, 21st Feb 1984)
Donkey Kong (Multi Screen, 3rd Jun 1982)
Donkey Kong II (Multi Screen, 7th Mar 1983)
Donkey Kong Jr. (New Wide Screen, 26th Oct 1982)
Donkey Kong Jr. (Tabletop, 28th Apr 1983)
Donkey Kong Jr. (Panorama, 7th Oct 1983)
Donkey Kong 3 (Micro VS., 20th Aug 1984)
Donkey Kong Circus (Panorama, Sep 1984)
Donkey Kong Hockey (Micro VS., 13th Nov 1984)
Egg (Wide Screen, 9th Oct 1981)
Fire Attack (Wide Screen, 26th Mar 1982)
Fire (Silver, 31st Jul 1980)
Fire (Wide Screen, 4th Dec 1981)
Flagman (Silver, 5th Jun 1980)
Goldcliff (Multi Screen, Oct 1988)
Greenhouse (Multi Screen, 6th Dec 1982)
Helmet (UK Version named HEADACHE) (Gold, 21st Feb 1981)
Judge (Silver, 4th Oct 1980)
Life Boat (Multi Screen, Oct 1983)
Lion (Gold, 29th Apr 1981)
Manhole (Gold, 29th Jan 1981)
Manhole (New Wide Screen, 24th Aug 1983)
Mario Bros. (Multi Screen, 14th Mar 1983)
Mario's Bombs Away (Panorama, 10th Nov 1983)
Mario's Cement Factory (New Wide Screen, 16th Jun 1983)
Mario's Cement Factory (Tabletop, 28th Apr 1983)
Mario the Juggler (New Wide Screen, Oct 1991)
Mickey & Donald (Multi Screen, 12th Nov 1982)
Mickey Mouse (Panorama, Feb 1984)
Mickey Mouse (Wide Screen, 9th Oct 1981)
Octopus (Wide Screen, 16th Jul 1981)
Oil Panic (Multi Screen, 28th May 1982)
Parachute (Wide Screen, 19th Jun 1981)
Pinball (Multi Screen, 5th Dec 1983)
Popeye (Panorama, 30th Aug 1983)
Popeye (Tabletop, Aug 1983 Rain Shower Multi Screen Aug 1983)
Popeye (Wide Screen, 5th Aug 1981)
Safebuster (Multi Screen, Jan 1988)
Snoopy (Tabletop, 5th Jun 1983)
Snoopy (Panorama, 30th Aug 1983)
Snoopy Tennis (Wide Screen, 28th Apr 1982)
Spitball Sparky (SuperColor, 7th Feb 1984)
Squish (Multi Screen, Apr 1986)
Super Mario Bros. (Crystal Screen, Jun 1986)
Super Mario Bros (1987 - Could only be won in Famicom F1 Race competition)
Super Mario Bros. (New Wide Screen, Mar 1988)
Tropical Fish (New Wide Screen, Jul 1985)
Turtle Bridge (Wide Screen, 1st Feb 1982)
Vermin (Silver, 10th Jul 1980)
Zelda (Multi Screen, Aug 1989)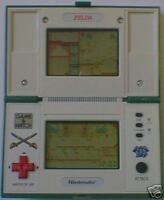 Well, there you go, a brief history of the game & watch, hopefully it`s of some use to you, if so, click the "YES" button below. If not, there are a lot of collectors websites out there full of pictures and a wealth of information on these great machines.