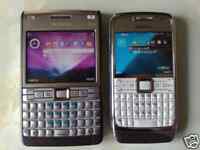 I got my Nokia e71 back in November. I'd been using a phone with high speed internet (3.5g) and email and my contract was up so i was in the market for a new phone. With no loyalties I considered many options. iPhone, x1 omnia., Blackberry, n96, n95 Tocco etc.......but this phone won through!
I knew i wanted a phone that offered good email interface - and that means you need a keyboard or an on screen key board - eg i phone. But i also wanted video calling ( as i was already using this facility) and the iphone doesn't have that facility - in fact as i found out the i phone has no video function - even to record.
So after some research i have gone with the E71. the first thing to notice is the size of this thing. less than 10mm thick - slim and in a lovely metal case. I have the Black one - and my wife has the white one! - i must say both look great and whilst the white one is perhaps more feminine I would happily use it.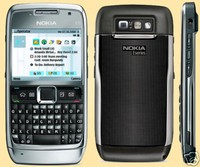 In the photo at the top you see it next to its fore runner - the e61 - just look how small the e71 looks - if you havn't already see one of these close up - its amazing.
The keyboard is just the right size - I have quite large hands but i can easily type at speed and without many errors - largely due to the slightly raised surface to the keys that make it really easy to hit the right key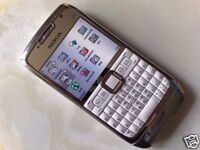 Internet access is available as 3G or 3.5G depening on location. tis is fast and smooth!
The phone has Wifi too so if you are in a wireless location or home network you can enjoy excellent internet speeds. I use my phone for browsing at home - e.g. in front of the tv so i don't have to have the lap top on my lap. The screen is big enough to make it clear and easy to use for internet.
Real player is installed so You tube can be streamed to the phone or videos can be downloaded and installed to view from websites.
The phone has push email too so you can pick up all your email on the move. I have an Virgin and a Google account that both get sent to the phone along with my Hotmail. If you have a work email - you can also have this sent to your phone too ( subject to your employer i guess)
It also has GPS - so using the Nokia Maps software that is pre-installed it becomes a Sat Nav - great in the car or on foot if you don't know where you are going. The Nokia maps is free to use althought the voice guidance once activiated is free for 3 months and after that you would need to pay Nokia to continue to use it. However you can download google maps for free which also provides guidance using google earth maps which are excellent in my opinion as you can see the overhead photo of where you are.
The Camera at 3.2mp isn't the best. Its probably not so much the 3.2 mp though its probably more the lens as is usually the reason ( the lens in any camera plays as important a function as just the mega pixel count) it does take acceptable pictures though, best in daylight although it does have a flash.
The phone also allows video calling - which is very good - a function i use regularly when away from home and the kids.
The best contract i found for this phone is on the "3" network including calls , video calls and data all in.
If you need a smart phone and arn't just going to settle for an iphone - this phone must be considered
PLEASE VOTE FOR THIS GUIDE IF YOU HAVE BOTHERED TO READ THIS FAR - CLICK ON "WAS THSI GUIDE HELPFUL" - BELOW
THANKS